UFC Fight Night 54 Results: Rory MacDonald Delivers By Finishing Tarec Saffiedine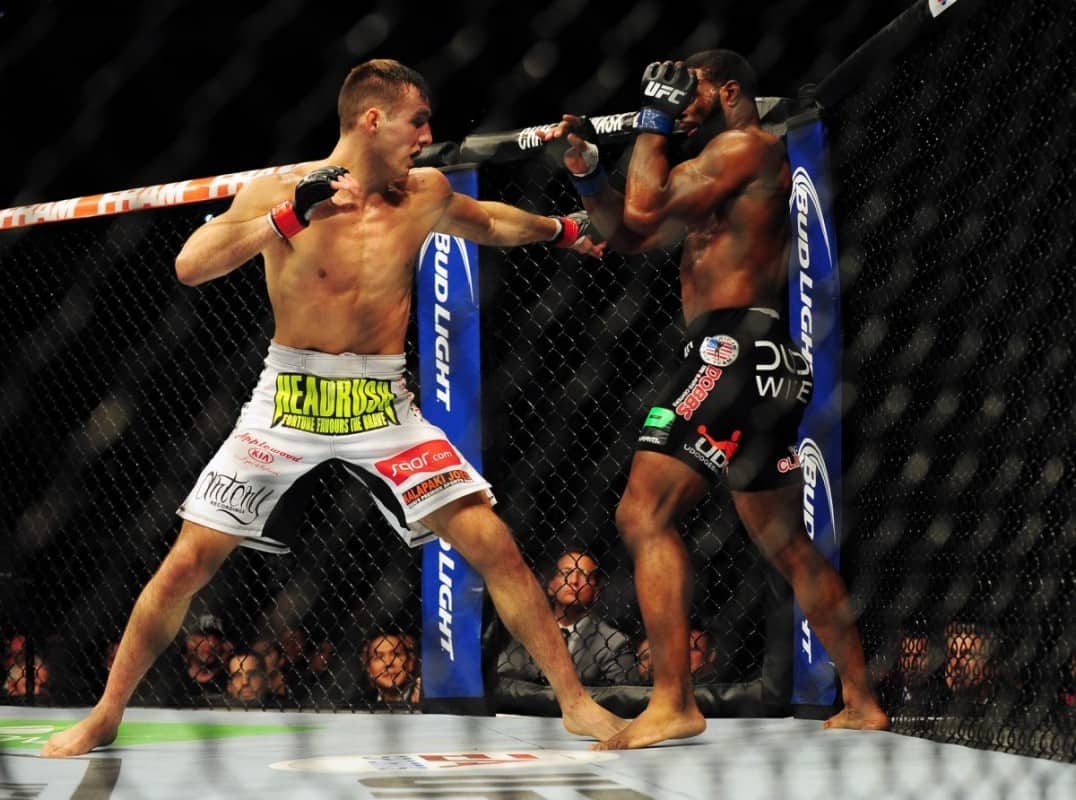 UFC Fight Night 54 went down tonight (Sat., October 4, 2014) from the Scotiabank Center in Halifax, Nova Scotia, Canada, with No. 2-ranked welterweight Rory MacDonald looking to cement his title shot by defeating No. 9-ranked former Strikeforce champion Tarec "Sponge" Saffiedine in the main event.
The headlining bout began with MacDonald methodically finding his range. He landed some sharp punches and low kicks, absorbing precious few of Saffiedine's greatest weapon. "Ares" put Saffiedine on the ground with a big right hand, but "Sponge" got back up. Saffiedine ended the round with two incredibly sharp leg kicks.
MacDonald went to work with a deadly combination to open the second frame. Saffiedine worked his jab and kicks, and MacDonald snapped a big right hand over the top. The round closed with MacDonald repeatedly landing his jab.
Saffiedine defended a takedown to land some shots in the opening minute of the third. MacDonald suddenly stalked him down and rocked him with a beautiful overhand right-left uppercut combination, swarming with some follow-up shots to earn his first stoppage since UFC 145.
After the fight, MacDonald called out for the title shot that he's basically been headed for since his first UFC fight:
"I think it goes without saying I'm next for that title. I want that title shot, I want the winner of that next fight. Please, give it to me!" 
With three straight wins, it's getting tough to argue with "Ares."
No. 4-ranked bantamweight Raphael Assuncao, the last man to defeat champion T.J. Dillashaw and was recently passed by both Renan Barao and Dominick Cruz for a title shot, went for his seventh straight against Bryan Caraway in the co-main event. Assuncao landed some stiff low kicks and some sharp punches, but Caraway found success with uppercuts. Assuncao secured a double leg and ended the first round with a big knee.
Assuncao used some good counter striking in the second, but Caraway finally got a couple takedowns. Assuncao responded with a ton of heavy leg kicks and even a few high and spinning back kicks. Both fighters were winging heavy leather as the round came to a close.
Caraway fought with urgent aggression to start the third, but Assuncao maintained good defense. Caraway put forth a valiant effort, absorbing many shots and landing more of his own, but Assuncao stunned him late to earn a unanimous decision.
TUF Nations welterweight winner Chad Laprise moved down to lightweight to square off with Yosdenis Cedeno. "The Disciple" used his vaunted leg kicks and crisp boxing to transition into a takedown and mount Cedeno. Laprise had Cedeno's back but the Cuban was able to get back to his feet as the round ended. Laprise dominated the second by taking Cedeno down and gaining his back again. In the third round, Laprise picked Cedeno apart with his relentless kickboxing and wrestling to lock up a clear unanimous decision.
The Ultimate Fighter (TUF) Nations middleweight winner Elias Theodorou met Bruno Santos. The back-and-forth first round saw some takedowns from Santos and several crisp strikes from both. Theodorou opened up with his kicking game in the second, but Santos eventually got his back along the fence towards the end of the round. Santos went for a takedown again in the third, but it was Theodorou who got three of his own to mount Santos and finish a solid decision win with a bevy of powerful strikes.
France's Nordine Taleb took on prospect Li Jingliang. Despite Taleb being a massive favorite, Jingliang peppered him with a bunch of jabs and maintained the aggression early on. Taleb turned it on with his striking, and secured a pivotal takedown towards the end of the second. "The Leech" fought back with three slams of his own to make it a close bout going into the third. Jingliang threw more strikes in the third, but he was taken down and controlled to lose a close split decision to the hometown favorite Taleb.
Promising bantamweight Mitch Gagnon kicked off the main card against the debuting Roman Salazar. Gagnon came out aggressive, winging some sharp left hands before taking the fight to the ground. From there he took Salazar's back and locked on a brutal rear naked choke to earn the finish.
UFC Fight Night 54 Results:
Main Card:
Rory MacDonald def. Tarec Saffiedine via R3 TKO (punches, 1:28)
Raphael Assuncao def. Bryan Caraway via unanimous decision (30-27, 30-27, 30-27)
Chad Laprise def. Yosdenis Cedeno via unanimous decision (30-27, 30-27, 30-27)
Elias Theodorou def. Bruno Santos via unanimous decision (29-28, 29-28, 29-28)
Nordine Taleb def. Li Jingliang via split decision (28-29, 29-28, 30-27)
Mitch Gagnon def. Roman Salazar via R1 submission (rear naked choke, 2:06)
Preliminary Card:
Daron Cruickshank def. Anthony Njokuani via unanimous decision (30-27, 20-27, 30-27)
Olivier Aubin-Mercier def. Jake Lindsey via R3 submission (triangle, 3:22)
Paul Felder def. Jason Saggo via split decision (29-28, 28-29, 29-28)
Chris Kelades def. Patrick Holohan via unanimous decision (29-28, 29-28, 29-28)
Fight Pass Prelims:
Matt Dwyer def. Albert Tumenov via R1 TKO (head kick, 1:03)
Pedro Munhoz def. Jerrod Sanders via R1 submission (guillotine choke, 0:39)
Photo Credit: Anne-Marie Sorvin for USA TODAY Sports