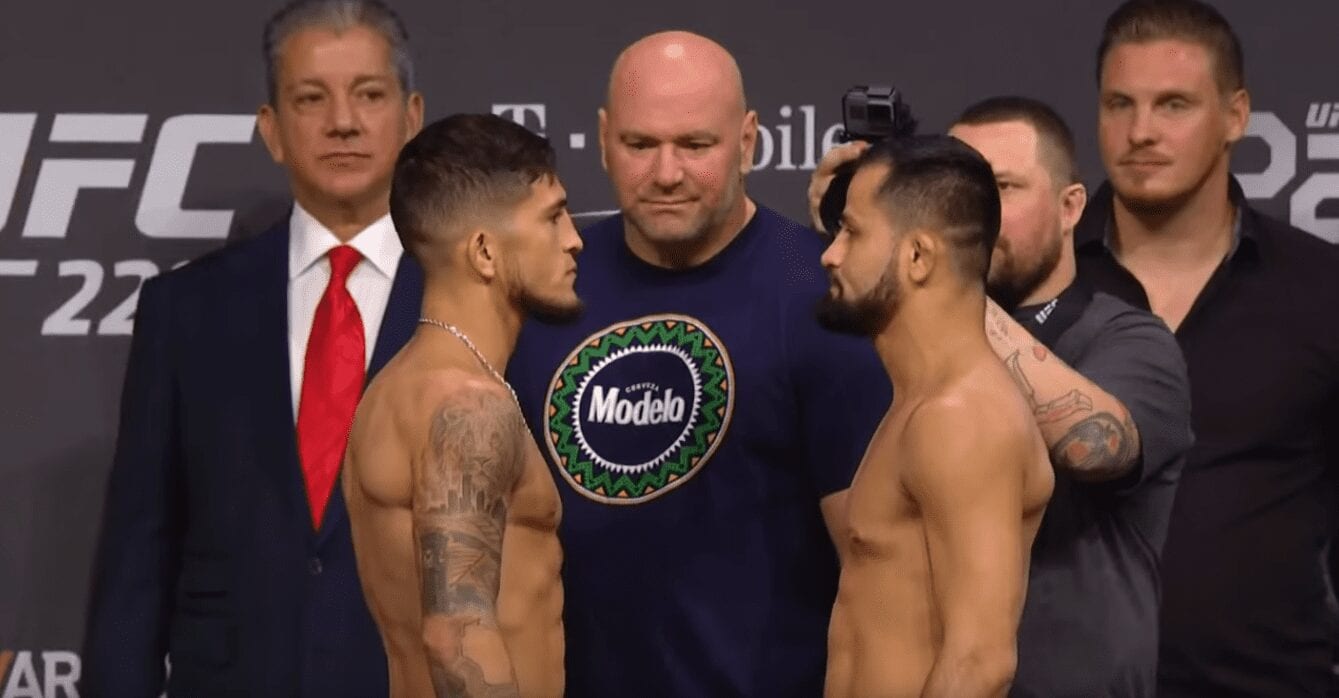 UFC 229 preliminary card results are underway as the Las Vegas-based promotion holds this latest event on television for fight fans around the world to watch the show.
It's once again fight day here at LowKickMMA, and the talent on display tonight (Saturday, October 6, 2018) will come from in the form of UFC 229. Headlining the card are Conor McGregor and Khabib Nurmagomedov, but there's a whole bunch of great fights also taking place on the preliminary section of the card.
Sergio Pettis vs. Jussier Formiga in a lightweight bout closes the preliminary card on FOX Sports 1 in what should be an interesting fight. In round 1, Pettis was landing some decent lead jabs. Pettis is slowly staling Formiga, who is backing away, looking to counter. Formiga was able to secure a brief takedown but Pettis got back to his feet quickly and they went back to striking. Formiga shot in again and got it where he landed in guard. In round 2, Pettis briefly clinched with him in the middle round but there wasn't much action. Formiga was able to take him down but Pettis was doing some nice defense and keeping the distance as well as avoiding shots. Formiga was landing a series of shots until Pettis got back to his feet. In round 3, Formiga was able to get on his back up against the fence. He landed a series of strikes while Pettis was doing a good job of defending strikes. Pettis started walking across the cage but couldn't do much in this spot same goes for Formiga. In the end, the judges gave the win to Formiga.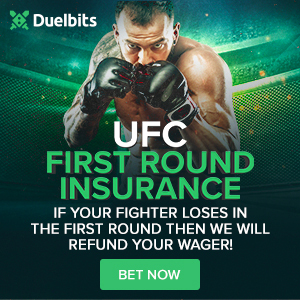 Vicente Luque vs. Jalin Turner is next in a welterweight bout. In round 1, Luque ducks under a jab and lands a sharp right hook. Another. Turner shakes them off. Luque drops Turner with a spinning elbow and follows it up with punches until Turner goes limp.
Aspen Ladd vs. Tonya Evinger is next in a women's bantamweight bout. In round 1, Evinger slips to the canvas and Ladd pounces on her back. Ladd is tearing her foe up with right punches to the head. Ladd gets her hooks in and threatens with a rear-naked choke. Einger is calm, but she's not out of danger in the least. Ladd lets go of the choke and begins raining down punches. Evinger can't escape and Tognoni has to step in too halt the mugging.
Scott Holtzman vs. Alan Patrick in a lightweight bout opens the FOX Sports 1 preliminary bouts. In round 1, Holtzman rocks Patrick with a short left hook to the head, but the Brazilian is able to escape and recover. Holtzman is cut around his left eye but he tags Patrick with a left head kick. The Brazilian shakes it off. Holtzman scores a takedown and lands some solid elbows from on top. In round 2, Patrick tags Holtzman with a straight left, but he's countered by a glancing right high kicks. Holtzman lands some powerful ground-n-pound but Patrick is able to explode to his feet and regroup. In round 3, Holtzman drops Patrick with a counter right hook to the jaw. Holtzman pounces and unloads, but Patrick survives. Holtzman moves to full mount and rains down elbows. Patrick rolls to escape but Holtzman keeps him there. Holtzman moves back to mount and unloads four push-off elbows to the face until Patrick is out cold.
Lina Länsberg vs. Yana Kunitskaya in a women's bantamweight bout finishes off the UFC Fight Pass preliminary card. In round 1, they trade decent punches early before Lansberg lands double underhooks. Kunitskaya lands a takedown and is on top. Kunitskaya goes with the old-school can opener and cranks hard, but doesn't get it. Moments later, Kunitskaya scores a takedown again and lands in side control. In round 2, Kunitskaya is very aggressive with her punches and kicks as she bullies Lansberg across the cage and into the fence. Kunitskaya lands several knees to the body. They split and return to the middle of the cage, but Kunitskaya remains in control. In round 3, Kunitskaya is dominating Lansberg against the cage, bullying her around with knees and positional control. Kunitskaya lands a few punches and kicks late before scoring a takedown. Kunitskaya got the decision win.
Gray Maynard vs. Nik Lentz is next in a lightweight bout. In round 1, a right hook to the head badly rocks Maynard, who stumbles back into the cage. Lentz closes the gap, presses Maynard into the cage and begins landing some punches to the head. Maynard is in serious trouble. A knee to the body and a left to the head. Maynard stumbles again but finds the strength to punch back. entz locks up a guillotine. It was tight briefly but Maynard escapes. In round 2, they fight resumes after a brief pause and they trade punches. Maynard rocks Lentz with a left to the head. Lentz drops Maynard with a head kick and follows it up with punches until the referee stops it.
Opening the UFC Fight Pass prelims is Ryan LaFlare vs. Tony Martin in a welterweight bout. In round 1, after a pause for a low blow, they return back to kickboxing. Finally, Martin gets inside and ties LaFlare up. Martin lands a hard left hook to the liver LaFlare is hurt. He recovers after a few moments. After taking a kick to the ribs, LaFlare shoots in and presses Martin into the cage. In round 2, Martin lands a nasty right to the face and drops LaFlare. LaFlare is in trouble as he's been punched in the head. Martin doesn't put LaFlare away, but he's heavy on top in half guard. LaFlare is cut on the head but he's recovered from the punches. Martin takes LaFlare's back. Martin slinks his arms through and locks up a D'Arce. LaFlare is fighting it off. In round 3, Martin crushes LaFalre with a huge right head and ends the fight. Martin pounces with some follow-up punches to end the fight.
Here are the results:
Prelims (FOX Sports 1 /8 p.m. ET)
Flyweight Bout: Jussier Formiga def. Sergio Pettis via Unanimous Decision (30-26, 29-28, 29-28) R3
Welterweight Bout: Vicente Luque def. Jalin Turner via KO (punches) at 3:52 of R1
Women's Bantamweight Bout: Aspen Ladd def. Tonya Avenger via TKO (Punches) R1, 3:26
Lightweight Bout: Scott Holtzman def. Alan Patrick via KO (Hellbows) at 3:42 of Round 3
Early Prelims (Fight Pass/6:30 p.m. ET)
Women's Bantamweight Bout: Yana Kunitskaya def. Lina Lansberg via unanimous decision (30-27, 30-27, 30-27)
Lightweight Bout: Nik Lentz def. Gray Maynard via TKO (head kick, punches) at 1:19 of R2
Welterweight Bout: Tony Martin def. Ryan LaFlare via KO (head kick, punches) at 1:00 of R3