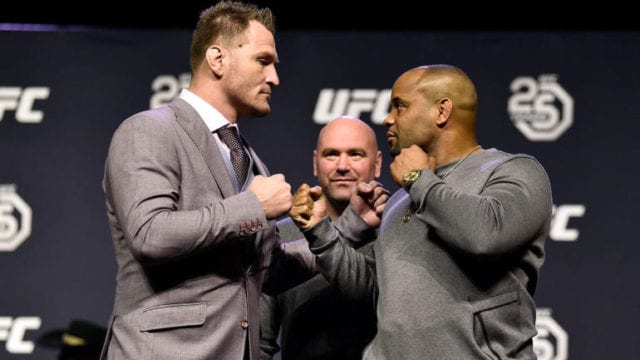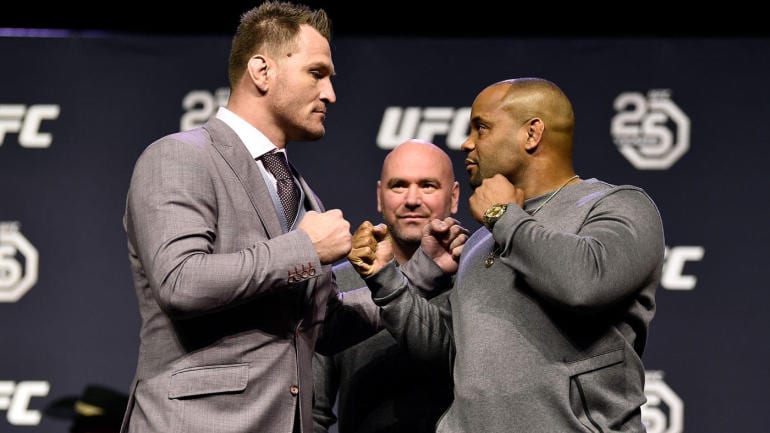 Decorated UFC champs Stipe Miocic and Daniel Cormier are set to earn some well-deserved big bucks for their heavyweight superfight in the main event of tonight's (Sat., July 7, 2018) UFC 226 from T-Mobile Arena in Las Vegas, Nevada.
According to a document from the Nevada State Athletic Commission (NSAC) via MMAjunkie, heavyweight champion Miocic will take will take home $750,000 while light heavyweight champion Daniel Cormier will take home $500,000. Neither fighter will earn a win bonus.
It's a step in the right direction for the record-setting Miocic, who has had some well-documented issues with the UFC concerning his pay.
The co-main event for the awaited pay-per-view (PPV) event features a heavyweight slugfest between Francis Ngannou and Derrick Lewis, with Lewis taking home $130,000 to show and another $130,000 to win while Ngannou will earn $100,000 to show and $100,000 more to win.
The original co-main event was set to be a high-profile featherweight title fight between 145-pound champ Max Holloway and surging contender Brian Ortega before Holloway was forced out of the bout with concussion-like symptoms earlier this week. "Blessed" was set to earn $350,000 while Ortega was scheduled to take home $250,000.
As always, these figures do not reflect any potential pay-per-view revenue the main fighters may take home, bonuses, Reebok sponsorship earnings, or any other discretionary bonuses. They also do not include deductions for insurance, license, and taxes.
Here are the full disclosed salaries for UFC 226:
Champ Stipe Miocic: $750,000 (no win bonus)
vs. Champ Daniel Cormier: $500,000 (no win bonus)
Francis Ngannou: $100,000 to show ($100,000 to win)
vs. Derrick Lewis: $130,000 to show ($130,000 to win)
Michael Chiesa: $48,000 to show ($48,000 to win)*
vs. Anthony Pettis: $135,000 to show ($135,000 to win)
Gokhan Saki: $85,000 to show ($55,000 to win)
vs. Khalil Rountree: $19,000 to show ($19,000 to win)
Uriah Hall: $48,000 to show ($48,000 to win)
vs. Paulo Costa: $55,000 to show ($55,000 to win)
Paul Felder: $46,000 to show ($46,000 to win)
vs. Mike Perry: $40,000 to show ($40,000 to win)
Raphael Assuncao: $70,000 to show ($60,000 to win)
vs. Rob Font: $33,000 to show ($33,000 to win)
Curtis Millender: $15,000 to show ($15,000 to win)
vs. Max Griffin: $20,000 to show ($20,000 to win)
Daniel Hooker: $30,000 to show ($30,000 to win)
vs. Gilbert Burns: $31,000 to show ($31,000 to win)
Landon Vannata: $25,000 to show ($25,000 to win)
vs. Drakkar Klose: $22,000 to show ($22,000 to win)
Jamie Moyle: $12,000 to show ($12,000 to win)
vs. Emily Whitmire: $10,000 to show ($10,000 to win)