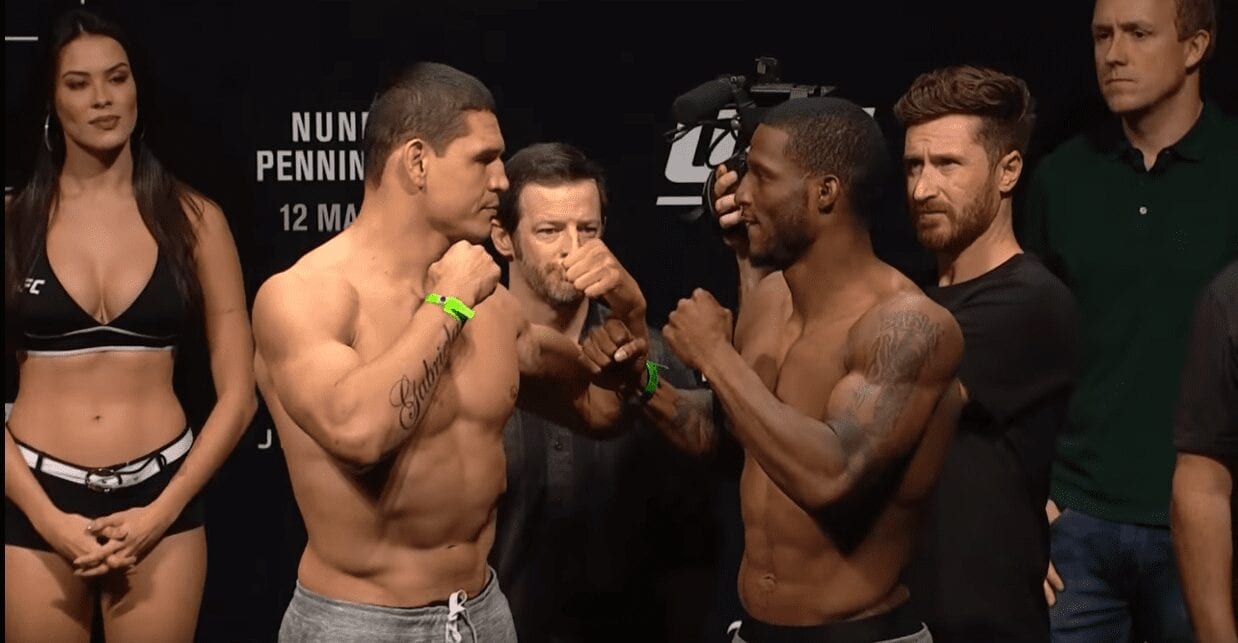 It's once again fight day here at LowKickMMA, and the talent on display tonight (Saturday, May 12, 2018) will come from in the form of UFC 224. Headlining the card are Amanda Nunes and Raquel Pennington, but there's a whole bunch of great fights also taking place on the preliminary section of the card.
Cezar Ferreira vs. Karl Roberson in a middleweight bout closes the preliminary card on FX. In round 1, Roberson initially fights off the shot but Ferreira gets it on the second att and moves to side control. Ferreira is controlling the head but not getting much offense off, just controlling Roberson. Roberson manages to reclaim guard, get to his feet but Ferreira takes him right back down. Half guard again for Ferreira, but now he steps over into mount. Roberson tries to control posture but Ferreira locks up an arm-triangle and that's a wrap.
Aleksei Oliynik vs. Junior Albini is next in a heavyweight bout. In round 1, Oleynik has shot in for a few half-hearted takedowns but no luck yet. Albini stuffing him easily He already has a cut above his right eye. Oliynyk wading in with big overhands and eating sharp counters for it. bates the Ezekiel and Albini falls for it with the takedown. Oliynik locks in the ezekiel choke for the win.
Davi Ramos vs. Nick Hein is next in a lightweight bout. In round 1, Front kick from Ramos. Ramos caught hard by a left hand jumping into the pocket, but landed his own on the way out. Ramos ate a kick and looked like he pulled guard. Nice right hand from Ramos, answered by Hein with a left. Easy takedown for Ramos off the shot. Hein standing trying to shake the back take, but forced back to the mat. Ramos with his arm over the jaw and Hein taps to the crank for the rear-naked choke. First round sub from Ramos.
Elizeu Zaleski dos Santos vs. Sean Strickland in a welterweight bout opens the FX preliminary card. In round 1, Zaleski throwing kicks early as Strickland pressures him toward the cage. Strickland working behind his jab as always. Looks like he's flashing the right hand more too, which is a good sign for him. Bad single leg attempt from Zaleski, got easily sprawled out and tagged a couple times for his trouble. Head kick and overhand for Zaleski not landing much clean but staying more active. Wheel kick from Zaleski caught Strickland cold and dropped him. Follow up ground and pound and the referee steps in to stop it.
Warlley Alves vs. Sultan Aliev in welterweight bout finishes off the UFC Fight Pass preliminary card. In round 1, Nice left hook from Aliev as Alves tried to step forward, just a quick slapping counter. Hard right lands for Alves though. Aliev pushing into the clinch and he's got Alves against the fence. Alves fighting off the grind well so far, reverses position and lands hard knees. Crunching knee to the gut from Alves and another. Now some tight left hooks. Good controlled offense in tight. More knees and short punches, he's really made this clinch work for him in was Aliev hasn't been able to. Hook lands for Aliev on the break, Alves lands a hard low kick. In round 2, Alves jumps but bails on a knee and Aliev catches him with a short punch and clinches him up. Alves seems a little unsure of his offense outside right now. Chopping knees from Alves, and he's working head position to land short punches. Aliev reverses position and lands a hard knee of his own on the cage, but he really is not an active clinch fighter and gets reversed again. Aliev drags Alves down briefly but Alves able to scramble right up and back into the clinch on the cage, ref finally steps in. Aliev's eye badly swollen from those clinch strikes in tight. Aliev can't see out of his right eye, it's absolutely closed. The fight is called off. Alves wins by doctor stoppage.
Thales Leites vs. Jack Hermansson is next in a middleweight bout. In round 1, Leites grinding for the trip takedown now. He's got Hermansson locked up with the body lock, Hermansson staying up but this is the fight Leites needs right now. Hermansson with another throw, but he has yet to prove that's actually a good idea beyond forcing Leites to work harder. In round 2, Hermansson pumping the jab early and lands a sharp right hand that convinces Leites to go for the double leg. He gets it and Hermansson looks like he picked up a bad injury. Wincing hard as Leites stretches him out from top control. Leites getting to the arm triangle. Hermansson focusing on the injury and lost sight of the submission. Hermansson rolling and struggling hard to get out of this sub. He's doing well to defend, but Leites is still locked up. Hermansson seems to have hurt his lower leg during a Leites takedown. In round 3, Leites working the front headlock now and going for the anaconda, he's deep on it. Hermansson just relentless in fighting through chokes, and now he's on top and Leites is looking a bit tired. Germansson landed several strikes and picked up the TKO win.
Alberto Mina vs. Ramazan Emeev is next in a welterweight bout. In round 1, Nice jab from Emeev and he throws a couple overhand rights to keep pressure up. Low kick and he gets the body lock takedown off a badly timed backfist. Nice 1-2 from Emeev on the clinch break. Mina really has to use whatever space he gets to land. He's trying to pour it on, but not landing enough. In round 2, Mina with a kick catch and a great opportunity to take momentum, spoiled by an attempt to be Jon Jones with a spinning elbow that got him bodylocked and slammed instead. Mina rolls for a kneebar, and Emeev drills him with hard right hands, that's such a low percentage move for Mina. In round 3, Nice counter flurry from Mina as Emeev steps in, and then a spazzy front kick. Big overhand right from Emeev. Mina jumps into the pocket and gets immediately bodylocked. Exactly what Emeev wants to grind this fight to the bell. Another nice overhand from Emeev. Jab he's winning this round just off a couple right hands. Emeev got the decision win.
Opening the UFC Fight Pass prelims is Markus Perez def. James Bochnovic. In round 1, Bochnovic swarming Perez out of the gate, lands a body kick and a long punch and drives for the takedown right into a choke and gets his back taken. Perez didn't even have to close distance Bochnovic did it for him. Bochnovic able to scramble up and he's keeping the clinch going now. Perez looking for the arm triangle after scrambling to half guard, can't get it. But he's on top and maintaining control. Bochnovic able to get guard but Perez postures out and cuts to side control for a d'arce attempt. Perez under the chin this time and he's got the grip and there's the tap.
Here are the results:
PRELIMINARY CARD (FX/8 p.m. ET)

Cezar Ferreira def. Karl Roberson by submission (arm-triangle choke) at 4:45 of Round 1

Aleksei Oleinik def. Junior Albini via submission (ezekiel choke) at 1:45 of R1
Davi Ramos def. Nick Hein by submission (rear-naked choke) at 4:15 of Round 1

Elizeu Zaleski dos Santos def. Sean Strickland by knockout (strikes) at 3:12 of Round 1

PRELIMINARY CARD (UFC Fight Pass/6:30 p.m. ET)

Warlley Alves def. Sultan Aliev via TKO (Doctor Stoppage) at 5:00 of Round 2
Jack Hermansson def. Thales Leites by TKO (punches) at 2:10 of Round 3
Ramazan Emeev def. Alberto Mina via unanimous decision (30-27, 30-27, 30-27)

Markus Perez def. James Bochnovic via submission (rear-naked choke) at 4:28 of R1