Going down in Brooklyn, New York this weekend is another historic event. UFC 208 sees the inaugural women's featherweight title fight, with Holly Holm and Germaine De Randamie on podium. Former women's bantamweight champ Holly Holm hopes to escape from the shadow of two straight losses, and get back to winning ways. 'The Iron Lady' hopes to make it three straight, with UFC gold awaiting the victor. Interestingly Holm could become the first two-time and two-weight women's champion with a win. Featured in the co-main event are former middleweight champion Anderson Silva and hungry contender Derek Brunson.
'The Spider' has seen a bad run in his last five UFC fights, and looking to get back on the straight and narrow against Brunson could be tough. Wrestling has shown to be a weakness for Silva in the past, and his chin isn't 100% what it used to be. That said, who knows what the previously dominant ruler could bring. Ronaldo Souza is back, and for some reason is fighting Tim Boetsch. Enough said.
Thanks to MMAFighting.com for the live stream!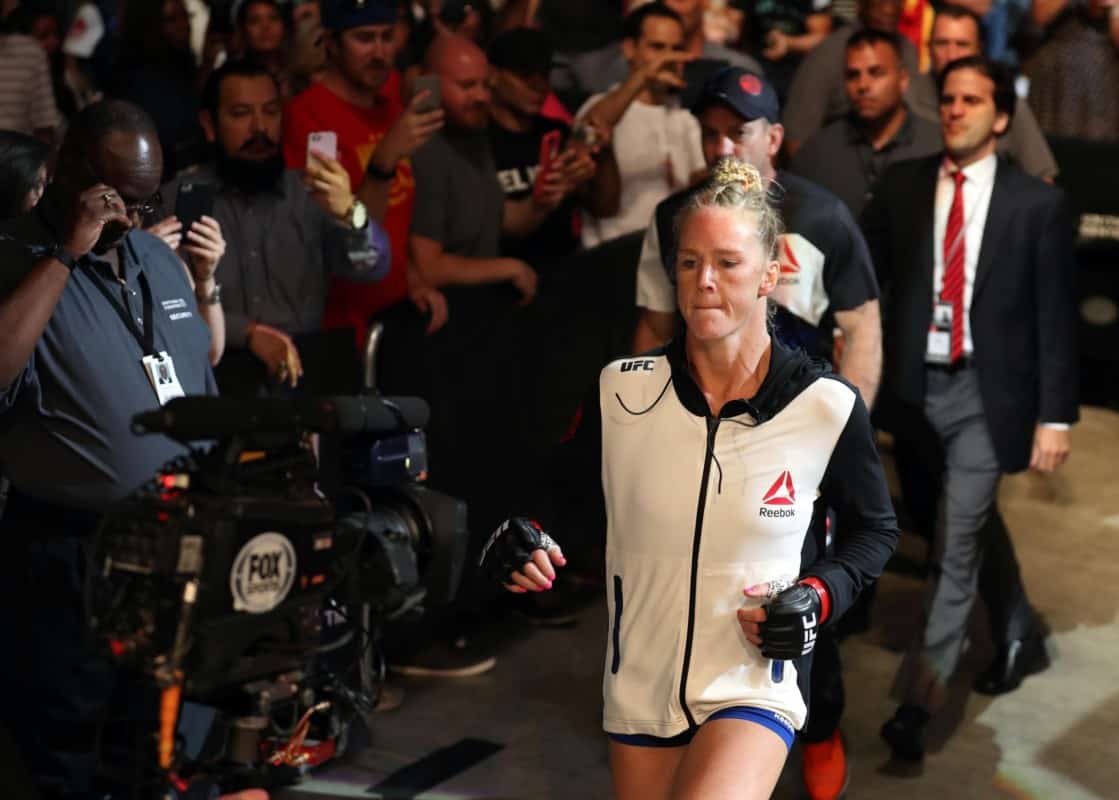 Solid Card
Also showcasing Glover Teixeira vs. Jarod Cannonier & Jim Miller vs. Dustin Poirier, UFC 208 is all around a solid card. Join us at 9 AM ET for the early weigh-ins video stream and results. Alternatively you can check in at 6 PM ET for the traditional evening staredowns. Heavyweight Justin Willis was removed from his heavyweight fight with Marcin Tybura on 24 hours notice. Deemed 'medically unfit,' Willis had accepted the fight on one weeks notice, Tybura receives his show money, but that's all.

Watch the UFC 208 official weigh-in on Friday, Feb. 10 at 6pm/3pm ETPT live from Brooklyn, New York
UFC 208 weigh-in results
Holly Holm (144.4) vs. Germaine de Randamie (143.6)
Derek Brunson (186) vs. Anderson Silva (185)
Tim Boetsch (185.8) vs. Ronaldo Souza (185.8)
Jared Cannonier (204.4) vs. Glover Teixeira (205.2)
Jim Miller (154.6) vs. Dustin Poirier (155.2)
Wilson Reis (125.2) vs. Ulka Sasaki (125.4)
Nik Lentz (155.8) vs. Islam Makhachev (155)
Jarred Brooks (125) vs. Ian McCall (125.2)
Marcin Tybura (245.4) vs. Justin Willis () deemed medically unfit to compete
Roan Carneiro (170) vs. Ryan LaFlare (170.6)
Rick Glenn (145.8) vs. Phillipe Nover (145.6)
Randy Brown (170.6) vs. Belal Muhammad (170.2)