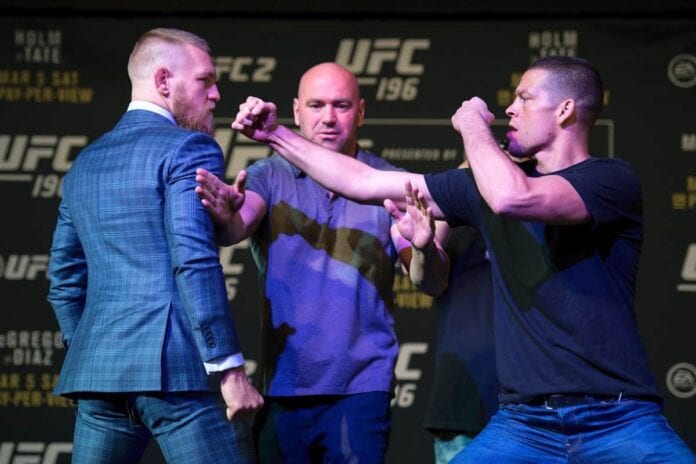 This should be fun…
With all the madness of this three-event UFC Fight Week, we seem to have overlooked the fact that a potentially amazing press conference will go down this afternoon. At 230PM ET Nate Diaz and Conor McGregor will be reunited ahead of their UFC 202 rematch. If the past is anything to go by, today's UFC 202 tickets on sale press conference will be massively entertaining. The two fought at UFC 196 after just 11 days to fill with a pre-fight feud, and they did it ever so well.
During a rivalry that could quite easily be up there with the top three UFC beefs of all time, Nate Diaz and Conor McGregor provided a handful of classic confrontations including the now infamous 'touch butt in the park' line by Diaz. They were originally set to rematch at this weekend's (July 9, 2016) UFC 200 super card, but when 'The Notorious' was absent from the initial media obligations their fight was replaced by Daniel Cormier vs. Jon Jones 2. No need to tell you how that pairing ended up.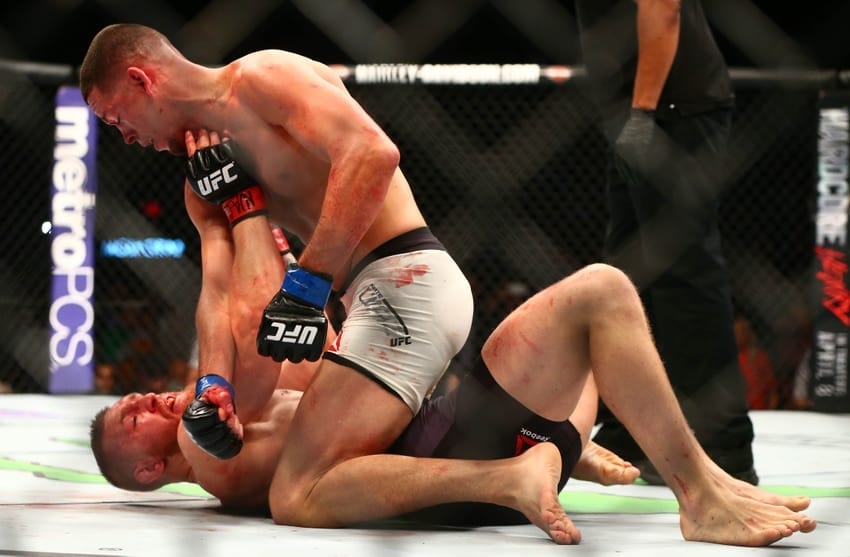 After the second round pummelling and submission victory for the Stockton bad boy on March 5, you just know he's going to have plenty to say ahead of the rematch. On the other side of the coin it will be really interesting to see what the normally outspoken Irishman will have to offer in terms of trash talk. The UFC featherweight champion is renowned for his mental games toward opponents before fights, but in Diaz he may well have met his verbal match.
Once again fighting at welterweight, there are obvious questions about McGregor's chances and especially considering the gap in grappling skills between the two foes. For all these reasons and more, the UFC 202 tickets on sale press conference is going to must view TV.

Be sure to join us here at LowKick for the live streaming video at 230PM ET, or check in right after for the replay.