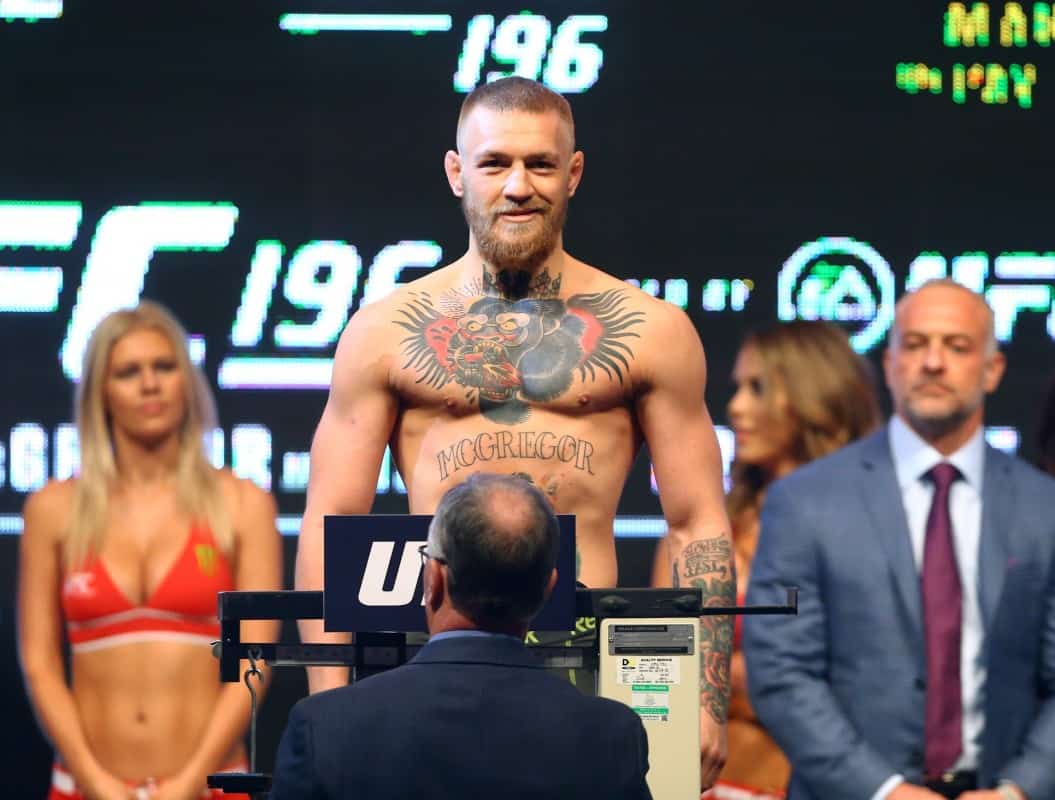 Conor McGregor vs. Nate Diaz:
Mike Drahota:
I think this short notice match-up is actually better than the original McGregor vs. dos Anjos lightweight title bout due to Diaz' sheer overall popularity, and the feverish media buildup of the last two weeks would support that theory. Diaz has played the role of the enigmatic slugger to perfection, yet I'm just not sure that he is in the kind of fight-ready shape that it may require to topple McGregor.
'The Notorious' is looking huge and energized at 168 pounds, which means his already massive knockout power could be amplified. And while Diaz has never been finished by punches, he did appear a tad bit less conditioned than the elite shape that he showed when defeating Michael Johnson. There's no question that Diaz' length and reach advantage could be an issue for McGregor after moving up two weight classes, and the Stockton native will also have the decided edge if it hits the ground, but I just think 'The Notorious' is a steamroller right now. McGregor via round two TKO.
Rory Kernaghan:
I've swayed back and forth on my pick for the UFC 196 main event, as both McGregor and Diaz have all the tools required to get the job done. As far as styles are concerned, Diaz needs this fight on the mat, and McGregor needs a knockout. The difficulty for Diaz is that McGregor is so hard to prepare for as he just comes out with new moves in every fight. I think the big hit for the Stockton bad boy is the short notice, and I also feel his recent interviews have shown him to be both unfocused and under the strain of the rivalry. I'm winging this one because Diaz stung me against Michael Johnson and Donald Cerrone, but I'm picking McGregor for the round one TKO.
Mike Henken:
In my opinion, Diaz does indeed present some interesting challenges to the Irishman from a stylistic standpoint. The Stockton native should be the bigger, longer man, and he undoubtedly possesses the grappling advantage if the fight ends up on the ground. With that being said, McGregor has looked massive leading up to the bout, and I believe that his pure power and superior technical striking should give him the nod here. McGregor by first round knockout.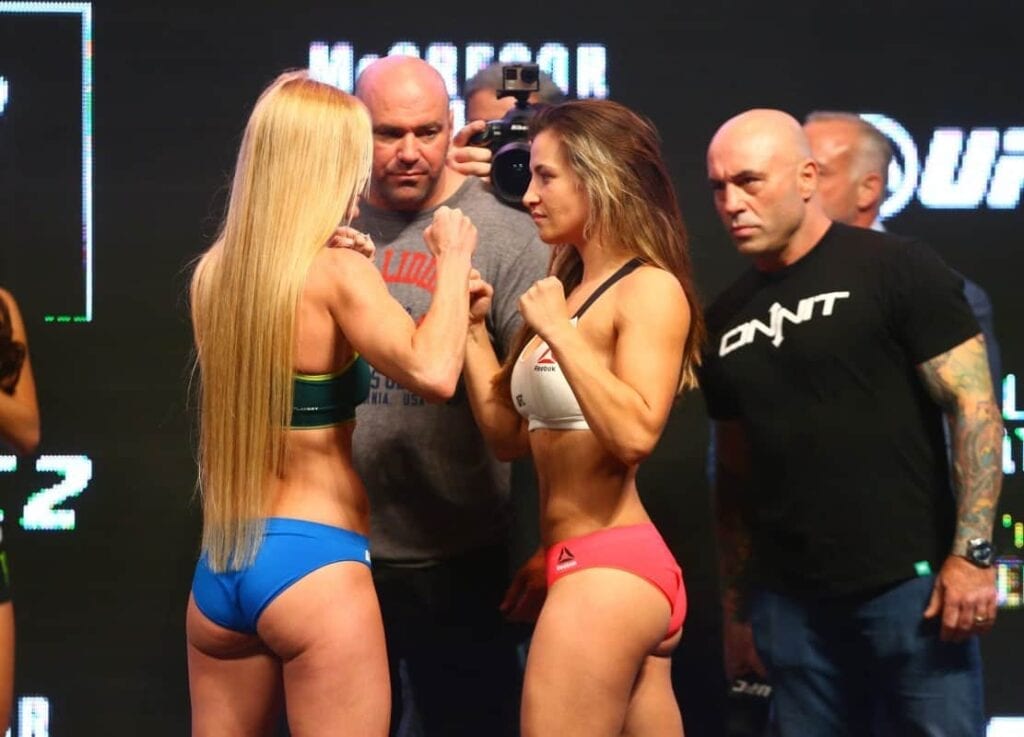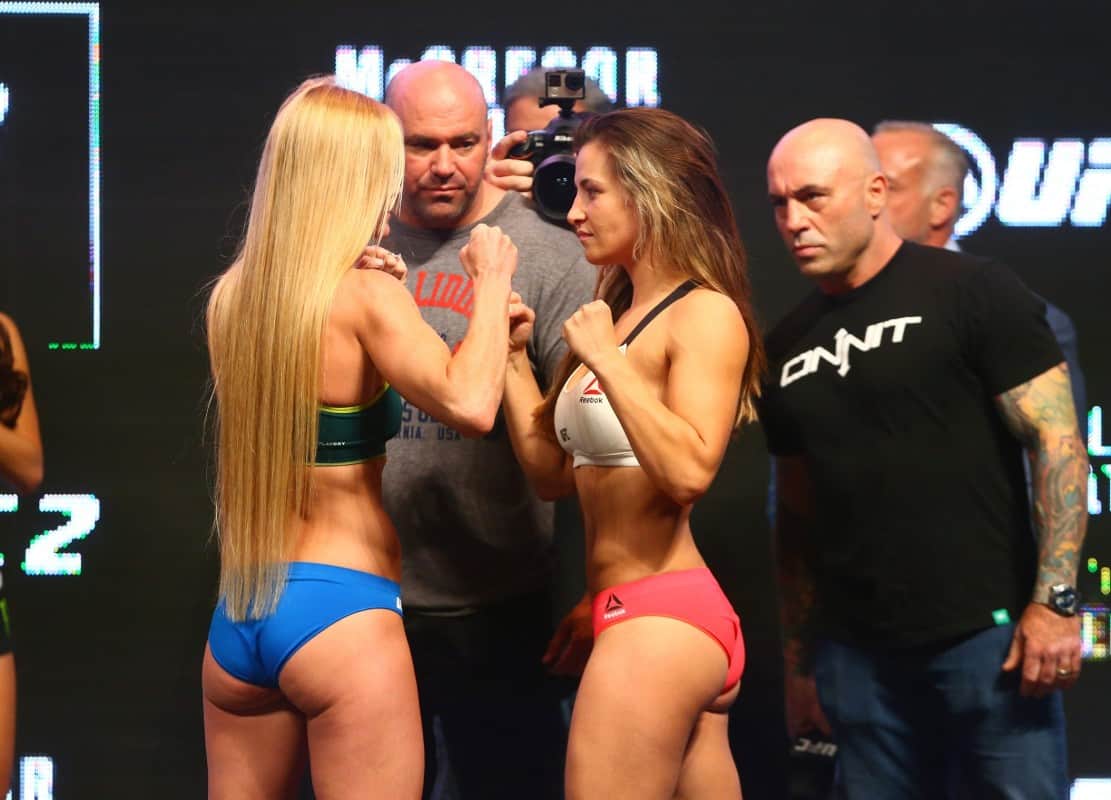 Holly Holm vs. Miesha Tate:
Mike Drahota:
Holm's first defense should be a wholly different affair than the bout she won the title in because Tate should stick to a more effective gameplan than Ronda Rousey's attempt to out-strike a decorated world champion boxer. After four straight hard-fought victories, no one wants to be champion more than Tate, and she can and will make this a gritty, bloody war while absorbing a ton of damage to win. I wouldn't be surprised to see Holm score a second round TKO as the far superior striker, but I just believe 'Cupcake' will be able to make this a gritty fight with her takedowns and pull out the grueling upset. Miesha Tate by split decision.
Rory Kernaghan:
Miesha Tate has time and time again come up with blue balls in her big fights, and mostly against Ronda Rousey. In my opinion Holm is an even more dangerous fight for 'Cupcake' than her two against 'Rowdy,' and I don't see this going too well for her. The smart bet is on a big Holm win, but the big money is picking the round and method. I think Holm's footwork and offensive power with the head kicks and straight punches is where the fight is won. 'The Preacher's Daughter' for the second round knockout.
Mike Henken:
Tate presents a unique skillset in this bout, as she's likely the best pure wrestler to have ever faced off with the champion Holm. "Cupcake" has also shown improved power in her hands as of late, and has always possessed a tough, gritty style that keeps her in fights until the bitter end. That being said, "The Preacher's Daughter" is a former 19-time boxing world champion, and I feel like this bout won't even be a contest if contested on the feet. Holm is just simply that good. I also believe that the champion should be able to use her length, footwork, and movement, to keep the fight standing. If she can, I don't see it lasting too long. Holm by second round knockout.