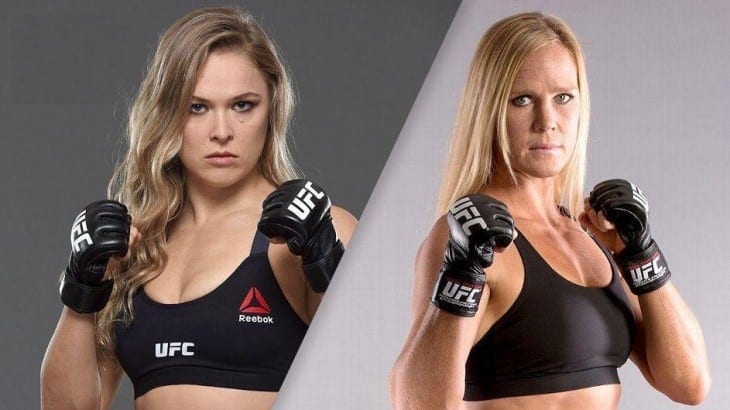 Ronda Rousey vs. Holly Holm:
Mike Drahota:
Obviously this fight is skewed towards Rousey winning early on the surface, and for good reason. Holm is probably the best striker that "Rowdy" has ever faced, but she has never been taken down in the UFC and has therefore never had to show her grappling technique (or lack thereof). I believe Holm's only path to victory is to keep Rousey at length by circling out of "Rowdy's" power and clinch range while peppering her with a high volume of low kicks to shut down the champ's forward progress. I don't think that will happen, however, as I think Rousey will be able to close the gap and clinch Holm up to her demise. Rousey by second round submission.
Rory Kernaghan:
How can you pick against the most dominant female athlete of all-time? Well, you guys are just about to find out. I think the boxing of Holly Holm will win the day here (sniggers), as she is the only one that will truly have the skill to test the chin of the unbeaten queen of the UFC. I feel like Rousey will want to prove her stand up prowess, but it will only take one clean strike from a pure boxer like Holm to signal the beginning of the end. Take this pick with as many pinches of salt as required, Holm by knockout in round one, and let's be honest, if you are going to bet it might as well be on the massive underdog!
Mike Henken:
Holly Holm Is undoubtedly the best striker that Ronda Rousey has ever been matched up with. With a lifetime of boxing and kickboxing experience under her belt, "The Preacher's Daughter" uses strong movement, and is very lengthy, which will be important for her. Holm will need to keep Rousey and her Olympic level Judo away by using range and low kicks. I honestly do believe that the "Rowdy" one could find herself in trouble if she doesn't cover up and swings wildly which she has tended to do, but at the end of the day, she's leaps and bounds ahead of her competition. Expect her to work her way inside, land a throw, and finish the fight on the ground. Rousey by second round submission.
Joanna Jedrzejczyk vs. Valerie Letourneau:
Mike Drahota:
A potentially great contest at 155 pounds, I do think the women's strawweight title bout will be much closer affair than most believe. Dominant Jedrzejczyk is a monstrous favorite over Letourneau, but I think that's a bit unfair considering that the challenger is a former bantamweight who will finally be able to match "Joanna Champion's" size. The Polish puncher had a significant size advantage over her previous two opponents Jessica Penne and Carla Esparza, yet she won't here. Yes, Letourneau gets hit a lot and can tend to plod forward absorbing shots as she attempts to land some of her own, but she should give the champ a fight like no one aside from Claudia Gadelha has yet. The movement, accuracy, speed, and volume may go to Jedrzejczyk here, but I think Letourneau has the toughness. That's why I have to go with Letourneau by decision.
Rory Kernaghan:
Joanna Jedrzejczyk is the future of the women's strawweight division, Valerie Letourneau is not. It's as simple as that. The champion has the best striking of any female fighter I've witnessed, and I also believe that Claudia Gadelha is the only legitimate test for the dominant European queen. Letourneau is gritty, but JJ is the real deal and I honestly see this as a bigger squash match than the main event (here's where those pinches of salt come in to play). So the result? TKO round one for Jedrzejczyk, and STILL!!!!
Mike Henken:
I don't have much to say about this fight other than that I think it will be a brutal one-sided beat down by the champion. Jedrzejczyk is vicious, dangerous, and relentless on the feet. With a decorated background in Muay Thai, the Polish champion mixes it up very well, and never seems to stop throwing everything she has at her opponent. She has also shown exquisite takedown defense making herself a hard puzzle to solve. Letourneau has looked solid in the UFC, but will all due respect, I don't feel as if she has anything to offer the champion. Jedrzejczyk by first round TKO.