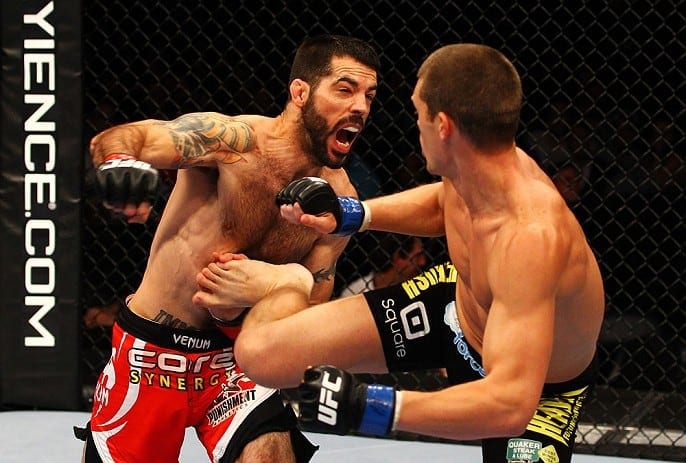 It's once again fight day here at LowKickMMA, and the talent on display tonight (Saturday, June 11, 2015) will come from MGM Grand Garden Arena in Las Vegas, Nevada, in the form of UFC 189. Headlining the card are Chad Mendes vs. Conor McGregor, but there's a whole bunch of great fights also taking place on the preliminary section of the card.
Matt Brown vs. Tim Means closes the preliminary card on Fox Sports 1. This was the best fight on the entire preliminary card. Means hurt Brown early on in the fight, but after Brown poked him in the eye, things turned around for Brown. The finish of the fight saw Brown tag Means with a series of elbows then locked in a guillotine choke for the victory.
Alex Garcia vs. Mike Swick is next in a welterweight bout. Both guys were coming off long layoffs into this fight and no doubt about it, that was a huge factor. Garcia could take down Swick whenever he wanted and Swick really couldn't do anything to make you think he won any of the rounds. Garcia won by decision.
John Howard vs. Cathal Pendred is next in a welterweight bout. Clinch work was on a full display for this fight. Pendred, who had reach on Howard, attempted to close the distance on Howard with the clinch while Howard did a good job of using strikes to gain points. Howard would go on to win the fight by split decision.
Henry Briones vs. Cody Garbrandt opens the Fox Sports 1 preliminary bouts. A decent fight that say Garbrandt control the majority of the fight with his striking. He would go on to win the fight by decision.
Neil Seery vs. Louis Smolka in a flyweight bout finishes off the UFC Fight Pass preliminary card. What a fun fight first off. Both guys mixed it up well with not only striking but wrestling. If you like submissions, these guys gave a great tutorial on them, but just not how to execute them correctly. In the end, Smolka won the fight by unanimous decision.
Opening the UFC Fight Pass prelims is Yosdenis Cedeno vs. Cody Pfister in a lightweight bout. The first and halfway through the second round saw a very entertaining/active stand up fight. Neither fighter landed anything damaging but still entertaining. Pfister found his wrestling late in the second and the entire third round to earn a unanimous decision victory.
So join us right here at LowKickMMA for UFC 189, kicking off at 6:00 PM ET!
PRELIMINARY CARD (FOX Sports 1, 8 p.m. ET)
Matt Brown def. Tim Means via submission (guillotine choke) – Round 1, 4:44
Alex Garcia def. Mike Swick via unanimous decision (29-28, 30-27, 30-27)
John Howard def. Cathal Pendred via split decision (29-28, 28-29, 29-28)
Cody Garbrandt def. Henry Briones via unanimous decision (30-27, 30-27, 30-27)
PRELIMINARY CARD (UFC Fight Pass, 7 p.m. ET)
Louis Smolka def. Neil Seery via unanimous decision (30-27, 30-27, 30-27)
Cody Pfister def. Yosdenis Cedeno via unanimous decision (29-28, 29-28, 29-28)