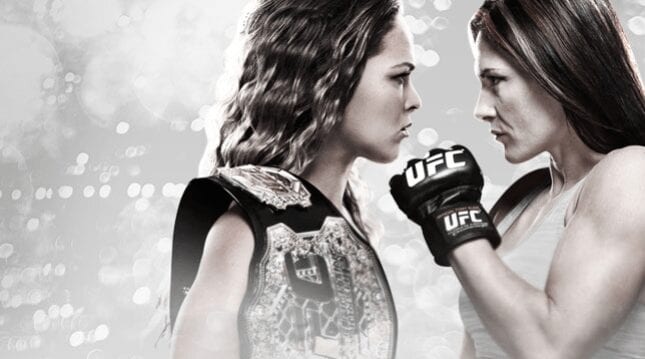 UFC 184 features a headlining bout between unbeaten champion Ronda Rousey and unstoppable contender Cat Zingano. What "Alpha" may lack in terms of credentials, she more than makes up for in grit and determination. That factor alone makes this an interesting fight, but you have to consider how dominant "Rowdy" is at 135 pounds. Could this be the end of her reign, or another exclamation mark in Rousey's brutal ownership of the division?
We'll find out this Saturday February 28th, but for now check out the UFC 184: Ronda Rousey vs Cat Zingano Fight Breakdown
Striking
As far as recent performances are concerned, Rousey's striking is getting better and better. Up to, and including UFC 168 against Miesha Tate, Rousey's only weakness was widely considered her striking game. It would appear she had invested in improving this to a strength, as highlighted by her slick TKO win over Sara McMann and even nastier KO against Alexis Davis. Her striking accuracy is 65% in the UFC, and she avoids 53% of her opponents strikes.
Zingano has five wins by knockout to Rousey's two, and has topped Miesha Tate and Amanda Nunes in her last two outings with strikes. Much more of a gritty banger, "Alpha" likes to work with knees and elbows from the clinch, and also has a great ground striking arsenal. The former "Ring Of Fire" champion has 74% striking accuracy in the UFC, and avoids 43% of her opponents attempted strikes.
Think back to how much better Rousey's striking was between her fights with Tate and McMann, and then on to Davis; She's had another six months to improve. Working at Glendale fighting club has certainly made her striking so much better, and I'll call it 50-50 as her improvement since last July is yet to be seen.
Submissions
The champion's submission game is about as legitimate as we've ever seen a fighter possess, regardless of gender. To win eight fights in a row by armbar takes something very special. A 4th Dan black belt in Judo and Olympic experience makes "Rowdy" the clear favorite in this department.
Don't sleep on "Alpha" though, she has a purple belt in BJJ, three submission wins of her own and trains with the Black House team. This, however, is not on the level of Rousey's submission game by far. 70-30 Rousey
Takedowns
What makes the champ unique in this department is that she uses throws as opposed to the traditional style Greco-Roman takedowns. She has an 80% success ratio in her UFC career, and a 60% stuff rate. Taking a grappling ace like Rousey to the mat would prove foolish for many, as an armbar from her back is one of her favorite weapons.
Zingano has landed all four of her UFC takedowns for a success ratio of 100%, and a defense ratio of 56%. "Alpha" started in wrestling at the age of 12, and went on to become a four-time All-American and National champion. A different style of takedown, but just as effective when mastered. What this category comes down to is credentials, and proven octagon experience. Rousey's list of achievements in Judo is simply too long to chronicle. "Rowdy" gets the nod at 70-30
Keys to victory
The reality of this fight, at least in my opinion, is that Rousey has the advantage in all physical areas. Where she may not be as experienced as Zingano is in the deep waters of fights. "Alpha" makes a habit of coming back from being hurt to finish her opponents, making her extremely dangerous in the later rounds. That being said, she can't rely on a comeback against a born finisher like "Rowdy".
For the champion, I'd say get this fight to the mat early, bully Zingano against the cage throw her around and lock up a limb, no point testing the waters in the stand up if it isn't required. For the challenger, well, this is a tough spot. You can't bully Rousey with punches, you don't want to clinch her up as she'll hip toss you out of the octagon, and going for a takedown might well be suicide. Perhaps Zingano needs to gameplan, look to drag this fight out to rounds four and five, and look for an opening in the stand up.
It'll be a tough night for the challenger no doubt, how to you see Ronda Rousey vs Cat Zingano playing out?