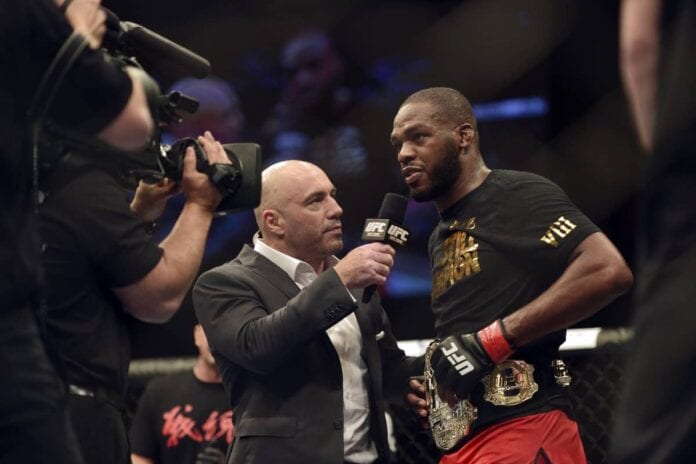 Jon Jones vs. Daniel Cormier:
Mike Drahota:
The last time we saw a heated grudge match on this level was when "Bones" fought former mentor and training partner Rashad Evans back at UFC 145 in April 2012. This fight has had a very similar buildup, and it may somehow feature even more trash talk.
But where I think it will differ is in the caliber of the actual fight itself, as Cormier should provide Jones with one of, if not the, toughest tests of his illustrious octagon career. Jones' obvious advantage will be his size and reach, and he also has an edge in terms of striking creativity. If he can keep Cormier on the outside and thwart his attempts to close the distance with his varied arsenal of kicks, then this fight will be his.
However, if Cormier is able to make this fight ugly like he did against Josh Barnett and Dan Henderson, then I don't think Jones can stop the challenger's takedowns for five rounds. Cormier has never even been damaged in MMA, and I'm excited to see how Jones plans on doing that. This could be the closest pick I've ever had to make, but I have to go with Cormier by third round TKO.
Rory Kernaghan:
Jones vs. Cormier embodies a great fight, a truly great fight. The grudge and trash talk aside; you've got two undefeated beasts looking to tear each other apart for the belt. So what is the difference maker in this near-impossible fight to pick? Power, and Cormier has it in abundance, as well as a chin that is used to receiving punishment from much bigger guys.
Although he is much smaller than "Bones", I feel like this is something "DC" always faced as a heavyweight, and negated with speed and foot movement. After seeing Jones taken down against Alexander Gustafsson, I find it hard to imagine Cormier won't do the same. Don't be mistaken though, Jones' elbows will be even more lethal with a guy Cormier's size, and I make this pick very tentatively…DC by unanimous decision…
Mike Henken:
The trash talk almost done and it's almost fight night. Jones and Cormier are very well rounded, making this a very hard fight to analyze. When it comes to striking, Jones is known for his very unorthodox style, using his huge reach very effectively to land all kinds of kicks and elbows. However, "DC" may possess the power advantage.
It's obvious that Cormier holds the pure wrestling advantage, but "Bones" is no slouch in this area. Just like it will be hard to hit Jones due to his huge reach advantage, it may be hard for Cormier to get in on a takedown, but I definitely think "DC" will be able to get the fight to the ground. Jones has shown solid submissions in his win over Lyoto Machida and Vitor Belfort, but if Cormier gets a takedown, the champ may have problems with "DC's" devastating top pressure. It's a very difficult fight to call, but I truly believe that Jon Jones is the best fighter in the world. I wouldn't be surprised either way, but I'm going with "Bones" by unanimous decision.
Donald Cerrone vs. Myles Jury:
Mike Drahota:
This is another extremely close fight; one where "Cowboy" undoubtedly brings the most momentum with five straight wins. Jury also looked amazing last year, with wins over Diego Sanchez and Takanori Gomi, but I'd have to note that those two veterans are past their prime and pale in comparison to Cerrone's wins over Edson Barboza, Jim Miller, and Eddie Alvarez.
Still, Jury is an undefeated, well-rounded prospect who could undoubtedly be the future of the lightweight division. However, that doesn't necessarily mean that he can defeat a prime "Cowboy," who will certainly be his toughest test yet. Cerrone is a lethal striker with underrated wrestling and submission skills, and while I don't think he'll run over "Fury" like he did last year's opponents, I do believe that Cerrone will earn a hard-fought unanimous decision.
Rory Kernaghan:
Another huge fight with big ramifications in the title picture, will take place in the co-main event. Donald Cerrone might be the hottest fighter coming out of 2014, but he faces an elite level talent who is still getting better in Myles Jury.
The difference here is the striking in my opinion, and it is "Cowboy" who has the advantage. I would not be surprised at all to see "Fury" try to take this fight down right away, but Cerrone is a tricky customer. I don't think he'll be able to finish Jury, but I'm picking Cerrone to outstrike his way to a unanimous decision win.
Mike Henken:
In the co-main event, we get a very interesting fight between a veteran and rising contender. Donald "Cowboy" Cerrone has been on a tear as of late, winning fight straight fights and seemingly looking better each time. Myles "Fury" Jury is also on an impressive winning streak, winning all six of his UFC fights and possessing a 15-0 record.
On the feet, "Cowboy" is a more of a Muay Thai striker, using devastating kicks to batter his opponents. Jury is also strong on the feet, using a more well-rounded attack of kicks and punches. The men may be virtually equal in the wrestling category. "Cowboy" doesn't usually look to take opponents down, but his takedown defense is up to par, as he stuffs 67% of his opponent's takedowns. This defense may need to be used against Jury's 67% takedown accuracy.
If the fight goes to the ground, I think Cerrone has a huge advantage, due to his lofty15 submission wins. When it comes down to it, I just believe that Cerrone is on another level than Jury. "Cowboy" by third round submission.
Photo Credit: Tommy Gilligan for USA TODAY Sports