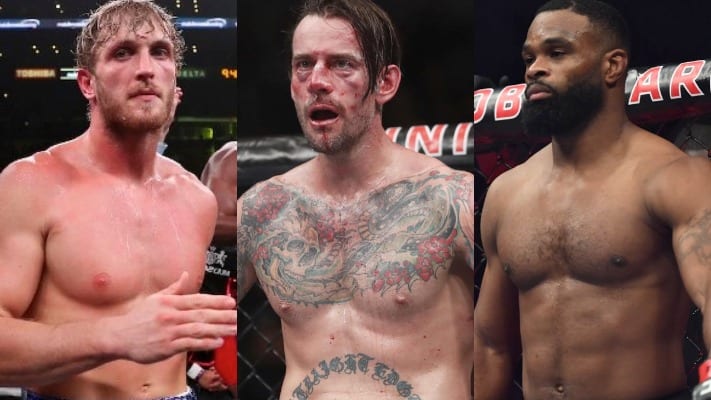 Logan Paul seems to have a great interest in pursuing his combat sports career even further.
Paul just made his professional boxing debut against fellow YouTube star KSI. Although Paul came up short, losing via split decision, he still wants to continue fighting. Paul has even expressed interest in fighting in the UFC.
Speaking to TMZ recently, Paul said he'd like to test himself against a fighter like CM Punk, the former WWE star who is 0-2 under the UFC's banner.
"I am [open to fighting CM Punk]. I think I would destroy CM Punk if I'm being honest. I don't know if anyone would disagree with that. He lost all (his UFC fights). I know I can take him," Paul said.
"This isn't about CM Punk anymore. I would want to fight an MMA fight. I would want to fight in the UFC or Bellator. Why CM Punk? Anyone, just a worthy adversary. It can't be a world-class fighter."
Punk's teammate and former UFC welterweight champion, Tyron Woodley, took to his TMZ Show, "The Hollywood Beatdown," to offer his thoughts. Woodley said he thinks the UFC would actually sign Paul, and a fight against Punk isn't too far fetched. (H/T BJPenn.com)
"(Paul vs. CM Punk) can happen, for sure. To be honest, when the UFC brought over CM Punk, I don't know why they wouldn't bring over Logan Paul," Woodley said.
"Logan Paul is the exact same demographic, 18 to 30 years old. The exact YouTubers that are watching his stuff are the same ones that are watching the UFC. He has a huge following. Great deal. He looks athletic, he's a Division I wrestler, he's insane, and he's going to talk a lot of sh*t so the press conferences are going to be insane.
"After this last event, I wouldn't be surprised in the next two months we see some breaking news of Logan Paul getting a couple-fight deal with the UFC."
So far, UFC president Dana White has not commented on potentially signing Paul to a deal. However, we'll see how things play out moving forward.
What do you think about Woodley's claim that the UFC could sign Paul? Would you watch Paul vs. Punk?