Twitter Reacts To Whittaker's Gorgeous Knockout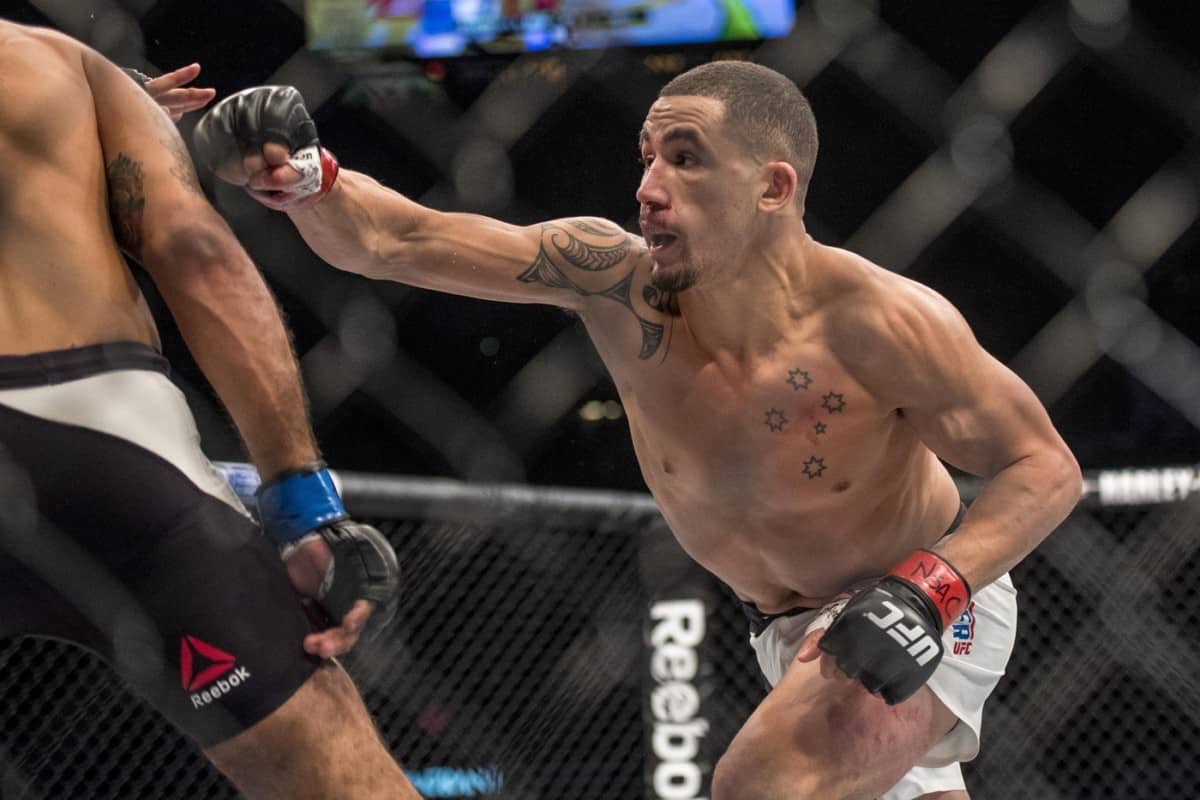 UFC Fight Night 101 (also known as UFC Melbourne) went down tonight (Saturday, November 26, 2016) from the Rod Laver Arena in Melbourne, Australia. The Fight Night card was headlined by a middleweight showcase between top ten 185-pounders Robert Whittaker and Derek Brunson.
Whittaker and Brunson engaged in a one-round slugfest of epic proportions. 'The Reaper' was able to survive Brunson's assaults near the fence despite eating some hard shots. To Brunson's credit, he too was able to withstand some hard counters from Whittaker as he charged forward. But in the end a head kick and follow-up punches put Brunson down for good. The dramatic first-round victory ran Whittaker's winning streak to six straight. He figures to face a top-five opponent his next time out.
In the co-main event, Andrew Holbrook snagged the upset victory over hometown prospect Jake Matthews by unanimous decision. Holbrook leaned on his offensive grappling throughout the fight. He landed a few takedowns of his own, but he did his best work from the bottom when taken down by Matthews. He threatened with multiple leg lock and kimura attempts while also doing some work with kicks on the feet.
See how Twitter reacted to these exciting bouts below:
https://twitter.com/123midnite/status/802748810661392384
Whittaker with a face like he just saw someone looking through his phone from across the room. #UFCMelbourne

— Tommy Toe Hold (@TommyToeHold) November 27, 2016
https://twitter.com/EliasTheodorou/status/802749187813154816
https://twitter.com/iainkidd/status/802750158282833920
https://twitter.com/JESnowden/status/802750429750763521
Brunson looks proud the way he holds that chin up. #UFCMelbourne #ThugjitsuThoughts🤔

— The Thugjitsu Master (@thugjitsumaster) November 27, 2016
https://twitter.com/JustBleedMMA/status/802750409626398720
Brunson got Werdumed! #UFCMelbourne

— Tommy Toe Hold (@TommyToeHold) November 27, 2016
When are dudes going to learn that sprinting at your opponent and reaching for punches is a reaaaaaaaaaaal bad idea?

— Suzanne (@SoozieCuzie) November 27, 2016
Whittaker tags Brunson on the chase!!!! #UFCMelbourne https://t.co/o8Bt6eJckW

— UFC (@ufc) November 27, 2016
If you ever wanna show someone bad fight IQ…show em this fight

— Adel Brkić (@AdelBrkic) November 27, 2016
Wow! Whittaker! #UFCMelbourne

— Megan Olivi (@MeganOlivi) November 27, 2016
https://twitter.com/mookiealexander/status/802751019797147648
https://twitter.com/GrabakaHitman/status/802751031092322304
I see where Derek Brunson got his strategy for tonight. #UFCMelbourne pic.twitter.com/49db8mImKs

— Joshua Sánchez (@jnsanchez) November 27, 2016
ROBERT WHITTAKER #UFCMelbourne pic.twitter.com/ljT49jSYrd

— MMA GOSSiP (@MMAxGossip) November 27, 2016
Best round I've seen in a LONG LONG time. Whittaker vs Brunson. GOOD LORD! #UFCMelbourne

— Brendan Schaub (@BrendanSchaub) November 27, 2016
Damnnn!! Whittaker is no joke! Stayed calm thru the Brunson onslaught, and capitalized on an opening with a BIG left hand!#UFCMelbourne

— Aljamain Sterling (@funkmasterMMA) November 27, 2016
Exactly. Can't sprint at a guy untouched. https://t.co/BeGeDo8hsj

— Kyle Kingsbury (@Kingsbu) November 27, 2016
Another disastrous night of picks in the books. pic.twitter.com/FdjrqqEY20

— Fernanda Prates (@NandaPrates_) November 27, 2016
https://twitter.com/UFCInsiders/status/802751954493571072
https://twitter.com/123midnite/status/802752363417063424
https://twitter.com/ZPGIFs/status/802752720725745664
Color me damned impressed that Whittaker was able to keep Brunson from running him over.

— Zane Simon (@TheZaneSimon) November 27, 2016
https://twitter.com/Patrick_Wyman/status/802753437456744449
Hoping Brunson makes some adjustments. I feel like hes done that in a few fights and had major success. He paid for it tn. He'll bounce back

— Aljamain Sterling (@funkmasterMMA) November 27, 2016
https://twitter.com/superCalo/status/802754040023031809
"Co main event Matthews vs Holbrook" is pretty depressing to say. #UFCMelbourne

— MiddleEasy (@MiddleEasy) November 27, 2016
Holbrook looking to break the youngin' with relentless pressure. #ufcmelbourne

— The Mane Event™ (@EliasTheodorou) November 27, 2016
When I was 22 I couldn't even figure out what was a reasonable tip for a pizza, let alone fight in the UFC. #UFCMelbourne

— Tommy Toe Hold (@TommyToeHold) November 27, 2016
Holbrook with submission attempt after submission attempt! Thought he was taking either the arm or the foot home. #UFCMelbourne

— Aljamain Sterling (@funkmasterMMA) November 27, 2016
https://twitter.com/SecretMovesMMA/status/802744224009555968
Here we go! #UFCMelbourne pic.twitter.com/N42otQk4pm

— UFC (@ufc) November 27, 2016
What a win for Holbrook. https://t.co/lHwM7Brm4K

— Ariel Helwani (@arielhelwani) November 27, 2016
Holbrook: The plan was to get on him, don't give him space. Pressure, pressure, pressure. Until he gets tired. #UFCMelbourne

— MMA Fighting (@MMAFighting) November 27, 2016