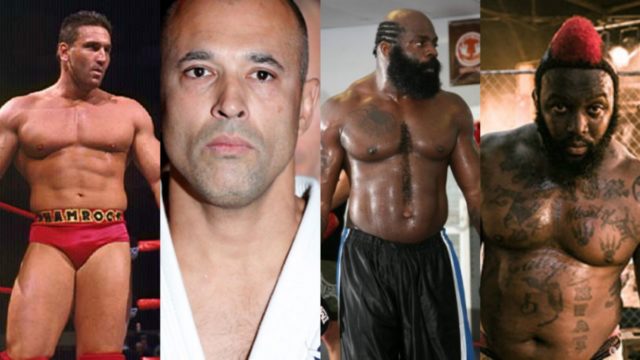 Bellator announced a star studded line up (by their standards) during their show last night (Friday November 6, 2015), as BMMA 149 will showcase Ken Shamrock vs. Royce Gracie 3 and Kimbo Slice vs. Dada 5000. As far as matchmaking is concerned, this is weird at best. We all know after the Shamrock vs. Kimbo bout this summer that the promotion cares a lot more for name value than actual MMA ability, but is the Bellator 149 announcement just that bit too much?
Often referred to as the UFC's biggest rival, surely the guys at Bellator have bigger plans than putting two youtube street fighters and two OAP's, albeit legends of the sport, on one 'blockbuster' card. Alas, the same promotion that once had a WWE style showdown between Stephan Bonnar, Tito Ortiz and a bearded gimp is now taking yet another step in the direction of complete insanity.
Either that, or Scott Coker's Bellator is bordering on genius. Check out how Twitter reacted to the announcements of Shamrock vs. Gracie 3 and Kimbo Slice vs. Dada 5000.
Why? Really why? These dudes are *D* class fighters at best and fart dust. @BellatorMMA @MMAfightfans @ShamrockKen @realroyce @KimboSlice

— Classified (@CAVEmanKENT) November 7, 2015
He is to Kimbo Slice what Jimmy Smith is to Joe Rogan. #MMASATQuestions https://t.co/ypQOYPwB1L

— Jonathan Snowden (@JESnowden) November 7, 2015
Kimbo Slice is fighting…Hal 9000?

— Tommy Toe Hold (@TommyToeHold) November 7, 2015
DaDa 5000 has the sledge! Coker didn't even mention that him and Kimbo was extreme rules, that's a gamechanger, guys https://t.co/1eappifWh8

— Jordan Breen (@jordanbreen) November 7, 2015
@sherdogdotcom who is dada 5000

— Tim Sylvia (@timsylviamma) November 7, 2015
Royce Gracie vs Ken Shamrock 3 Face Off #Bellator145 https://t.co/XaYXkD1WYZ

— ZombieProphet (@ZProphet_MMA) November 7, 2015
My face when Ken Shamrock vs Royce Gracie 3 was announced #Bellator145 pic.twitter.com/bgt8qao8kQ

— #TheKing (@Izi_Garcia) November 7, 2015
If you enjoyed this story, please share it on social media!