Twitter Reacts To Holly Holm's Upset Loss To Valentina Shevchenko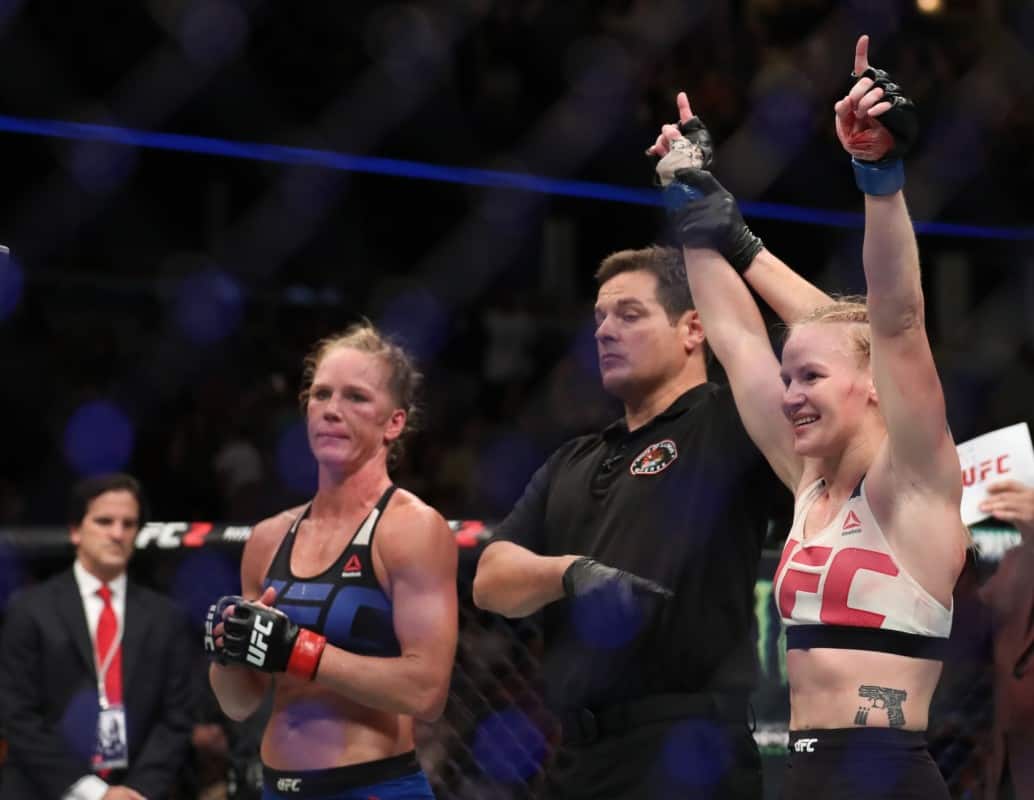 Another Ultimate Fighting Championship (UFC) event is in the books. UFC on FOX 20 took place on Saturday night (July 23, 2016) from the United Center in Chicago, Illinois. Former UFC women's bantamweight champion Holly Holm (10-2) looked to rebound from a late submission loss to Miesha Tate back at UFC 196 in her only title defense. In order to do that, she needed to best Valentina Shevchenko (13-2) inside the Octagon.
"The Preacher's Daughter" couldn't earn the win despite knocking down "Bullet" early. Shevchenko got into a rhythm in the second round and didn't stop countering the former champion, earning her a unanimous decision victory.
The co-main event featured a lightweight clash between a returning Gilbert Melendez (22-6) and a surging Edson Barboza (18-4). In the end it was Barboza's ability to keep the fight standing that allowed him to pepper the former Strikeforce 155-pound kingpin with leg kicks. The Brazilian scooped up scores of 30-27, 30-27, and 29-28 to take the win.
Here are some Twitter reactions to both bouts:
Holm vs Shevchenko up next on FOX!!! #UFCChicago pic.twitter.com/EKS216ph45

— Dana White (@danawhite) July 24, 2016
Looking forward to this @HollyHolm vs Schevchenko fight #UFCChicago
Holm has the form – if she can keep it standing.

— Gareth A Davies (@GarethADaviesDT) July 24, 2016
"I'm not here to participate, I'm here to dominate" – @HollyHolm #UFCChicago pic.twitter.com/6OxoJYFhan

— #UFCChicago (@ufc) July 24, 2016
"Holly Holm is a former 18 time world boxing champion." THAT IS NOT HOW YOU CALCULATE TITLE REIGNS. GOD. #UFCChicago

— Jonathan Snowden (@JESnowden) July 24, 2016
Holm strikes first with a clean knockdown! #UFCChicago https://t.co/p6hdOhi0hh

— FOX Sports: UFC (@UFCONFOX) July 24, 2016
Holm 10-9. She's bigger, stronger and has more power. But Shevchenko is having her moments.

— MMAFighting.com (@MMAFighting) July 24, 2016
That counter spinning back fist was amazing, even though it was blocked. 19-19 after 2. Fun fight again.

— Ariel Helwani (@arielhelwani) July 24, 2016
Whoop Whoop! #SpinningShit #UFCChicago

— Spilled Bag of Ice (@spilledbagofice) July 24, 2016
Both fighters so far #UFCChicago pic.twitter.com/hMfhzDm5GJ

— Rusty Moreno (@RustyMoreno) July 24, 2016
Lay N pray to the power of 10 #UFCChicago

— Stephie (@CrooklynMMA) July 24, 2016
Yellow card!!!! #PRIDERules #UFCChicago

— Tommy Toe Hold (@TommyToeHold) July 24, 2016
Shevchenko confidence high. She's up 29-28 over Holm after three. Ohhh boy.

— Brett Okamoto (@bokamotoESPN) July 24, 2016
Schevchenko going all Andy Hug there. Nice. #UFCChicago

— Greg Savage (@TheSavageTruth) July 24, 2016
Schevchenko is sharp always countering. Holly is behind now so she's gonna have to take some risk. Which is dangerous against Valentina

— Daniel Cormier (@dc_mma) July 24, 2016
Valentina a completely different level, made the former champ look very ordinary. Expected much better hands from a boxing world champion?

— Coach Kavanagh (@John_Kavanagh) July 24, 2016
If Ronda comes back early 2017.. Skill wise .. Is she even still top 5 in the division?

— FrontRowBrian (@FrontRowBrian) July 24, 2016
I won the first fight with @BulletValentina by UD… if I fight her again I will beat her again, this time very clean.#UFCChicago @joerogan

— Amanda Nunes (@Amanda_Leoa) July 24, 2016
#UFCChicago Results: Valentina Shevchenko def. Holly Holm via unanimous decision (49-46, 49-46, 49-46)

— LowKickMMA.com (@LowKick_MMA) July 24, 2016
Barboza vs Melendez up next on FOX!!! #UFCChicago pic.twitter.com/6erNuniCHS

— Dana White (@danawhite) July 24, 2016
This is Melendez's first fight in Reebok uniform. Wouldn't it be great if he walked out with the "Giblert" fight kit? #Giblert #UFCChicago

— Mike Chiappetta MMA (@MikeChiappetta) July 24, 2016
Let's go GIBLERT! @Reebok #UFCChicago

— Vinny Magalhães (@VinnyMMA) July 24, 2016
Let's go @GilbertMelendez ! #norcal #bay #scrappack

— Daniel Cormier (@dc_mma) July 24, 2016
This fight is definitely living up to the expectations.

— Brett Okamoto (@bokamotoESPN) July 24, 2016
Edson Barboza is a torture pornographer with what he does to opposition with his leg kicks.

— Luke Thomas (@SBNLukeThomas) July 24, 2016
Inside Gilbert's left leg right now. #UFCChicago pic.twitter.com/pzoIfw4k32

— Tommy Toe Hold (@TommyToeHold) July 24, 2016
USADA just flagged Barboza's legs as performance enhancing drugs. #UFCChicago

— MiddleEasy (@MiddleEasy) July 24, 2016
Gilbert Melendez must always pay cash or credit because he does not believe in checks #UFCChicago

— MMA Roasted (@MMARoasted) July 24, 2016
Things I would NOT ever want to do: take leg kicks from Edson. Ever.

— Dave Sholler (@Sholler_UFC) July 24, 2016
Barboza's defense is much better in the pocket, very fast left hand too. Big jump since moving to NJ training w/ Mark Henry & crew

— Brian Stann (@BrianStann) July 24, 2016
Barbosa I'm a fan

— Amanda Nunes (@Amanda_Leoa) July 24, 2016
@MMARoasted @JustBleedMMA @TommyToeHold This is Gil right now pic.twitter.com/qD4lRkvGA1

— Rusty Moreno (@RustyMoreno) July 24, 2016
Anybody else would have quit. There's only one @GilbertMelendez

— Chael Sonnen (@ChaelSonnen) July 24, 2016
Fight over. Melendez limping. Barboza should win this. Gimme him vs RDA next. Movin' on up …

— Ariel Helwani (@arielhelwani) July 24, 2016
Scariest kicks in the business @EdsonBarbozaJR #UFCChicago https://t.co/3Gzk5wEFR7

— FOX Sports: UFC (@UFCONFOX) July 24, 2016
#UFCChicago Results: Edson Barboza def. Gilbert Melendez via unanimous decision (30-27, 30-27, 29-28)

— LowKickMMA.com (@LowKick_MMA) July 24, 2016