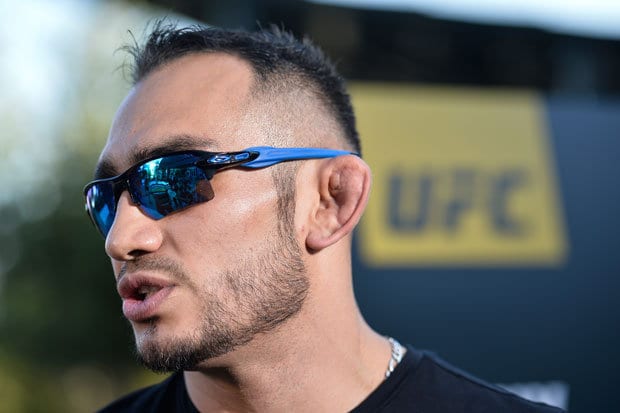 Things aren't going so well for UFC lightweight Tony Ferguson.
After news broke that he had been receiving threats due to his choice to pick fights, another issue is now troubling the former interim lightweight champion.
According to a report from MMA Junkie, Ferguson's wife filed a restraining order against her husband, alleging domestic violence on Wednesday. Cristina Ferguson filed the restraining order in Orange County (Calif.) Superior Court based on online records here. A hearing reportedly took place that day.
An investigation was scheduled for March 22 by the court's domestic violence prevention services project. A domestic violence hearing is also scheduled for April 5. No specifics were released on the allegations made by Cristina Ferguson. The court defined a domestic violence restraining order as an "order that helps protect people from abuse or threats of abuse from someone they have a close relationship with."
MMA Junkie cited five police incident reports that revealed multiple domestic disturbances at Ferguson's home beginning in January 2018. Three of those took place in the last month. Those police reports were redacted to protect specific information. Tony Ferguson was not arrested during any one of the alleged disturbances.
Details Are Sparse
Cristina Ferguson was not available for comment when requested by MMA Junkie. Tony Ferguson's management Paradigm Sports issued a brief statement on the matter:
"This is a private family matter that is in the process of being resolved."
Police conducted a welfare check on Tony Ferguson on February 19 after he allegedly made threats, causing his wife and son to leave their house, based on a separate police report. Tony Ferguson supposedly had "not slept for three days and was tearing apart the home" and "broke apart the fireplace and believed someone placed a (computer) chip in his leg" according to an unidentified female witness. A man called the police after Tony Ferguson told him "someone was inside his walls."
More Concerning Episodes
Cristina Ferguson contacted police from a park after leaving their home three days before that disturbance on February 16. She claimed Tony Ferguson had not gotten violent with her. Yet she was concerned for his health. Police commented on the report that she claimed "he kept throwing 'holy water' at her." Ferguson's condition allegedly continued to worsen as he refused to go to a hospital for an evaluation.
Police showed up to the house they shared because of another disturbance. An officer told Tony Ferguson to see a doctor. "El Cucuy" agreed. He was not deemed a danger to himself or others. Cristina Ferguson was still cautioned to take their child to her parents' home.
This was only two of the five incidents a report was filed for. The concerning news comes after UFC President Dana White recently said Ferguson was going through rough times, stating Ferguson was "dealing with a lot of personal issues right now and can't fight. Hopefully things turn around for him and he can get back in there."

'El Cucuy' has won 11 straight bouts in the UFC. He was recently offered an interim lightweight title fight with current featherweight champion Max Holloway but turned it down.