One of the most rapidly rising young contenders in the UFC's lightweight division is none other than Tony 'El Cucuy' Ferguson, who is approaching the biggest opportunity of his mixed martial arts (MMA) career this Saturday (November 2, 2016).
Ferguson, who is currently riding the momentum of an eight-fight win streak, will meet former 155-pound champ Rafael dos Anjos in the main event of this weekend's Ultimate Fighter Latin America 3 Finale (TUF Latin America 3 Finale) with a chance to solidify himself as one of the premiere title contenders in the talent-stacked UFC lightweight roster.
While the current title picture in Ferguson's division currently rests on the shoulders of Conor McGregor and champion Eddie Alvarez in their lightweight title main event at UFC 205, 'El Cucuy' has noticed that the 155-pound division has been very reluctant to call out his name for a potential throw-down, and put his fellow lightweights on blast because of it during a recent interview with FOX Sports:
"You don't hear McNugget (Conor McGregor) saying my name. You don't hear (Eddie) Alvarez saying my name," Ferguson told the Fight Society podcast. "You try to have Khabib (Nurmagomedov) trying to surpass me and getting a fake belt from his country. This is what I'm about.

"I'm the real deal. RDA's No. 2, I'm No. 3 in the world and no (expletive), these guys don't want to fight me. I'm a scary mother (expletive) every time I'm inside that cage. You can't prepare for somebody like me."
Ferguson's view on the 155-pound division is simple, the only legit fighters that have given him a true contest inside the Octagon are Edson Barboza and Josh Thomson, while the D'Arce choke specialist calls the rest a bunch of 'whiny b*itches':
"They sound like a bunch of whiny (expletive). Straight up," Ferguson said addressing his fellow lightweights. "Honestly. McNugget and Alvarez are over there, I hope they knock each other out. The only legit fighters that I really faced are Josh Thomson and Edson Barboza. They gave me the fight that I needed and I hope these top three can give me what I need. Cause I'm skill building. Each and every fight, I get better and better.

"These guys want to argue over the belt, their focus is gone. RDA's focus is on the belt, trying to get there, trying to get back to that spot. I'm over it. If I wanted that belt, I would have already had it. I would have talked my way there but I'm classy."
While fans and media clamor for Ferguson's highly-anticipated shot at UFC gold, he himself isn't in too much of a hurry to win the title as he much rather prefers not to follow the pack and talk his way into a title opportunity, letting his work inside the Octagon do the work for him instead:
"If the title does come, it does. I'm not really worried about it. Those guys can keep fighting over it. I have a belt on right now. It fits perfectly," Ferguson said.

"The media and everybody 'title fight, title fight' — yeah, I'll get there. Everybody wants me to have that belt more than I do. I've never been one to follow what everybody else is doing."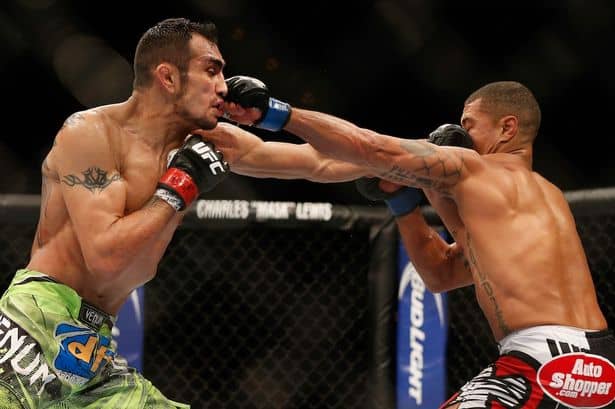 One of the biggest advantages 'El Cucuy' believes he has coming into fight night with 'RDA' is that while his focus is on the man in front of him at the moment, 'RDA's' is fixated upon the title he lost via first round TKO to Alvarez in July, something Ferguson plans to use to end the Brazilian's night rather early:
"I found peace and that's a very dangerous thing for me for everybody else. When I'm at peace of mind, soul and body, I'm dangerous. Come Nov. 5 on FOX Sports 1, RDA's going to get it. No animosity towards the fella, but this is business. He's going to get finished."

"His focus is on the belt, mine is on him."
Dos Anjos and Ferguson will meet in the main event of TUF Latin America Season 3 Finale live on FS1, from the Arena Ciudad de Mexico in Mexico City, Mexico this Saturday (November 5, 2016).