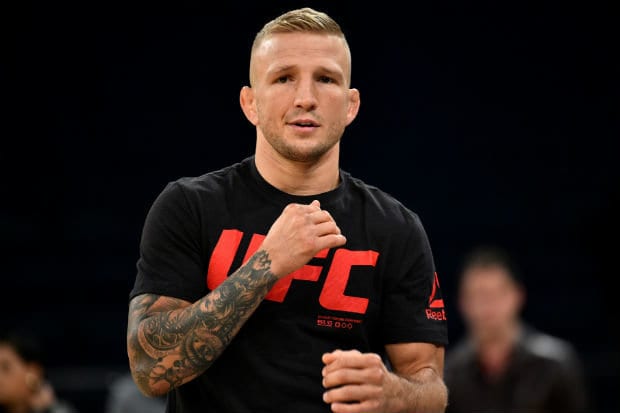 Superfights are all the rage these days in MMA. It looks like we may get another one, but TJ Dillashaw won't let the UFC or Henry Cejudo dictate the terms.
UFC President Dana White has stated on multiple occasions that a champion vs champion match between Dillashaw and Cejudo should be contested at bantamweight. However, the former Team Alpha Male fighter is adamant that the fight takes place in the flyweight division.
"Who is Henry Cejudo to have the street cred?" Dillashaw told MMAjunkie."I've been the one flirting with the idea of going down to 125 to fight a guy that was scared to fight me the entire time, a guy (Cejudo) beat.

"He beat a guy that was scared of me, and now he wants to come up and challenge me? It's a little ridiculous if the UFC wants to get behind him."
Before capturing the bantamweight title for the second time, Dillashaw was lobbying for a title shot against now-former flyweight champion Demetrious Johnson. However, the bout never came to fruition and now "Killashaw" finds himself in an interesting position. Regardless of the opponent.
 "No matter what, he comes to my weight class, or I go to his, I'll whoop his ass," Dillashaw (16-3 MMA, 12-3 UFC) said of Cejudo (13-2 MMA, 7-2 UFC). "But who's got the credit to go down? I'm the No. 3 pound-for-pound fighter right now. I should make the decision."
TJ's Call
Dillashaw has never competed at 125 pounds in his professional career. But he did get down to 140 pounds when the "Mighty Mouse" fight was being discussed. The fight eventually fell through.
As for the former Olympic gold medalist, Cejudo had trouble making the flyweight limit early in his MMA career. But a move up to bantamweight for his UFC debut seemed to help Cejudo adjust. Since moving back down to 125 pounds he hasn't had any weight issues.
Dillashaw believes Cejudo is the same size as he is. He doesn't want any excuses when he beats him, either, so he wants the fight to be at 125:
 "I'll be boisterous," he said. "I'm the one that's a professional, I'm the one that can cut the weight. I'm not a big 135-er. I walk around under 150 (pounds) right now.

"I guarantee you Cejudo is just as big as me right now, I don't want the excuse of me beating Cejudo's ass and (him saying), 'Oh, it's because he's bigger than me. (Expletive) that. I'm not. I'll be at 125. There's no excuses."
For his own division, Dillashaw has some ideas there too. He thinks the UFC should book a title eliminator between ex-champ Dominick Cruz and Marlon Moraes.
 "As soon as they fight and win," he said. "Dominick hasn't fought in two years. Go beat Moraes, and then we'll talk. Same with Moraes; Moraes lost to (Raphael) Assuncao. Come back, get that win, and prove yourself. Then I'll (expletive) you guys up."
If you enjoyed this story, please share it on social media!