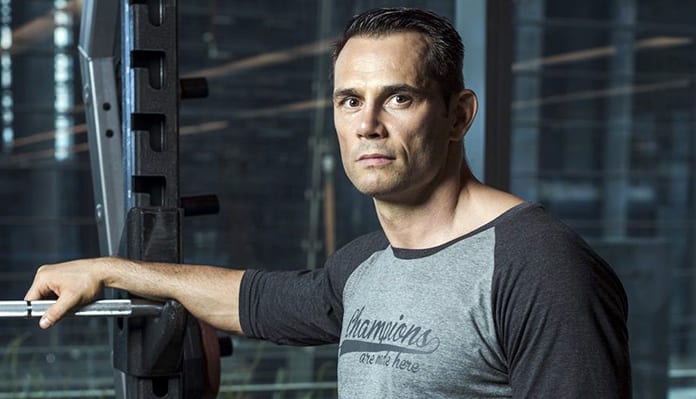 MMA may not seem like the smartest career choice because at its essence it is getting punched in the face for a living. Despite that, it has been a sport that plenty of educated people have decided to pursue. Their families may have tried to talk them out of the sport and told them that they need a degree fast, but some people have been able to be highly successful in the classroom and in the Octagon. Join LowKickMMA as we highlight the three most educated fighters to ever grace the Octagon.
#3 Rich Franklin
Rich Franklin didn't get into MMA until the age of 25 but still managed to become a UFC Hall of Famer who held the middleweight title twice and shared the Octagon with some of the biggest legends in the history of the sport including Chuck Liddell and Anderson Silva.
Before all that, Franklin studied at the University of Cincinnati getting his BA in mathematics. 'Ace' then went on to receive an M.A. in education and teach math at Oak Hills High School.
#2 Miranda Maverick
The only current UFC fighter on this list is Miranda Maverick, who at just 24-years-old is already one of the most impressive people in MMA. 'Fear The' has already carved out a 9-4 professional record which includes wins over the likes of Gillian Robertson and Pearl Gonzalez. What is most impressive is that Maverick has been able to become an elite-level MMA fight while also excelling academically.
Maverick graduated from Drury University in 2018 with honors after majoring in psychology and sociology in 2018. Maverick then relocated to Norfolk to pursue a Ph.D. in Industrial/Organizational Psychology at Old Dominion University which she is expected to obtain in 2022. Alongside her studies and fight career, Maverick works as a Media Marketing Statistician for The Hershey Company.
#1 Rosi Sexton
Rosi Sexton paved the way for British women in MMA. The 44-year-old retired from the sport in 2014 with a record of 13-5 having fought the likes of Gina Carano, Roxanne Modafferi, Aisling Daly, Jessica Andrade, and Joanna Jedrzecyzk.
'The Surgeon' is an oddity in the world of MMA due to the fact she has attended and succeeded at perhaps the best university on earth. Sexton graduated with a first-class degree in maths in 1998 from Trinity College, Cambridge before relocating to Manchester where she received a Master of Science degree in math logic two years later. Sexton then went on to obtain her Ph.D. in Theoretical computer science.
Since leaving MMA, Sexton has launched a career in politics and represents the Green Party. In May 2019, Sexton was elected as a Green Party councilor in the Shirley Westward of the Solihull Metropolitan Borough Council. A year later it was announced that Sexton would stand for election for leader of the Green Party in England and Wales, and she ultimately finished second to the incumbent leaders.
Do you know any other MMA fighters who are highly educated?