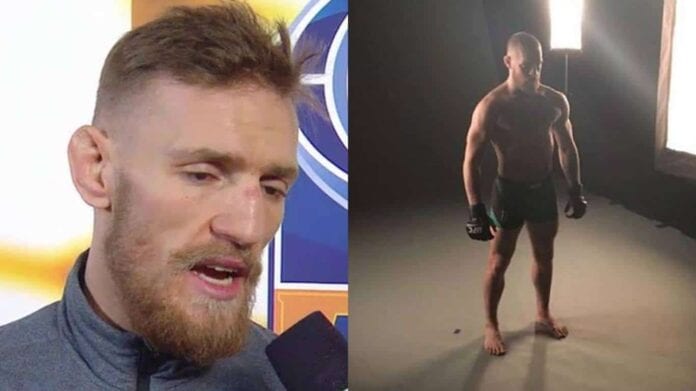 Reigning UFC featherweight champion the "Notorious" Conor McGregor has continued to repeatedly make headlines in the last few weeks after he went into a temporary 'retirement', and was pulled from his scheduled UFC 200 rematch with Nate Diaz by the promotion for not meeting their marketing requirements.
Apparently, the Irishman wanted to focus solely on his training coming off of a loss instead of leaving his camp in Iceland and flying to America for press conferences and commercials.
The UFC was having none of it, and the highly anticipated rematch was scrapped from the blockbuster card.
A teammate of McGregor's, UFC welterweight Gunnar Nelson, recently spoke on the situation, reiterating the idea that the "Notorious" one simply wanted to spend his time in the gym after suffering his first Octagon loss to Diaz at March's UFC 196.
Nelson also confirmed that McGregor was indeed retired, although he foresees the Irishman returning sometime later this year:
"I think it kind of happened because he really wanted to focus on his training for this fight, and he felt like going over there [to the States] and doing all this media stuff was going to take away from his training," Nelson said on Monday's edition of The MMA Hour. "And I think that was the reason why he kind of had enough. Like he says, he's done dancing like a monkey, and he felt like going over there was going to come down on his training. So he decided to retire, and he was retired.
"And then I think he kind of changed his mind and wanted to see if he could come back or make it through whatever was the deal. But I do believe he's going to come back and fight. When exactly I'm not sure, but maybe 201 or 202. I would definitely put my money on that he'll be back."
As far as what the future holds for McGregor, UFC President Dana White made it clear that he will next defend his title against the winner of UFC 200's interim title tilt between Jose Aldo and Frankie Edgar.
The "Notorious" one, however, appears to have his eyes set on his rematch with Diaz which was once again set at 170 pounds.
Some have criticized McGregor for jumping so high up in weight, but Nelson admitted that the Irishman's cut down to 145 pounds is 'nasty', adding that he hopes to see him fight at lightweight in the future:
"It's really just up to him, whatever he wants to do," he said. "I think that 145 is…I know he can go back down and defend his title, no problem. But I just think he doesn't want to do that cut again. It's a nasty one, and I agree with him. I understand that. So I think maybe I would like to see him going to the 155 before going all the way up to the welterweight. But you know, he can do whatever he feels like."

What do you feel is the best fit for McGregor in terms of weight classes?