Khamzat Chimaev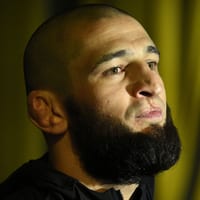 DOB: May 1st, 1994
Birthplace: Chechnya, Russia
Nickname: The Chechen Wolf
Gym: Allstar Training Center
Style: Wrestling
Weight Division: Welterweight/Middleweight
Championships: N/A
Chimaev's wrestling background
The Chechyn fighter Chimaev has been wrestling since he was 5 years old. At 17, he won the bronze medal at the Russian National Championship.
When he was 19, Chimaev immigrated to Sweden, where he continued to wrestle. He was immediately considered one of the best freestyle wrestlers in the country.
For three straight years, Chimaev won the Swedish National Championship. Two times at 86 kilograms and his last title at 92 kilos in 2018. He was never defeated while competing in Sweden going 12-0 in competitions.
Chimaev's early MMA training
When Chimaev was 23, he started training at MMA at Allstar Training Center. He would be teammates with top UFC fighters Illir Latifi and Alexander Gustaffson.
Everyone who trained with Chimaev raved about how good he was and expected great things from him. Early on he would have 3 quick amateur fights winning all 3 by stoppages before going pro.
Chimaev in Brave Combat Federation
Khamzat would make his professional MMA debut with Middle Eastern MMA promotion Brave Combat Federation. He would win his pro debut by knockout in the very first round.  
Quick finishes and quick turnarounds would seem to be a trend with Chimaev. His 2nd professional fight would be just 3 months after his debut at middleweight, which he would win by RNC.
Then 3 months after his 2nd professional fight, Chimaev would fight at welterweight winning by KO. His fourth fight was just one month after his 3rd pro fight and he would again win that by TKO
Chimaev took a little extra time off waiting 4 months before his 5th pro fight in 2019. He would win this fight at KO and then fight one more time that year and win by d'arce choke. 
Chimaev's UFC debut
With an impressive 6-0 record all by stoppages, Chimaev made it to the UFC very quickly. Khamzat made his UFC debut on Fight Island on July 16th ESPN card.
Chimaev would deliver another dominant performance in his UFC debut submitting John Phillips with a d'arce choke at middleweight.
Then just 10 days after his UFC debut, Chimaev stepped in on short notice to fightRhys McKee. This fight was at welterweight and somehow Chimaev made weight without any problems winning by TKO in the 1st round.
With 2 dominant performances in 10 days, he caught the attention of many MMA fans. Dana White was seeing dollar signs with his newest prospect.
Khamzat had quickly become one of the most feared fighters in the UFC with barely a year in the promotion. His next fight at middleweight would be another quick win by knockout in the first 17 seconds. His second shortest fight with his first pro fight lasting 5 seconds.
In his first 3 UFC fights, Chimaev dominated his opponents. He now looks to make his way to the top of both the welterweight and middleweight divisions.