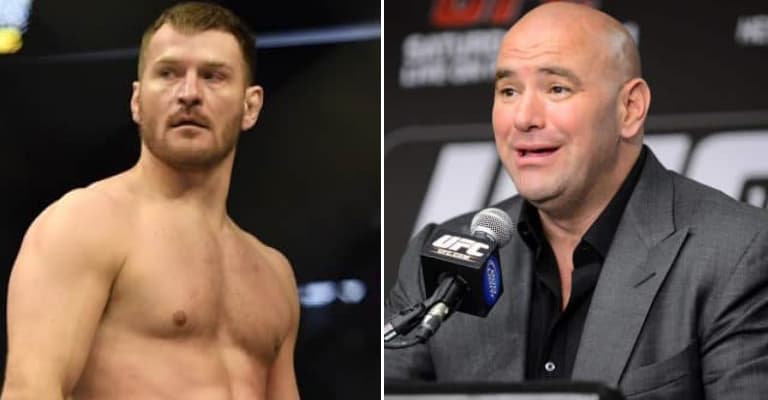 Heavyweight champion Stipe Miocic picked up the biggest win of his already decorated MMA career by dominating previous runaway freight train Francis Ngannou with a seamless display of wrestling and fight IQ in the main event of last night's (Sat., Jan. 20, 2018) UFC 220 from Boston.
In doing so, he not only secured the record for most consecutive heavyweight title defenses with three but also proved he could withstand the momentum of the most promoted up-and-comer in in quite some time in 'The Predator' – a fighter who has hyped as almost indestructible and a near shoo-in to be the next champion as the much more nondescript Miocic was largely left in the shadows.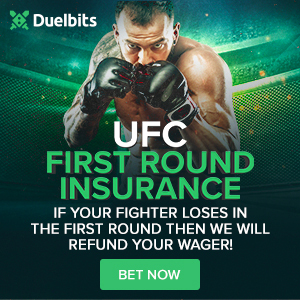 However, it appears the bad blood of the perceived disrespect done to him by the UFC remains.
After his dominant win over Ngannou, you may have noticed that Miocic actually took the title from UFC president Dana White, who normally puts the belts on every winning champion, and handed it to his coach Marcus Marinelli to put it on him instead.
Watch the scene unfold here:
Later at the post-fight press conference, Miocic briefly acknowledged what happened, saying that it was a matter of respect between him and his coach:
"(He's) my dude. He respects me and I respect him. End of story."
He didn't say if he believed the opposite was true of White, but the now all-time great did admit he didn't know what the outspoken executive thought about him, and he didn't care.
To the champ, it was more about what he and his team had accomplished together:
"I don't know and I don't really care. Where's my coach at? Those dudes right there are my family. They all respect me and I respect them. They come with me. We go to war no matter what – win, lose or draw. That's my family. We all respect each other no matter what the situation is."
Earlier during fight week, White had mentioned he and Miocic had "butted heads" on a Boston radio show, and the two sides were reportedly involved in a contract dispute after Miocic's previous title defense against Junior dos Santos in May 2017.
While the UFC may not believe the soft-spoken, no-nonsense Miocic is all that marketable and that may be at least some part of the problem, the legendary champ said he wasn't going to change how he promoted himself.
he's already got enough on his hands, and to him, White wouldn't even admit what the discord was after denying it when confronted about it:
"No man, we'll keep doing what we do. If it ain't broke don't fix it. I don't really care. Honestly, I've got so much on my plate right now. I'm so happy with my beautiful wife and our child. I'm very lucky, I've got my coaches here and they're amazing. Listen man, I don't worry about repairing anything. I don't know.

"I called him out when he said that we were butting heads. I called him out on that it was pretty funny. He was saying 'What are you talking about?' So, I don't know. He denied it."
It seems like the world's MMA leader and their now record-breaking champion aren't exactly on the same page, and it's not really a surprise considering that much of the promotional weight was put behind Ngannou rather than the actual champion heading into UFC 220.
Is it time for the UFC to accept Miocic as one of their best and promote him even if he doesn't conform to their entertainment-focused ideals?