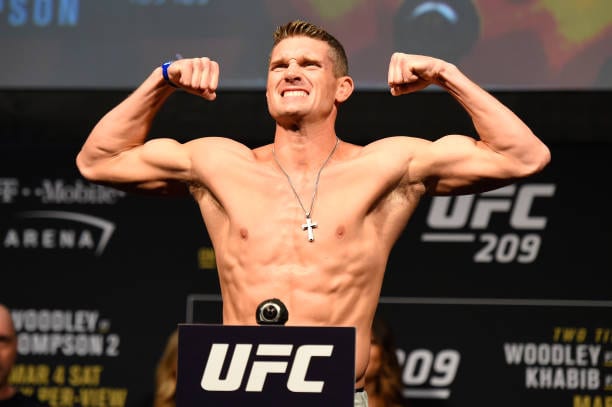 Stephen Thompson continues to question the decision making of the UFC to book Tyron Woodley vs. Darren Till at the UFC 228 PPV event.
As seen in the main event of UFC Liverpool event back in May in Liverpool, England, Till picked up a unanimous decision win over Thompson.
Before this controversial loss, Thompson had suffered just one loss in his last ten fights as he suffered a majority-decision loss against Woodley at UFC 209 in March 2017.
Now, Till will challenge Woodley for the welterweight title at the upcoming UFC 228 pay-per-view event. In a recent interview, he gave his take on why this fight is happening. According to the former title contender, the UFC wants to make Till the new Michael Bisping.
Stephen Thompson Continues To Question
"The only thing that makes sense to me about it all is that Michael Bisping was on his way out," Thompson said. "The UFC knew that and they really don't have a whole lot of people to promote from the United Kingdom. So they have this loud mouth kid, who is tough and literally just fell into their lap, so now they're pushing him forward."

"That's all I can really see. It doesn't make sense. There's really no other scenario that makes sense. None of this makes sense to be honest. Why is this fight even happening?"
Robbie Lawler vs. Stephen Thompson
Just last month, it was reported that the UFC was trying to book Robbie Lawler vs. Stephen Thompson in 2019. This is an important fight for not only the fighters but also for the UFC and ESPN.
It will mark the first event under the UFC banner to air on ESPN. Thompson noted in this interview that he's still waiting to hear updates for this fight.
"Fans always come up and ask me 'Hey when are you fighting Robbie?' and tell me how awesome they think that fight would be," Thompson told BJPenn.com. "So yeah I'm definitely up for it. Unfortunately at this time there is just nothing set in stone when it comes to me fighting Robbie. It has been mentioned by the UFC but that is about it. I don't even know if Robbie would be ready by January. So at this time I really don't know who I'll be facing next. It could really be anybody at this point."
If you enjoyed this story, please share it on social media!