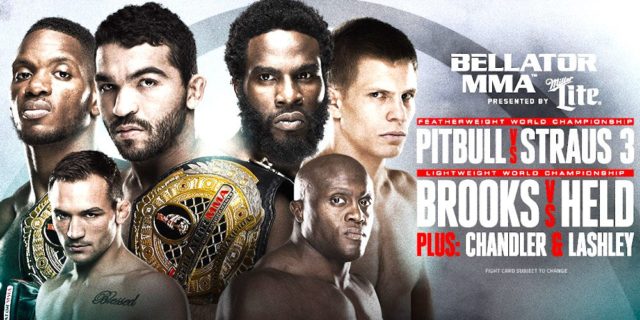 Bellator MMA is back again and holds their final big event of 2015.
Bellator 145 takes place this Friday, November 6th event at Scottrade Center in St. Louis.
The event is headlined by a featherweight title fight between Patricio Freire and Daniel Straus while Will Brooks and Marcin Held battle it out for the lightweight title in the co-main event.
The main card airs live on Spike at 9 p.m. ET/8 p.m. CT, while the preliminary bouts will stream on Spike.com at 7 p.m. ET.
Here is the final card for the event:
Main Card: (Spike TV – 9 p.m. ET/6 p.m. PT)
Featherweight Title: Patricio Freire (24-2) vs. Daniel Straus (23-6)
Lightweight Title: Will Brooks (16-1) vs. Marcin Held (21-3)
Michael Chandler (13-3) vs. David Rickels (16-3)
Bobby Lashley (13-2) vs. James Thompson (20-14)
Emmanuel Sanchez (11-2) vs. Justin Lawrence (7-2)
Preliminary Card: (Spike.com – 7 p.m. ET/4 p.m. PT)
Alex Huddleston (6-1) vs. Augusto Sakai (8-0)
Adam Cella (6-4) vs. Chel Erwin-Davis (2-1)
Garrett Gross (6-4) vs. Luke Nelson (2-1)
Steve Mann (11-2) vs. Hugh Pulley (5-2)
Chris Heatherly (9-3) vs. Vince Eazelle (9-2)
Kevin Engel (4-0) vs. Kyle Kurtz (4-1)
Kain Royer (1-2) vs. Clay Mitchell (1-0)
Adam Meredith (3-1) vs. Jordan Dowdy (2-0)
Garrett Mueller (2-0) vs. Scott Ettling (3-0
Brandon Lowe (0-0) vs. Rashard Lovelace (1-0)
If you enjoyed this story, please share it on social media!