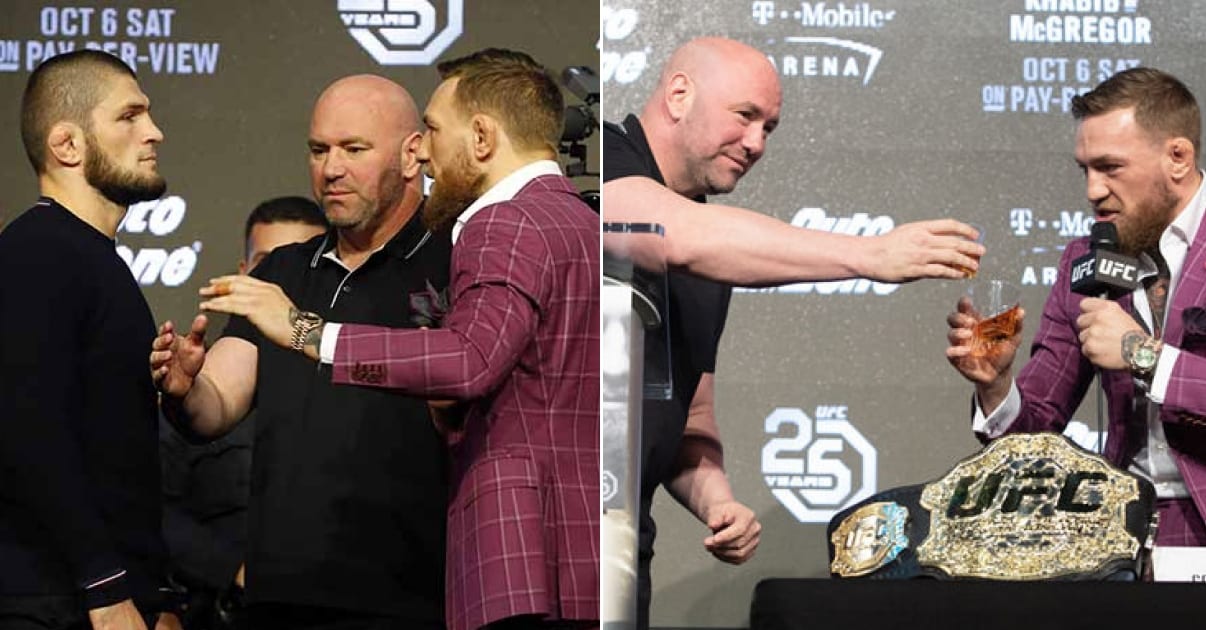 We are midway through the biggest fight week in MMA history.
UFC 229 is just days away but does it feel like it should be bigger? Does it feel like it should have been promoted differently?
UFC President Dana White has gone on the record and stated this is the biggest fight in the promotion's history. The outspoken executive is predicting a record-demolishing three million PPV buys. Many other media outlets have echoed that very sentiment, albeit to a lesser extent. Any time you have the sport's most recognizable star coming back after a two-year hiatus, it's going to make headlines, and for good reason.
But honestly, doesn't it feel like UFC 229 should be bigger than it has been thus far? We here at LowkickMMA think so, and that's why we broke down six ways the UFC could have perhaps promoted the event better.
Check them out here: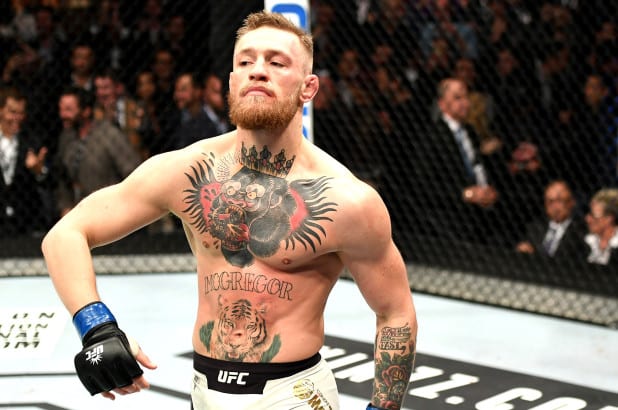 Dana White Overestimated McGregor's Appeal
Is it possible that White was wrongly banking on Conor McGregor and the entire country of Ireland?
We all know that the Irish fans travel well, probably better than just about any other group of people. Especially McGregor's crazy passionate fans. I'm sure there will be a massive cheering section at the sold-out T-Mobile Arena for one Conor McGregor, but how many of those fans will be from the Emerald Isle across the pond?
McGregor's appeal may have taken a big blow as it came to the casual fan when he tried his hand at the sweeter science of combat sports. His loss to Floyd Mayweather isn't going to sway his believers. When all is said and done, UFC 229 will probably do monster numbers.
But you can only wonder what Conor's appeal would be if he were the 1 in 50-1.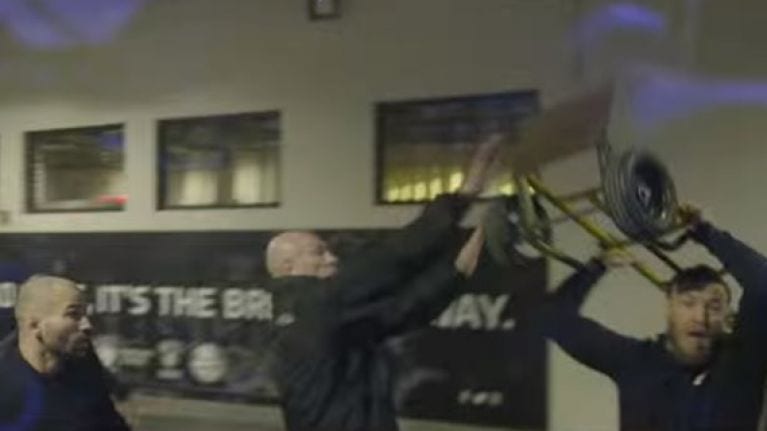 White's Afraid Of Conor's Temper
Is it possible that Dana White is so afraid of Conor's explosive temper ruining another landmark event? Perhaps.
We all know what McGregor is capable of. Need I remind you of the infamous bus incident in New York this April? Or perhaps his purported interactions with reputed Irish mobsters could factor into how UFC 229 has been promoted.
We were reminded again of McGregor's explosiveness at the UFC 229 press conference when he hurled insults at Khabib Nurmagmedov, his father, and called his manager a 'terrorist snitch.'
I guess it was a good call on the UFC to not have fans in attendance for that presser. It was in New York after all.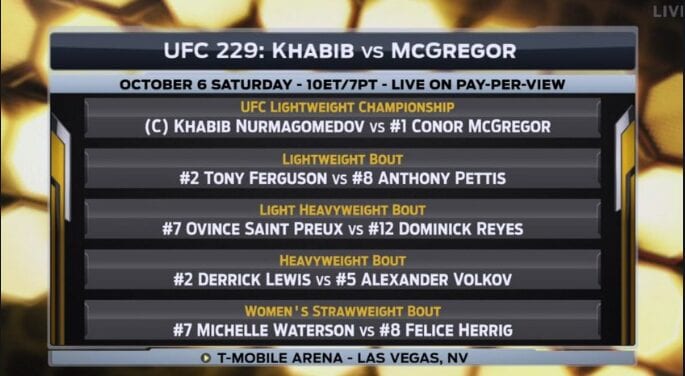 A Somewhat Weak Card
Don't get me wrong, UFC 229 is a solid offering of fights, but is the card in its entirety deserving of the title 'greatest night of fights ever?'
Sure, McGregor is making his triumphant return against an unbeaten Dagestani wrecking machine, but that fight alone isn't intriguing enough for most casual fans to dish out the $65 bucks on the PPV. Or is it?
Making matters more interesting is the removal of fan-favorite fighter "Sugar" Sean O'Malley from the card. "Sugar" was flagged by USADA for a failed drug test. His opponent Jose Quinoñez remains off the card.
The UFC does have a backup plan in place just in case one of the main event fighters is unable to compete or is removed from the card altogether. Tony Ferguson is fighting Anthony Pettis in the co-main event, and either fighter can step in if need be.
If that were the case, however, it'd be a tough sell for the biggest UFC event of all-time.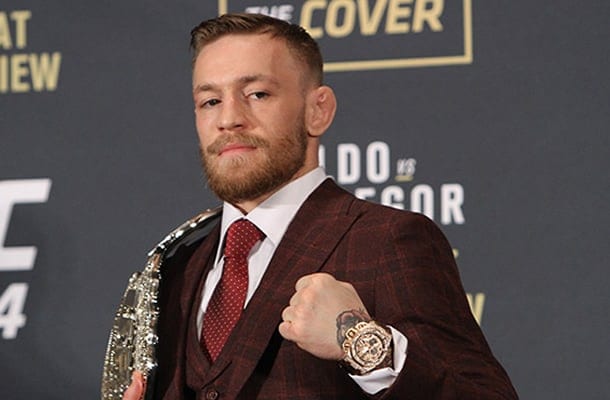 Perhaps It's Bad Timing
As the old adage says, timing is everything.
October isn't the best month to promote the biggest MMA fight of all time. The scariest month of the year brings with it an abundance of sports.
The National Football League (NFL) season has begun and is in full swing, Major League Baseball (MLB) playoffs begin, and both the National Basketball Association (NBA) and National Hockey League (NHL) seasons start.
Fans aren't exactly salivating for their sports fix in October. It's impossible to know, but it's fun to wonder just how big this card would've felt if the timing was better.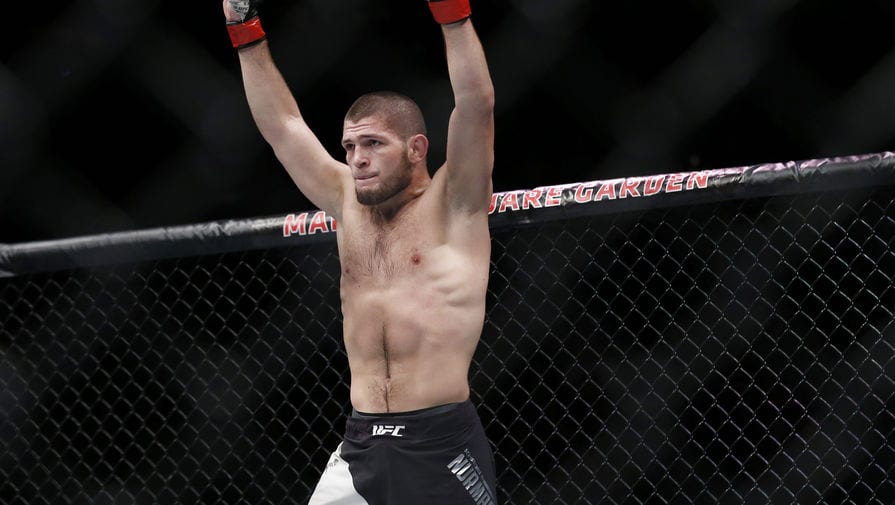 UFC Not Promoting Khabib Enough
We've seen this scenario play out before. The UFC decides to put the majority of the promotional push behind the challenger. Ronda Rousey's knockout loss to Amanda Nunes at UFC 197 and Francis Ngannou's one-sided beating at the hands of Stipe Miocic this year come to mind.
Although the UFC 229 promos haven't been as blatantly disrespectful to Khabib as the Nunes slights were perceived, it's still somewhat of a slap in the face to the unbeaten lightweight champion.
We can expect another UFC 229 press conference this week leading up to the fight. This time, however, fans are expected to be in attendance. That can only benefit McGregor. At least more so than Khabib, who's never been known for smack talking.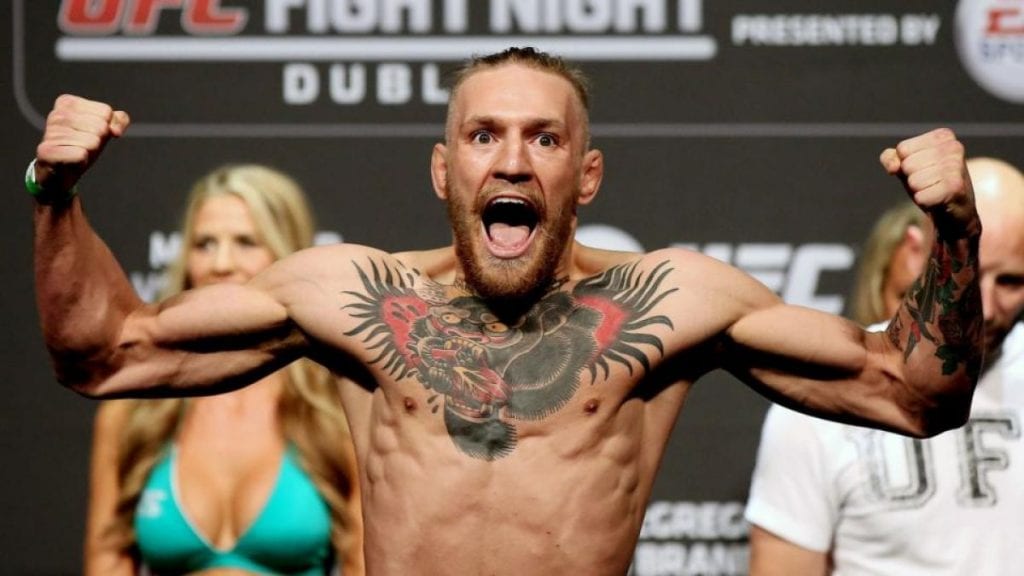 The UFC Didn't Know What Conor To Expect
Maybe White just didn't know what Conor McGregor to expect. After all, it has been two years since the Irishman has graced the UFC with his presence.
Money changes people, and life-changing money like the payday McGregor received for the Mayweather fight has sure seemed to shape these last couple of years for McGregor. McGregor is very much still the same brash, cocky, Irishman who has unbelievable timing and supreme belief in his ability.
But does he still have the same desire to fight?
By most accounts, McGregor is in the best shape of his life and ready to end the unbeaten streak of Khabib, but what he is attempting to do is no small feat. If his heart isn't in this 100%, he is in for a rude awakening at UFC 229.
Fans got a small taste of what McGregor they could expect at the UFC 229 press conference two weeks ago. Although fans were not allowed to attend, McGregor did his best to provoke Khabib. He called his father a coward and his manager a 'terrorist snitch' all while sipping his new premium Irish Whiskey, Proper Twelve.
That lead many onlookers to suggest McGregor is trying too hard. The UFC may not have known how to best promote the card based on that uncertainty.