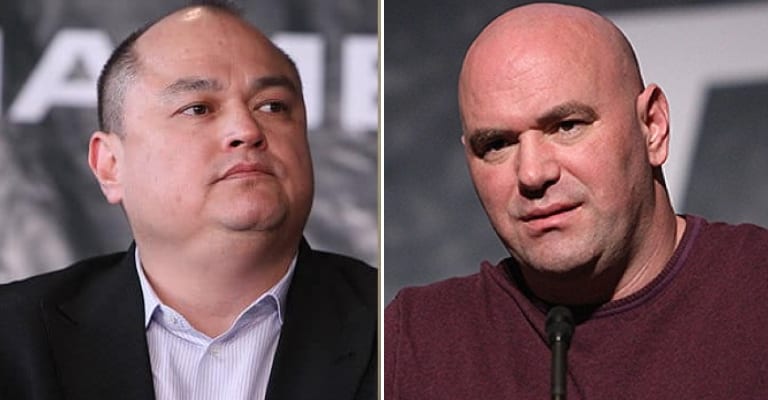 Bellator MMA has a full weekend of mixed martial arts action ahead. The bouts will kick off with tomorrow's Bellator 207 from Uncasville, Connecticut, and conclude with Saturday night's Bellator 208 from Uniondale, New York. Yet at today's Bellator 207 & 208 pre-fight press conference, the UFC 229 brawl was still the topic of discussion.
Many of the fighters including Russians Fedor Emelianenko and Alexander Shlemenko were asked about the brawl between Khabib Nurmagomedov and Conor McGregor's camps. Fedor declined to comment on the matter. The Pride legend said he hadn't watched the fight (via MMAJunkie) because he was preparing for Bellator 208:
"I cannot give you any comments, because I didn't watch this fight," Emelianenko said. "During my camp, I don't watch any fights. I have heard about the brawl. But at the moment, I'm not going into details."
Shlemenko voiced his support for his fellow countryman.
However, Bellator President Scott Coker was far from as forgiving in his response. He vehemently blasted the post-fight melee by calling it a 'black eye' and 'embarrassment for the sport':
"To me, it's a black eye for the industry. It's up to all of us to pick it up and make sure something like that never happens again.

"But that was embarrassing moment for the sport, as far as I'm concerned."
Its tough to argue with Coker's point of view on this. Of course, he's no stranger to in-cage post-fight brawls on high-profile shows. The infamous Jason 'Mayhem' Miller vs. Diaz brothers brawl at Strikeforce: Nashville back in the day gave him firsthand experience.
UFC President Dana White made light of the situation then. Perhaps he's not laughing as much today. Or perhaps he's simply laughing much more as the prospect of a rematch of the already record-breaking Khabib vs. McGregor looms overhead.