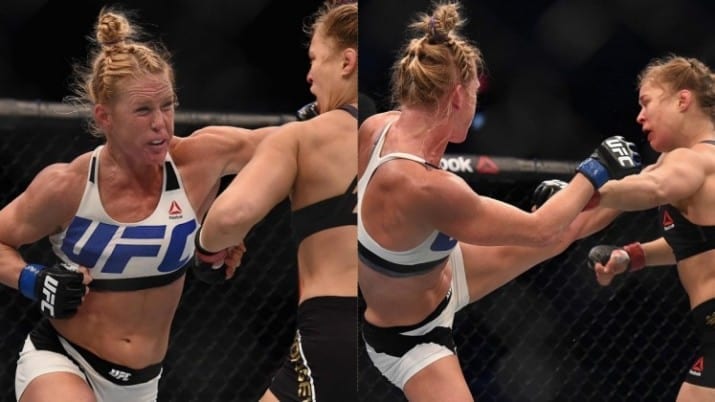 Ronda Rousey's head coach Edmond Tarverdyan has been under extreme fire after she was knocked out by a Holly Holm head kick at UFC 193. Perhaps that's because he believes Holm wasn't out-striking 'Rowdy' at all…
Most mixed martial arts (MMA) fans and media members are still attempting to make sense of Holly Holm's exhilarating upset of formerly dominant champion Ronda Rousey at last Saturday night's (Nov. 14, 2015) UFC 193 from Melbourne, Australia.
The reason it was so shocking was not only how 'The Preacher's Daughter' got the job done, but how easily, as well. Using her pinpoint stand-up skills polished as a 17-time world champion boxer, Holm was there to meet Rousey's aggression each and every time she rushed in for the kill, something that obviously played out well in her favor when she finished the fight with the "head ick heard 'round the world just under a minute into the second round.
The widespread belief that Holm would use her range to keep Rousey chasing her was understandable. Rousey's controversial head coach Edmond Tarverdyan told ESPN after the fight that the strategy was to obviously push the pace on Holm:
"The game plan was pressing," Tarverdyan said. "We knew Holly Holm was going to keep the distance. So we had to feint and get inside and pressure the right way so we can get on the side of the cage. And we've talked about that and Holly Holm did a good job with moving today and stayed calm."
But that plan wasn't working, as Holm picked Rousey apart with laser-precise counters, opening up her lip and seemingly gassing the champion out in the first round. Holm was landing significant strikes at will; yet Tarverdyan, who was famously run through the muck by Rousey's mother in a recent interview, oddly said he didn't believe Holm was getting the better of Rousey in striking:
"I wouldn't say in the striking game she was getting the best of Ronda, you know, but I have to watch it again. But we know this was not a striking match; we know that Ronda is smart enough to take the fight where she is best at and today she did. Holly stopped an attempt on an armbar and stopped some of the takedowns. She did a good job."
Tarverdyan did give his respect to Holm, noting that she took some big punches well and resisted Rousey's attempt to get the fight on the ground, of which many would say there weren't enough of:
"Holly today fought a good fight," Tarverdyan said. "Today she took the shots pretty well and she, ah, her takedown defense was good."
Following a ton of criticism online to go with the already negative stigma of fighters' records not getting better once they went to his Glendale Fighting Club, Tarverdyan revealed that Rousey has no plans set as of right now. He said she's been under a lot of stress, and needs to rest up as she planned before revisiting the fight gam:
"[Ronda] apologized to me — and I told her that you are still the best and we'll talk about what the plans are after she rests," Tarverdyan said. "Certainly the girl needs rest. It's not easy to deal with everything she has been dealing with. She needs time to rest, and after she rests we'll figure out what is best for her career."
If you enjoyed this story, please share it on social media!