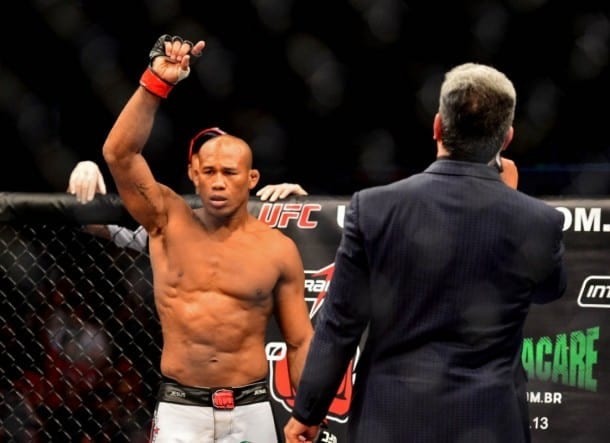 Former Dream and Strikeforce middleweight champion Ronald Souza is in an interesting spot right now in his career.
Typically, the older a fighter gets then the closer he gets to end of his career. However, in Souza's position, that's not the case and at 38-years-old, he's near the top of the middleweight division right now and is considered a title contender.
Souza had been on the cusp of a UFC title shot but suffered a TKO loss to current middleweight champion Robert Whittaker in his bout last April.
As seen in the main event of UFC on FOX 27 (UFC Charlotte) on Saturday, January 27, 2018, at Spectrum Center in Charlotte, North Carolina on big FOX, Souza scored a devastating knockout victory over Brunson in the first round.
In a recent interview with MMAJunkie, Souza stated that when it comes time to stop fighting then he will but the reason why he continues to keep going and not retirement from the sport of MMA is due to his desire to become a UFC champion.
"I don't really have this problem with the idea of stopping, because I don't want to risk my health," Souza said. "I'd thought about stopping before, because I thought maybe I couldn't fight at a high level anymore. That's was what made me think about that. The day things start getting tough, I'll stop.

"That's the natural order of things: You leave, and younger people come in. That's just how life is and I see no problem with that. I just have the conviction and certainty that I can still fight at a high level and that I can still be champion."
He is slated to meet Kelvin Gastelum in the co-main event of UFC 224. This is a fight that he doesn't take lightly.

"Kelvin Gastelum is a very tough guy, and there's no one else to fight," Souza said. "(Former champion Luke) Rockhold is going to move up a division, he was just knocked out. (Former champion) Chris Weidman is injured, going through another surgery in his hand.

"Gastelum is the guy now. He's the guy who's ready to fight, and those who aren't, lose their turn."