Rich Franklin Entertains Fighting Anderson Silva Again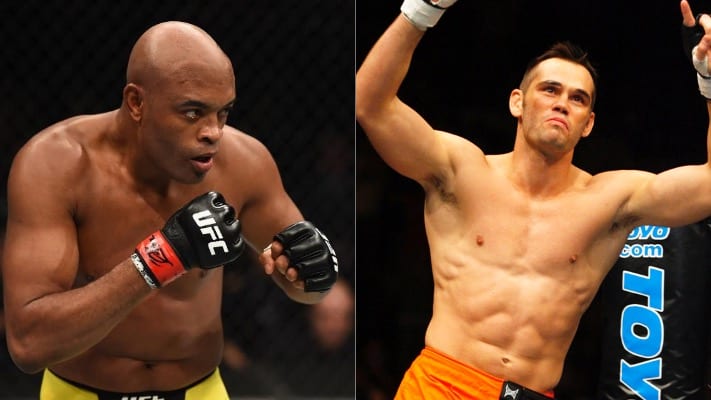 Rich Franklin had a decorated career with the UFC. A career highlighted with wins over the likes of Wanderlei Silva, Chuck Liddell, and Ken Shamrock.
His career hit its peak when he was crowned as the fourth man in UFC history to be named as the middleweight champion of the world. However, Franklin's reign as the champion ended abruptly when he met Anderson Silva in the Octagon for the first time. Silva defeated Franklin via TKO in the first round.
As a result, the victory led to the longest title reign of all time. After 2,457 days of being the UFC champion, Silva's meteoric rise came to a halt at UFC 162 when he lost the belt to Chris Weidman. Since that loss, Silva has had a record of 1-6.
The beloved 44-year-old legend has remained in the game. His extended tenure in the UFC has garnered the attention of former opponent Franklin. Speaking to theScoreMMA, Franklin shared his thoughts on possibly rematching the Brazilian. (H/T BJPenn.com)
"I would love to dance with Anderson again. And I believe I could beat him, but that's the kind of mentality you have to have an athlete, right? It's amazing somebody that at our age is still competing and trust me, on a realistic note, I think about it from time to time.
"It's what you love to do. That's why Anderson is still competing. Because it's what he loves to do. I love competition, I love martial arts, I love training. So don't think I don't occasionally maybe get that bug".
Franklin found a smooth transition from his UFC career. He has remained in the fight business and is now the Vice President of ONE Championship. It has been seven years since the ONE VP has fought. Whether Franklin is simply voicing his imagination, or is serious about making a comeback is to be determined.
Would you have any interest in watching the two UFC legends, Rich Franklin and Anderson Silva, run it back for the third time?
https://www.youtube.com/watch?v=aRS-sVWHd2w