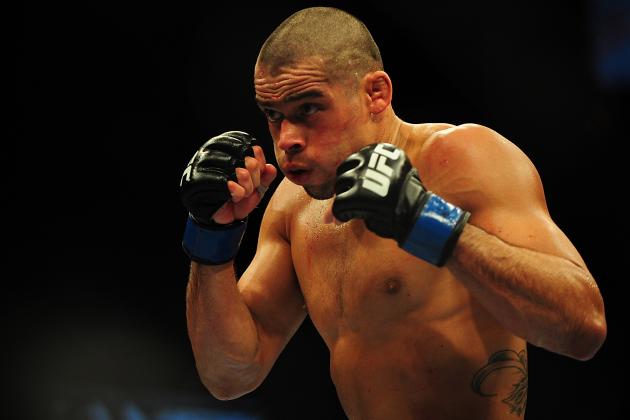 Rankings be damned! Renan Barao vs Mitch Gagnon is official for Brazil……
Former UFC bantamweight champion Renan Barao has been out of action since his shocking UFC 173 loss to TJ Dillashaw, but it's not for lack of trying. "Baron" was slated to face "The Viper" in an immediate rematch at UFC 177, but passed out due to the savage weight cut before the official weigh-ins.
After being yanked from the card and replaced by Joe Soto, Barao took both barrels from angry UFC president Dana White. The MMA world wondered what was next for the formerly dominant champion, and today we find out. Indeed, Barao as number one contender will be facing….#15 ranked Mitch Gagnon. Um, what?
HUGE fight for @MitchGagnonUFC who looks to extend his win streak vs former champ @RenanBaraoUFC Dec 20 in Sao Paulo pic.twitter.com/xCBNkeaxDZ

— UFC Canada (@UFC_CA) October 16, 2014
Not only is this fight seemingly pointless, it seems to be akin to White's attitude towards Barao after he dropped out of the rematch with Dillashaw. Former WEC featherweight champion Urijah Faber got booked in for an equally puzzling fight with Francisco Rivera, and fans are left wondering what the hell Joe Silva and co. are up to.
In Gagnon's defense, he is currently riding a four-fight/three submission win streak, but his first ranked opponent ever being the number one contender is clearly BS, right? Fight Night 58 will go down on December 20th, in Sao Paolo, Brazil, and Renan Barao vs Mitch Gagnon will serve as co-main event.
Former lightweight champion Benson Henderson received similar treatment after a couple of snoozers, as he faced off against number 15 ranked Rustam Khabilov. Is this blatant disrespect, or is a tune up fight for the former champion what the promotion is angling for. I'd argue the former, and quite honestly, I could care less about this fight…..your thoughts on Renan Barao vs Mitch Gagnon?
If you enjoyed this story, please share it on social media!