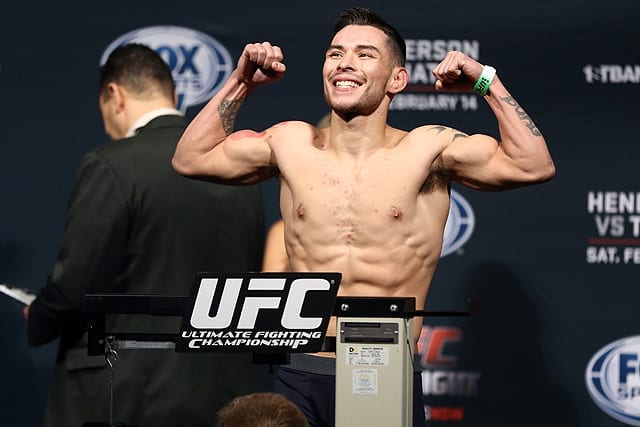 The main card of UFC Fight Night 73 got started with two flyweights looking to make a statement in the 125-pound division. Ray Borg (9-1) went toe-to-toe with Geane Herrera (8-1) in Nashville, Tennessee on Aug. 8, 2015.
Herrera rushed in at the start of round one, but a strike was not thrown. Borg secured a takedown shortly after. "La Pulga" landed elbows from the bottom and attempted to scramble out. "The Tazmexican Devil" held on to a choke, but was unable to get a submission. Herrera went for a heel hook, but Borg got out of it as he barely missed a ground strike.
Borg briefly threatened with a kimura attempt, but was unsuccessful in doing anything substantial with it. Herrera showed great defense off his back, but Borg moved in for an arm triangle. The round ended with Borg in top control.
Round two got started and Borg's wheel kick was blocked. "The Tazmexican Devil" was able to get "La Pulga" to the ground in under 30 seconds. Borg moved into mount with a choke, but Herrera's defense once again saved him. Herrera went for a triangle, but Borg thwarted it immediately.
Borg went for a D'Arce choke, but settled for elbows. "The Tazmexican Devil" postured up momentarily and threw a punch. The round ended just as the first did.
The final round began and Borg quickly dumped "La Pulga" to the mat. Herrera cut Borg with a short elbow off his back. Borg began moving quickly as blood was spewing from his head.
Referee Mario Yamasaki called for time as a doctor checked Borg's cut. The fight resumed and Borg looked for another choke. Borg's blood began getting into Herrera's eyes. "La Pulga" swept Borg for top control, but Borg reversed him and got back in a dominant position. "The Tazmexican Devil" complained to Yamasaki about getting hit with illegal knees. The fight ended with Borg getting control of his opponent's back.
When the score totals were read, it was revealed that all three judges saw Borg winning every round.

Final Result: Ray Borg def. Geane Herrera via unanimous decision (30-27, 30-27, 30-27)