Headed for the biggest fight of his career against Anthony Pettis in the main event of this Saturday night's (March 14, 2015) UFC 185 from American Airlines Center in Dallas, Texas, top-ranked UFC lightweight contender Rafael dos Anjos is still seemingly flying under the radar opposed to his flashy counterpart.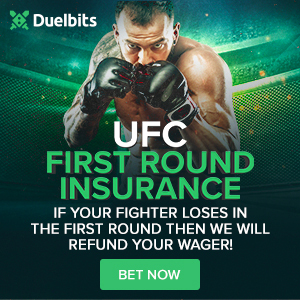 In 2014, dos Anjos scored three straight convincing victories after his decision loss to Khabib Nurmagomedov at UFC on FOX 11, and UFC 185 will incredibly mark his fifth fight in 11 months. "RDA" became the first man to stop former lightweight champion Benson Henderson via strikes at UFC Fight Night 49, and he decimated former title contender Nate Diaz with a viciously one-sided display of low kicks and wrestling at UFC on FOX 13.
Indeed, dos Anjos should be on everyone's short list of top 155-pound fighters in the world, and while he obviously is, it doesn't quite seem like many are giving him too much credit leading up to a bout with a Wheaties box-gracing superstar like Pettis.
With Pettis possessing perhaps the most dangerously well-rounded game in all of MMA after two submission wins over Gilbert Melendez and Henderson were added to his already peerless knockout skills, it's tough to give any lightweight outside of Nurmagomedov much of a chance at dethroning him, and even "The Eagle" may fail.
Perhaps dos Anjos will join the list of Pettis' stoppage victims tomorrow night, but we've also seen a similar situation at last year's UFC 173, where previously dominant bantamweight champion went into his bout with replacement T.J. Dillashaw as a huge favorite. We all know what transpired there, with "The Viper" rocking Barao with a huge first round overhand, picking him apart until a fifth round finish gave him one of the biggest upsets in UFC history.
Dos Anjos isn't as big of an underdog as Dillashaw was, but the scenarios are similar in that the vast majority of MMA fans simply aren't giving him much of a chance to win, if any. The odds are overwhelmingly against him pulling off the upset at UFC 185, and he'll most likely have to get the fight to the ground if he wants to negate the champ's lightning-fast striking. True, "RDA" took out "Smooth" on the feet, but Pettis is a different animal.
He's tough to hold down even if taken down, and on top of that there's always the threat of a slick submission even when he's on his back. It became painfully clear that while dos Anjos' wrestling skills are good, they aren't great like Nurmagomedov's, so he's facing an uphill battle.
The Kings MMA product has an iron jaw, an unwavering focus, improving Muay Thai, and a Brazilian Jiu-jitsu black belt, but most still feel he would have to pull off a historic and monumental upset to rip the belt from Pettis' grasp in Dallas.
Do you agree with them, or are you in the minority that thinks dos Anjos should be receiving much more credit than he's gotten so far?
Photo Credit: Mark J. Rebilas-USA TODAY Sports