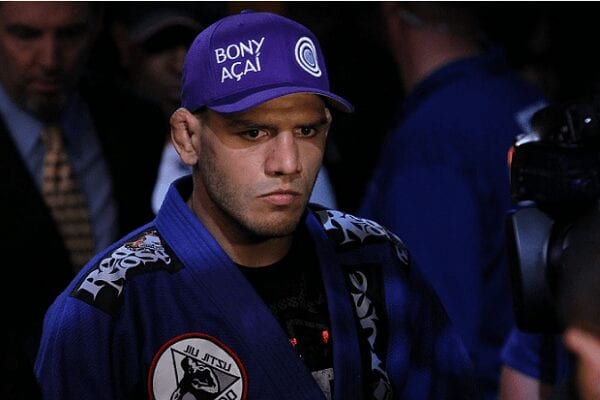 Anthony "Showtime" Pettis is one of the flashiest and most exciting fighters on the planet, and currently finds himself as the No. 5-ranked fighter in the pound-for-pound rankings. The reigning lightweight king is set to defend his title for a second time at next weekend's (March 14, 2015) UFC 185 against the surging Rafael dos Anjos.
Dos Anjos has been in the UFC for over six years, but just recently hit his stride, winning eight of his last nine fights. To earn the title shot, he shocked the world by knocking out former champ Benson Henderson last August, and then completely destroyed Nate Diaz at UFC on FOX 13 last December. Being rewarded with a title shot was the best news the Brazilian could have gotten:
"I was pretty excited to start 2015 with this news," dos Anjos told MMAFighting.com. ""Right after my fight with Nate Diaz, Dana White said at the press conference that I was likely the next in line. Nothing was set, but I believe in his word. And when they told me the exact date, the perfect date… Ten weeks is exactly what I need to do the perfect training camp for this fight."
Dos Anjos has also been very active, which could have influenced him gaining a title shot. Competing five times over the last 13 months, RDA knew he had to have a smart, and safe training camp leading up to his showdown with Pettis:
"I have to do an intelligent training camp this time, just like for my last fight," he said. "It's going to be my fifth fight in 13 months, so I have to be smart and don't get hurt or over train. Fighting for the belt is the perfect motivation for me, and my body has to be in perfect shape for this fight. Five fights in one year isn't easy, but I'm ready to go. It's time for me to fight for the title."
Going up against one of the best fighters in the world, this is undoubtedly the biggest test of dos Anjos' career. Pettis is one of the most unpredictable strikers in the game, but has improved his grappling game immensely, scoring submission wins in his last two bouts. Ironically, dos Anjos is the opposite. The Brazilian is a jiu-jitsu ace, and has polished his striking game quite a bit as seen in his last two performances.
RDA knows what's in front of him. He's facing the cream of the crop at 155-pounds, but he doesn't think "Showtime" is unbeatable. Dos Anjos is also confident that he will bring the title home to Brazil:
"Anthony Pettis is a talented fighter, really tough, a champion, and is coming off submissions over Ben Henderson and Gilbert Melendez, but I see holes in his game," dos Anjos said. "I won't say what and give away my strategy, but I do. Don't get me wrong, Anthony Pettis is really good, and he proved that, but he's not unbeatable. That's what I mean when I say I see holes in his game. I hear people saying he's unbeatable, but he's not. He's unpredictable, he does different things in the fight, but he's not unbeatable, and I will bring this title to Brazil."
"Anthony Pettis showed he's complete, that he's evolving," he continued. "I don't want to take anything away from his wins, but Ben Henderson made a rookie mistake, defended it the wrong way, but props to Anthony Pettis for getting the win. In the Melendez fight, the guillotine was really tight, and when you lock a position in a scramble it's really tough to escape. Anthony Pettis is evolving a lot, but I train jiu-jitsu for year and I will be at my best in this fight."
Most people Pettis faces may be hesitant of the champs profound striking, but dos Anjos isn't worried, claiming he will do what it takes to get the belt. RDA also stated the he will not just take Pettis down and lay on him, but that he will trade shots with the champion and move forward at all costs:
"It's finally my time, my chance for the title, and I'm going there to win," dos Anjos said. "I don't go into a fight to win by decision, but knowing that this is an important fight, I have to do my homework and study this well. It's a 25-minute fight, but I move forward all the time, trade punches and kicks with him, take him down, work on the ground.
"I will win this fight," he added. "He won't have to worry about me trying to take him down all the time, because I will punch him, I will kick him, and I will knee him too."
Do you think dos Anjos stands a chance against Pettis come fight night?