Pros Predict Edgar vs. Faber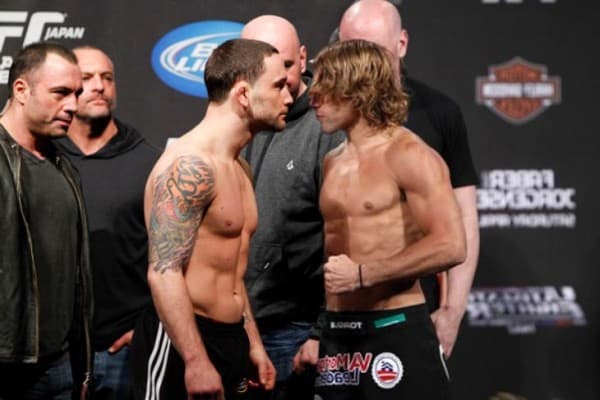 UFC Fight Night 66 is set to go down this Saturday (May 16, 2015) morning live on FOX Sports 1 from Manila in the Philippines. A blockbuster "super fight" and a classic east vs. west battle is set to go down in the main event as former champion Frankie "The Answer" Edgar is set to meet "The California Kid" Urijah Faber.
A former 155-pound champion as well as a former 145-pound title challenger, Edgar currently sits at No. 2 in the featherweight rankings is looking to secure another title with a win this Saturday. Known for his relentless wrestling-based pace paired with his crisp and fluent boxing, "The Answer" is undoubtedly one of the very best fighters in the world who currently does not hold a belt.
A former WEC champion, Faber is extremely unique in that he has never lost a non-title fight in the UFC, despite having many shots at gold. The Team Alpha Male captain also possesses strong wrestling and quick footwork, but his submission game is arguably his strongest area where he has made the guillotine a staple in his repertoire. "The California Kid" is actually ranked No. 3 in the bantamweight rankings, and is moving back up to featherweight to meet Edgar.
These two-ultra talented men are actually very similar, but in my opinion Edgar does things just a tad bit better, but the fight itself should produce nothing less than fireworks. MMAJunkie actually asked pro fighters in Manila to give their predictions for the fight. Check out what they said below:

Who are you picking?