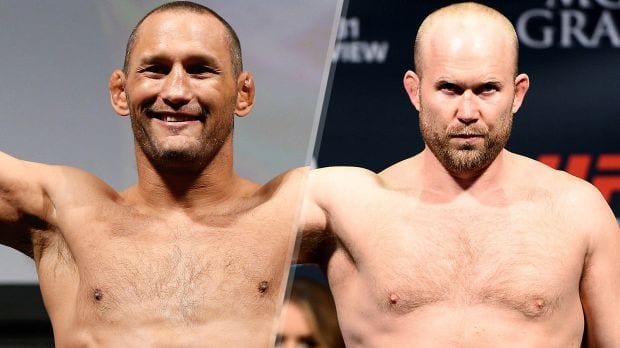 It's been a long and winding road for the former two-weight Pride FC champion Dan Henderson. After enjoying much success with huge wins in the Japanese MMA (mixed martial arts) circuit over names like Wanderlei Silva, Vitor Blefort, Murilo Bustamante x 2, Antonio Rodrigo Nogueira and many others, 'Hendo' made the transition back to the UFC where he had won the middleweight tournament way back in 1998. Henderson beat Carlos Newton and Goes on the same night at UFC 17 to win the tourney, but has had limited progress since rejoining.
A three and four fight win streak while moonlighting between the UFC and Strikeforce have been the highlight of Henderson's last seven years, as was his KO over Michael Bisping, but more recently the ageing veteran has been soaking up insane amounts of punishment. One win from his last six fights says it all, and he is taking on the much younger and arguably fresher fighter in 'The Barbarian' tonight.
Boetsch's power is scary at times, as displayed by his slam/punches TKO over David Heath in his UFC debut in 2008. Since then it's been a mixed bag of results for 'The Barbarian', also picking up a four fight win streak featuring a devastating come back KO against Yushin Okami that had Joe Rogan screaming like a little girl. Most recently losing a thoroughly exciting FOTN against Thales Lietes, Boetsch needs a big name like Henderson to get him anywhere near the top flight again.
So what are the keys to victory for each man? Well, Henderson needs to keep this fight standing in my eyes, but there's still a lot of risk involved there. Boetsch may not be the biggest knockout artist, but the guy has raw power, and Henderson is starting to slow a fair bit. For Boetsch I think the plan is to take 'Desperate' Dan down, and keep him there. 'The Barbarian' doesn't need to test his beard against the H-bomb, which is arguably Henderson's only remaining weapon.
So, all considered, who do you think will win the UFC Fight Night 68 main event?