Poll: Are You Sick Of 'Money Fights' Yet?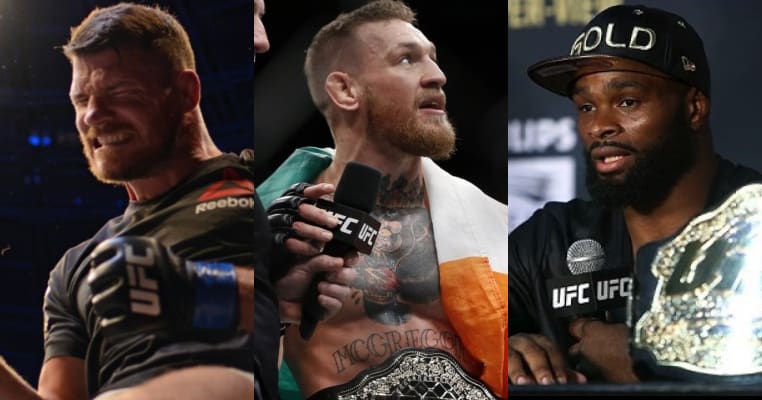 Recently, the Ultimate Fighting Championship (UFC) has seen a massive uptick in top fighters calling for so-called 'money fights' in their next bout rather than the fight that makes the most sense from a rankings and/or merit standpoint.
The term rose to extreme prominence in early 2016, when current UFC lightweight champion Conor McGregor began throwing about his now-infamous 'moneyweight' comment about his fight with late replacement Nate Diaz in the main event of UFC 196, a fight McGregor would actually suffer his first UFC loss in. But 'money fights' were here to stay, and McGregor only added fuel to that fire when he took on Eddie Alvarez to win his second UFC championship at November 2016's UFC 205.
The upper echelons of the UFC roster – who are solid drawing fighters in their own right but nowhere near McGregor – justifiably see what 'The Notorious' is pulling in each fight, and that coupled with the UFC's recent sale to Hollywood giant WME-IMG for a staggering $4.2 billion has them understandably wanting to be paid like top athletes. But the problem is, not as many want to see some of these so-called 'money fights' even close to as much as they'd want to see any fight with McGregor.
Welterweight champion Tyron Woodley began calling for a huge payday literally minutes after he knocked out Robbie Lawler to win the title last August, pegging Georges St-Pierre and Nick Diaz as his prospective big draw opponents. When he was instead scheduled to face Stephen Thompson at UFC 205 and fought "Wonderboy" to a draw, Woodley then began putting out the feelers for a 'money fight' with middleweight champion Michael Bisping. The term has also been used by newly-crowned bantamweight champion Cody Garbrandt, who wants to face featherweight champion Jose Aldo, and by Rose Namajunas for her desired match with surging contender Michelle Waterson.
Those are big fights, but they just aren't bouts on the level of a true 'money fight' headlined by McGregor, and overall some of of these champions will just have to start defending their belts rather than calling their shots for potentially huge paydays. That's not to say some kind of super fight, such as a long-rumored GSP vs. Anderson Silva bout, wouldn't be good for the sport in a barren schedule of early 2017 bouts lacking a true feature attraction.
What do you think – is all the 'money fight' talk getting old, or do you understand the fighters' points of view?