UFC lightweight champion Conor McGregor's awaited Octagon return currently remains unknown, but that didn't stop "The Notorious" from making his presence felt at today's (Sat., October 21, 2017) UFC Fight Night 118 from the Ergo Arena in Gdansk, Poland.
Cageside to support his good friend and longtime SBG teammate Artem Lobov in his featherweight match with Andre Fili, McGregor was becoming incredibly animated and loud as the by far the most vocal supporter of "The Russian Hammer." Standing at attention, he shadow-boxed with each move of the close fight and yelled out his own instructions for Lobov.
However, he must have gotten a bit too animated, as referee Marc Goddard actually called for a halt in the action in the Octagon to scold McGregor, bluntly asking him:
"What's gotten into you, Conor? Be professional."
McGregor was apparently blurring the lines of becoming a cornerman for Lobov, of which he already had the full allotment, by walking too close to the cage to give his advice. MMA's biggest star seemed to acknowledge his mistake in the following photo from the event which shows the area he was standing when Goddard admonished him and his subsequent response: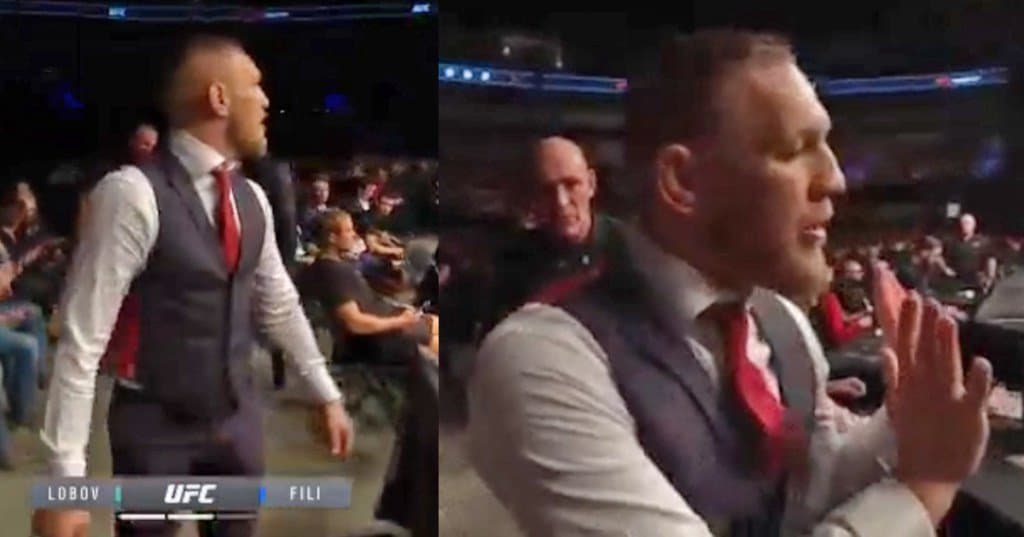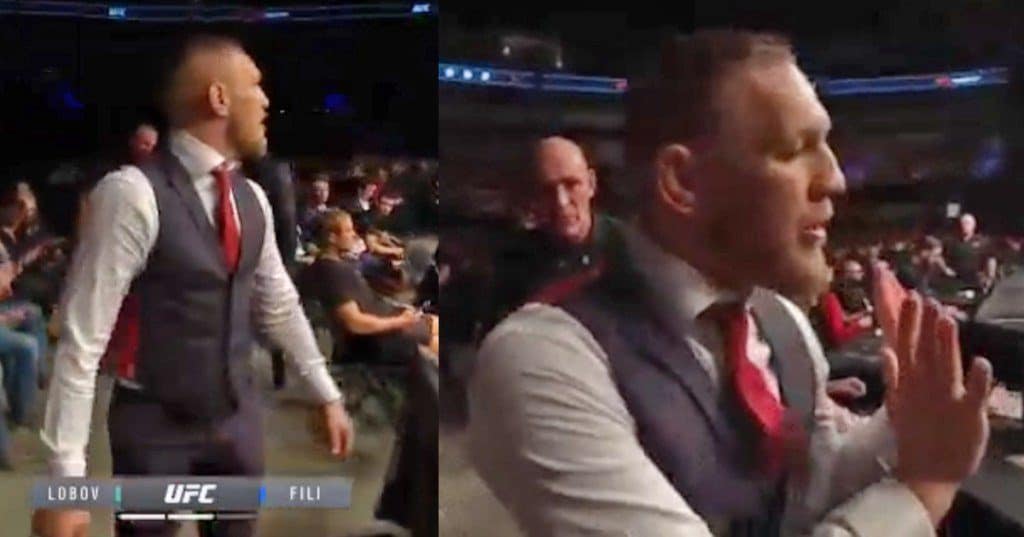 Fili eventually outlasted Lobov by unanimous decision in a solid fight, but much of the attention had already been put on McGregor – if it hadn't been already.
Despite some fights on the card, UFC Fight Night 118 certainly hasn't been drawing much attention from the MMA universe, an unfortunate fact for most of the cards present in the absolute deluge of lower-profile events the UFC has put on and still has scheduled for the rest of 2017.
It's safe to say that 2017 has been almost a lost year for the UFC, and much if not all of that is due to McGregor's absence. He's set to come back, hopefully sometime soon, and you can see the sheer attention he draws when he even makes an appearance in the crowd at an event.
The world's largest MMA promotion will need him to make an actual appearance inside the Octagon soon, if they're ever going to recoup the massive investment from last year, however.