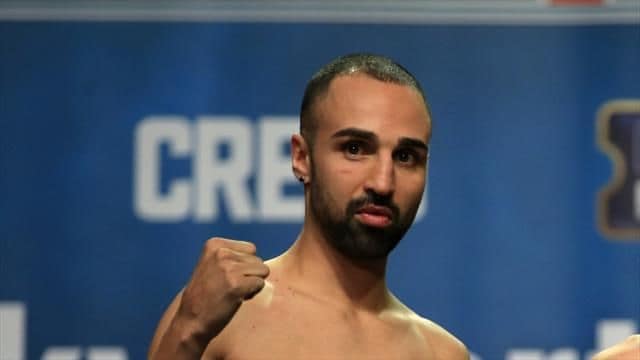 The combat sports world was thrown into minor upheaval a few hours ago when UFC President Dana White released video of Conor McGregor sparring former boxing champ Paulie Malignaggi where McGregor had supposedly dropped Malignaggi, inciting a huge media backlash from the retired fighter.
The debate immediately began as to whether or not McGregor had actually dropped Malignaggi with a big punch, as it appeared he had been stumbling somewhat before the shot landed. But it certainly didn't help him stay upright and the infamous photo, which was the source of him leaving McGregor's camp and blasting them in countless spots, was obviously taken during a moment where he claimed he had been pushed down.
So Malignaggi was not surprisingly quick to respond to White posting the video, now claiming he had been dragged into the punch and then pushed down by McGregor's right hand:
Pushing my head down with right hand as he's draggin me in that direction by it then throwin the left, the push down is with right hand. https://t.co/txdK1ZQsIi

— Paul Malignaggi (@PaulMalignaggi) August 12, 2017
Malignaggi wouldn't give it up as his many haters bound together to claim confirmation he had actually been knocked down by their hero. He continued to insist he was pushed down by McGregor's right hand, resulting in a fake knockdown:
What I been saying still holds true, he gets 11 and 12 of which he shows footage and the "knockdown" is right hand draggin me down. 36 min.

— Paul Malignaggi (@PaulMalignaggi) August 12, 2017
And not to be outdone, Malignaggi then took things up a notch by absolutely blasting White, calling him a 'cue ball a** fraud' who saw all 12 rounds of the sparring session and knew what happened, and was 'kissing his a**' afterward:
@danawhite you bitchass you were actually there and saw all 12 rounds. Really you fuckin cue ball ass fraud? Kissin my ass after the 12rds.

— Paul Malignaggi (@PaulMalignaggi) August 12, 2017
So the proverbial gloves are off, and the saga between McGregor and Malignaggi is more heated and dramatic and ever, just when you thought it couldn't get any more of either or those.
With exactly two weeks remaining until McGregor clashes with Floyd Mayweather in a fight called the biggest combat sporting event ever, the usually loud 'Money' has become almost an afterthought as the McGregor vs. Malignaggi drama becomes a three-headed monster in its own right.

Are you interested to see where it goes from here, or have you had enough of the seemingly never-ending circus?