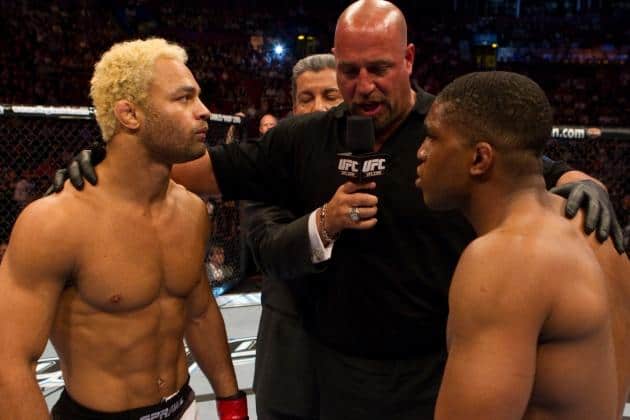 Paul Daley (36-3-2) appeared on the Three Amigos Podcast to promote his upcoming fight with Dennis Olson (14-8) this Friday night at Bellator 140, but he's not too worried about Olson going into this fight. He stated that he plans on beating Olson and then competing on Bellator's "Dynamite" card on September.
With Josh Koscheck joining Bellator MMA and their bad blood following an incident at UFC 113 when Daley punched Koscheck after the bell sounded in the third round. Daley said that he's glad that Koscheck is in the promotion even if Koscheck is talking trash against him.
"I think Mr Crotch-check has some serious issues. I think he has some delayed development of the brain. He's just a very weird guy. I commend him for making them money and the name he has in the sport. He's done very well, and that's very fortunate for him, because if he didn't do well in this sport who knows what he would be doing? He's not exactly the brightest of sparks."
"I'm happy that he is with Bellator because a fight with him is huge and it presents a massive opportunity for me. It gives me the chance to receive a massive amount of promotion and would probably be the biggest payday I have received. I'm happy Koscheck is around, as long as he stays at arms-length."
While not in the UFC anymore, Daley had some words for the new Reebok fighter sponsorship that the fighters in the UFC has to deal with.
"I'm in a bit of a weird position. I'm self-managed, but I don't really go out looking for sponsorship. If someone out there is reading this and wants to, come sponsor me. If I made some of the sponsorship money that I know other people are making then I would be extremely happy. My lifestyle would be completely different."
"Very little of my earnings comes from sponsorship. The money I do get from sponsors barely covers a fight camp. I'm self-funded and I take great pride in that. I've always done things independently, so I don't rely very much on sponsorship. You would be very shocked about how much I make from sponsors. If you compared them to a Josh Koscheck, for instance, you would be very shocked, but that's my own fault, you know? I'm self-managed and sponsorship isn't something I actively seek."
"I can see why some people would see it as a prison sentence. I've seen numbers thrown around that guys are losing hundreds of thousands from this deal. For me, it doesn't really matter. It's just another subject I let go in my head. I'm a simple person. I'm not simple in the brain like Koscheck, but when it comes to my life I'm happy as long as I have my house, can pay my bills and have my gym as an alternative source of income if I can't fight."
Bellator 140 takes place on Friday, July 17 from Mohegan Sun Arena, Uncasville, Conn. The main card will air on Spike TV and the prelims will air on SpikeTV.com.