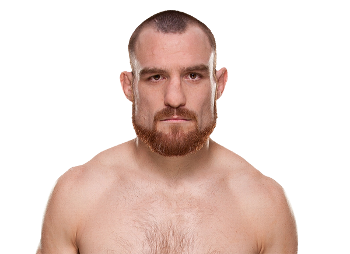 Following his fourth consecutive loss earlier this month, at UFC Fight Night 45, Strikeforce veteran Pat Healy has received his walking papers from the UFC.
After making a promising return to the Octagon against Jim Miller at UFC 159, things haven't gone so well for the 31-year old. It started with his win over Miller getting overturned to a no contest because Healy failed a drug test for marijuana. The decision cost Healy $130,000 in bonus money.
Then it went from bad to worse for him as he dropped two fights inside of three months, losing a unanimous decision to Khabib Nurmagomedov at UFC 165 before getting outpointed by Bobby Green at UFC on Fox 9. Jorge Masvidal beat up "Bam Bam" next and then Gleison Tibau put the nail in the coffin by handing him his fourth straight loss.
The 49-fight vet. leaves the promotion with a record of 0-5 (1). Don't be too surprised to see him scooped up by the WSOF.
On top of Healy, TUF 16 victor Colton Smith has also been cut by the promotion after dropping three straight bouts. The active army member looked a promising fighter when he took out Mike Ricci to win TUF.
But, he's failed to impress since then and hasn't managed to win a single fight following the show's finale. He leaves the UFC after going 1-3 in the promotion with losses to Robert Whittaker, Michael Chiesa and Carlos Diego Ferreira.
The other fighters who have been cut are Estevan Payan, Chris Indich and Dave Galera.
Payan made his debut at UFC 160 against Jeremy Stephens where he suffered his first defeat in over three years. Things never got any better for "El Terrible" as he was knocked out by Robbie Peralta before getting TKO'd by Alex White.

Indich and Galera also leave the UFC winless after their short spells inside the Octagon.