Lightweight scouser Paddy Pimblett is looking better than ever despite a recent injury that has kept him out of the Octagon and limited at the gym in recent months.
The 28-year-old Liverpudlian has grown in popularity since his 2021 promotional debut, both for his skills inside the cage and his epic binge-eating outside of it. After revealing that he would be laid up for a significant amount of time following an injury sustained during his December clash against Jared Gordon, fans were immediately concerned that 'The Baddy' might take advantage of the opportunity to consume copious amounts of empty calories.
However, that does not appear to be the case as Paddy Pimblett recently returned to the gym already looking fit as a fiddle. "Nice to finally have that boot off and get back in the gym," Pimblett wrote on Instagram. "[Paul Reed is] going to bring me back faster and stronger than ever, just wait and see people."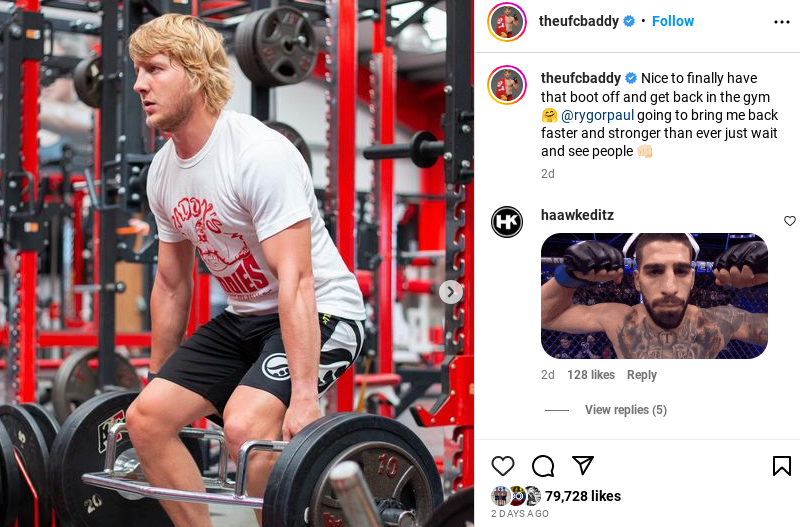 Paddy Pimblett Ties the Knot
Part of the reason why Pimblett has remained in tip-top shape could be due to his recent nuptials. 'The Baddy' recently tied the knot with longtime girlfriend Laura Gregory months after their announced engagement. Pimblett and Gregory were wed at Peckfroton Castle in Cheshire, United Kingdom. Pimblett and his new bride have been relatively quiet about the ceremony on social media, but Pimblett's teammate 'Meatball' Molly McCann shared some pictures and videos from the event which were then compiled into a single presentation on YouTube.
Since making his promotional debut, Paddy Pimblett has earned four-straight victories, improving his overall record to 20-3. His most recent win came with a healthy dose of controversy as a majority of fans and fighters suggested that Pimblett's opponent, Jared Gordon, did more than enough to secure a victory despite a unanimous decision rendered in favor of 'The Baddy.' Pimblett has expressed an interest in running it back with Gordon once he is ready to return.
Pimblett hopes to be back inside the Octagon in late 2023 or early 2024.