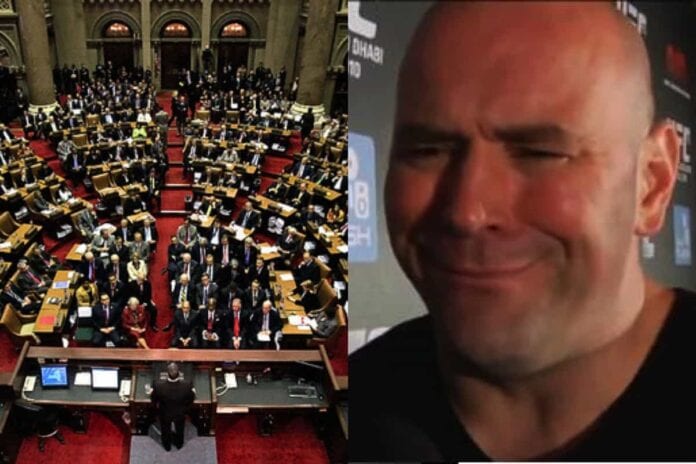 Following the ousting of disgraced former New York State Assembly Speaker Sheldon Silver for accepting illegitimate funds, it was largely believed to be a formality that mixed martial arts (MMA) would finally be legalized in the Empire State, the only one still left in the United States that to not allow pro MMA bouts.
However, the UFC had met significant resistance nonetheless, and that was mainly in the form of the issue actually being brought up to vote. It is believed that it will be brought to a vote — where it's expected to be overwhelmingly approved — but that didn't stop some of the NY Assembly members from taking some absolutely ridiculous stances on the sport today.
That was never more evident than when former UFC middleweight champion Chris Weidman, who has been heavily instrumental into MMA's legalization efforts in his home state, posted a deserved response to a previous tweet by NewsDay Sports's Mark La Monica describing the scene where Assembly member Daniel O'Donnell called MMA "gay porn with a different ending":
Wow. How can they be so clueless and uneducated still! Crazy. https://t.co/Z9y3NRhR2M

— Chris Weidman (@ChrisWeidmanUFC) March 22, 2016
Assemb. Daniel J. O'Donnell just equated MMA with "gay porn" but with a different ending.

— Mark La Monica (@LaMonicaMark) March 22, 2016

Quite the extreme comparison to be certain, but it didn't stop there.

Read on to the following page to see more ridiculous ramblings about MMA…