Nick Diaz's popularity has increased ten fold since his controversial NAC (Nevada Athletic Commission) hearing this past September, but it's come at the cost of his MMA career. After getting busted for the third time by the commission, few expected Diaz to be returning any time soon, but the five year ban handed down enraged many people.
Perhaps it's because of the subject of marijuana legalization, that has raged on for decades and especially in the States. Maybe it was just the right time for this issue to get pushed in to the limelight, because Diaz has been getting support from some very high places.
Even the UFC drug boss Jeff Novitsky said Diaz shouldn't have been treated that way. Ronda Rousey, Floyd Mayweather, Conor McGregor and many other MMA stars have voiced their support for the banned welterweight/middleweight, and now pop icon Cher and rapper Wiz Khalifa can join that group too.
The petition to 'Free Nick Diaz' has reached 70,000 signatures, but it's yet to be seen whether this will make any kind of difference in his plight for justice.
Without further ado, all the updates you need on the Nick Diaz situation from social media, including his firt UFC fight in video form:
thank you @Cher http://t.co/hV5CEcSKGP https://t.co/ieJeyHCINt pic.twitter.com/MlgKvMHPnT

— nick diaz (@nickdiaz209) October 5, 2015
Thanks for the support @wizkhalifa https://t.co/gt65gYECzS… https://t.co/Ne2l60cLaT — nick diaz (@nickdiaz209) October 2, 2015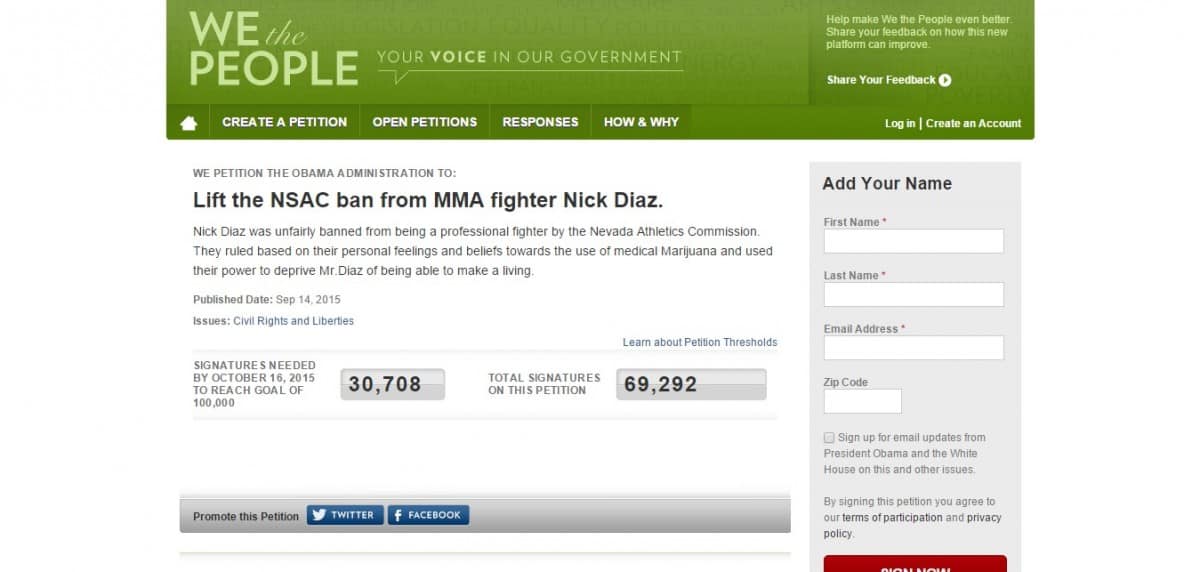 I had to repost this.. A guy from twitch recorded me playing GTA saying free Nick Diaz ?… https://t.co/pwEFjWn4lW

— Quinton Jackson (@Rampage4real) October 6, 2015
Do the right thing! #freenickdiaz @nickdiaz209 https://t.co/czElcBa68R

— Ian McCall (@Unclecreepymma) October 5, 2015
Sep26.2003 12 years ago today, 20 year old @NickDiaz209 made his UFC debut at UFC 44, & submitted Jeremy Jackson pic.twitter.com/AkXlBBuXp3

— MMA History Today (@MMAHistoryToday) September 26, 2015