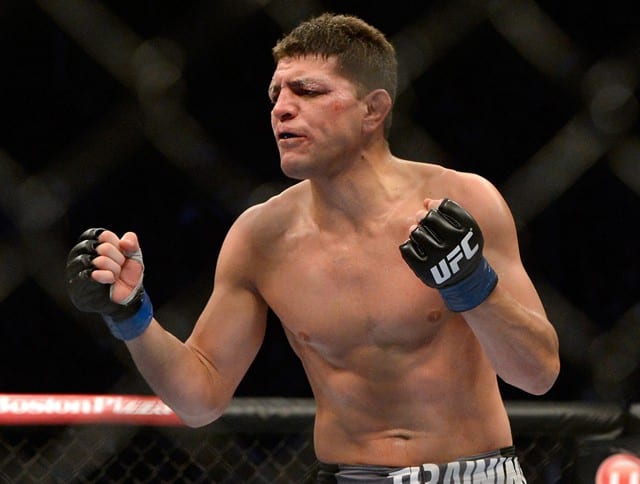 Former Strikeforce welterweight champion Nick Diaz has quite the sizeable task ahead of him, as he prepares to welcome former middleweight champion Anderson Silva back to the octagon at UFC 183. "The Spider" has been out of action since his crushing injury against Chris Weidman at UFC 168.
Normally known for his brash attitude and somewhat controversial antics, Nick Diaz has been pretty reserved in the lead up to this bout. At this stage in his illustrious career, Diaz is focused on the right fights, as he tells MMAFighting.com:
"It's not about winning the belt at this point. For me, I already fought some of the best people there are. I already did, you know, what I need to do for me. So now it's just more about, you know, having the right fights, making the right deals. Because for me, the guys who I beat are already the best there are."
Certainly Diaz would be very close to a title shot should he beat Anderson Silva, but that would be at middleweight where Nick Diaz is not a big guy. Rather strangely, the Stockton bad boy has refrained from trashing Anderson Silva in the media, perhaps out of respect? Diaz continues:
At this point in time, they're going to use me to fight the most important guys. Because these guys they got out there right now aren't very… they're not really shining too hard," 
"So they'll use me anytime they need a guy for a good fight. (When) they need a real fighter who fights the way that they want to see, then all they gotta do is make a deal with me."
No matter what you think about Nick Diaz, the guy always speaks his mind. Whether that's a good thing for him is still unknown, but he also always comes to fight. There's a reason he is fighting Silva at UFC 183, and it may not be pleasing to the elder Diaz brother come fight night.
In my opinion, Diaz is tailor made for the ex-middleweight kingpin's style; a volume puncher with OK knockout power at welterweight, and probably not much at all against a natural middleweight who likes to counterpunch.
Do you agree, or think that Silva will lose when he faces Diaz on January 31st?

Follow @Rorylowkick

Follow @LowKick_MMA

Tweet