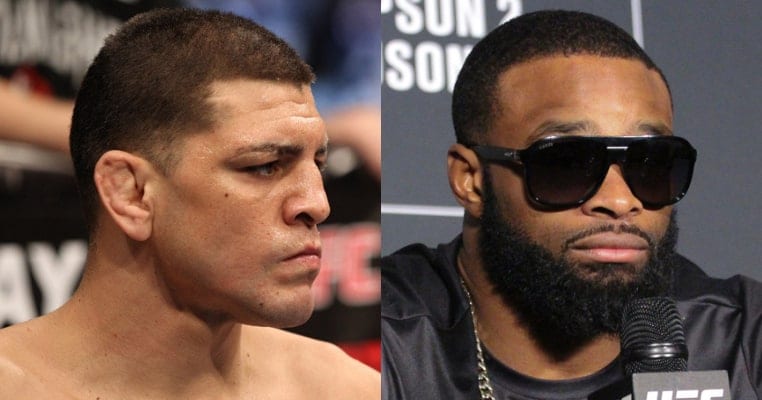 Polarizing bad boy Nick Diaz may not have a date for his awaited MMA return, but that doesn't mean he won't offer his opinion on the heavily blasted UFC 209 main event between Tyron Woodley and Stephen Thompson from Las Vegas last weekend.
Most believe the elder Diaz brother should have been involved on the card that bore his infamous home area code's number, but the UFC couldn't book hi nor his brother Nate after reportedly offering Nick fights with Woodley and Robbie Lawler.
So Diaz watched the welterweight title bout between Woodley and "Wonderboy," and like most MMA fans, he came away with a sour taste in his mouth. The longtime star told TMZ Sports his opinion of the lackluster fight:
"Can you believe how f***ing boring that fight was? That was a boring fight. Were you excited? I heard a lot of boos. I heard a lot of boos. All I heard was boos."
The Stockton slugger moved on to address his next fight, discussing how he wanted a bout with both middleweight champ Michael Bisping and returning former welterweight champion Georges St-Pierre, who will be fighting one another later this year, but they both "ducked" him:
"Listen, you want to know the truth right now? I talked to Michael Bisping already in New York about doing this fight. So, there's more money for him if he takes the fight with me. We were talking about a catchweight fight, he's talking about it like it's going to be hard to make the weight. I'm like, come on. You know, it would be a non-title fight.

"So after I whoop his ass, he still keeps the belt. So that's more money, then you go fight GSP. Same with Georges. I'm just doing more numbers than he is, so you can do more money to fight me. It makes sense because they haven't fought me."
From his own standpoint, it make make sense; but St-Pierre has indeed fought Diaz once before , throughly dominating him in their monstrous UFC 158 meeting that ranks as St-Pierre's biggest pay-per-view (PPV) headliner.
There's no doubt Diaz brings in the numbers, yet it also cannot be denied how many numbers it takes to get him into the Octagon despite him not scoring a win since he beat current featherweight BJ Penn in 2011.
Still, none of us would be surprised to see the older Diaz return right into a title fight versus Woodley. ""The Chosen One" did a good deal of talking himself up to the point of even deeming himself the "best welterweight of all-time," but Diaz joined UFC President Dana White in calling out Woodley, closing the interview shutting Woodley's lofty claim down with a quickness:
"No he ain't. Did you see that fight?"