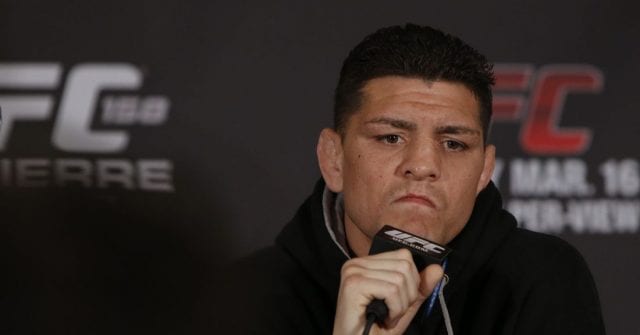 Nick Diaz is rumored to make his highly-anticipated return to the UFC's Octagon next year.
Diaz hasn't fought since January of 2015 when he suffered a unanimous decision loss to Anderson Silva. However, after Silva tested positive for a banned substance, the fight was overturned to a no contest. The 35-year-old is expected to return to fighting at UFC 235 action on March 2, 2019. He'll face Jorge Masvidal in a very interesting welterweight match-up.
Its been over seven years since Diaz has won a professional mixed martial arts (MMA) contest. His last win came via unanimous decision over UFC Hall Of Famer BJ Penn in October of 2011. However, Diaz then had an 11-fight win streak snapped by Carlos Condit via unanimous decision back at UFC 143 in February of 2012 for the interim 170-pound title. He'd then lose a welterweight title opportunity to Georges St-Pierre the following year.
The Greatest?
After years of issues trying to get both the Diaz brothers back into the Octagon, it looks like Nick Diaz's return is closer than ever to being made official. Recently, Diaz's roommate and training partner, A.J. Agazarm – who recently inked a deal with Bellator MMA – joined "Ariel Helwani's MMA Show."
During the interview, Agazarm made a rather bold claim about Diaz. He called the Stockton native the "greatest fighter of all time" (via MMA Mania):
"He is the greatest fighter of all time – he really is. Every fighter aspires to be like Nick Diaz. Just having been around him for the time that I've been and understanding his psyche and the way he operates," Agazarm said.

"He is very efficient and effective in every single thing he does. Not just fighting. He's got his daily routine. I know what it looks like on social media because I am with him every day."
If you enjoyed this story, please share it on social media!