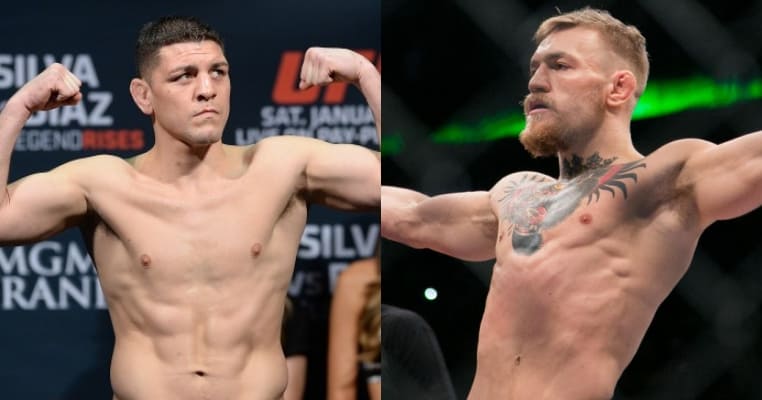 Reigning UFC featherweight champion the "Notorious" Conor McGregor has put together quite the impressive run throughout his Octagon tenure thus far with his only loss in nine bouts coming via submission to Nate Diaz last March. The "Notorious" one avenged that loss against his bitter rival via majority decision at August 20's UFC 202. Aside from that loss, McGregor has only lost two other times in his professional career, both coming on the Irish regional circuit years ago.
Nick Diaz, however, isn't too impressed with McGregor's resume, saying that he lost to two 'guineas'. The elder Diaz brother added that McGregor 'ain't ever going to be the best':
"He's not [great], though," Diaz said in a recent video interview. "On paper, he's not. Who are the 145-pound fighters who he beat up? Nobody good, in my opinion. Just a lot of commercials and advertising. How many blackbelts has he tapped out? When he was talking shit back-and-forth about fighting Floyd Mayweather … like, you have already lost to two guys who are not on a legitimate level.
"That just tells me, look, you ain't ever going to be the best," he continued. "You already lost to two fucking guineas. I ain't ever losing to somebody who lost to some fucking little Irish land guineas. That's fact, that's on paper. And on gym, you can see what kind of work he has put in. He ain't working with nobody — he ain't working with no black belts. Has no legitimate trainer."
These claims are similar to the ones Nate made prior to UFC 196, and it seems as if the brothers are on the same page regarding the Irish champion, who's set to challenge lightweight titleholder Eddie Alvarez at November 12's UFC 205 from New York.
Nick, on the other hand, hasn't competed since January 2015, and recently finished serving out an 18 month suspension handed down by the Nevada State Athletic Commission (NSAC) due to a failed drug test. He has hinted at a potential return to action in the future.