Almost a quarter of a century since UFC 1 ushered in the age of mixed martial arts (MMA), we've now reached the stage where some of the sport's early pioneers have gone on to raise children of their own who decided to follow in their footsteps.
However, as you'll see in the pages that follow, it's not always easy for these next-generation fighters to get out from under their famous fathers' shadows and deal with the weight of expectation that inevitably falls on their shoulders as they look to make their own mark in the sport.
Nevertheless, among these ten fighters stand a few who have so far lived up to the hype, and could yet become future stars in the sport that their fathers helped build.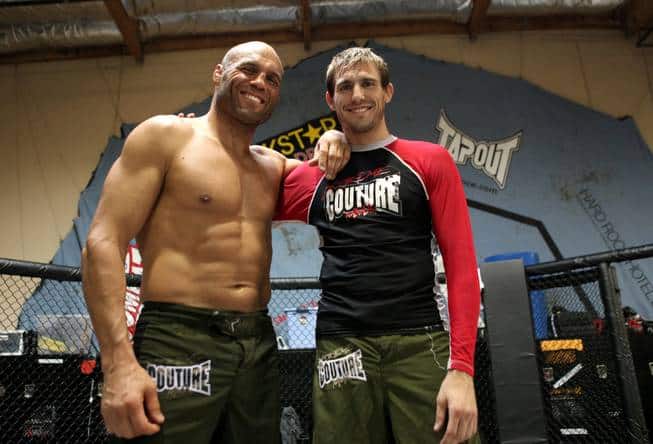 Randy Couture / Ryan Couture
A true legend of the sport, Randy Couture is one of the UFC's most decorated fighters, having won the heavyweight title on three separate occasions, the light-heavyweight title twice, and not to mention also having been an interim champ at 205 pounds and UFC 13 heavyweight tournament winner.
With such a formidable career, it was always going to be tough for Couture's son Ryan to live up to his father's legacy when he set out to forge his own path in the sport.
As such, the next-generation Couture hasn't reached the same level of success or fame, but nevertheless he has managed to build a career in the sport that's seen him fight for the likes of the UFC, Strikeforce and Bellator, compiling an 11-5 record so far that includes includes wins over established veterans like KJ Noons and Conor Heun.
When asked what advice he'd give to others sons of famous fighters, the now 35-year-old said it's all about managing expectations.
"They should be trying to achieve their own goals and be happy with that," Couture told BloodyElbow. "If they're doing it out of some need to achieve the same level of success as that person, whose footsteps they're following, then they're setting themselves up for frustration."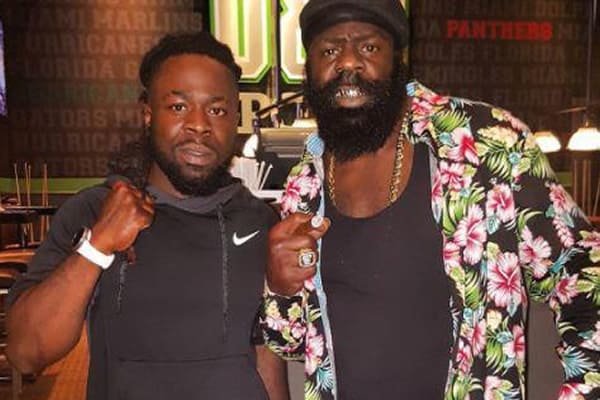 Kimbo Slice / Baby Slice
Kimbo Slice's rise to fame in the sport was unlike any other fighter before or since, having initially broke through as one of YouTube's first viral stars thanks to his backyard brawling videos, before pursuing an MMA career that would see him become a huge TV draw for Elite XC, then the UFC, and finally Bellator, up until the shock news of his death due to heart failure in 2016.
Kimbo's fighting legacy lives on though as his son Kevin Ferguson Jr, aka 'Baby Slice' won his amateur debut by first-round KO just two months before his father's passing, and has since signed with Bellator as a pro fighter.
"At this point, it's not even about the money or about the fame," Ferguson Jr. declared last year. "It's just about continuing the legacy. That's my goal now, is to just continue the legacy and take the Slice name to the next level."
'Baby Slice's' pro-debut didn't go according to plan, losing by second-round submission to the unheralded Aaron Hamilton, but the 25-year-old has since bounced back with a first-round TKO win over newcomer Darryal Griffin in May and is now awaiting his next fight.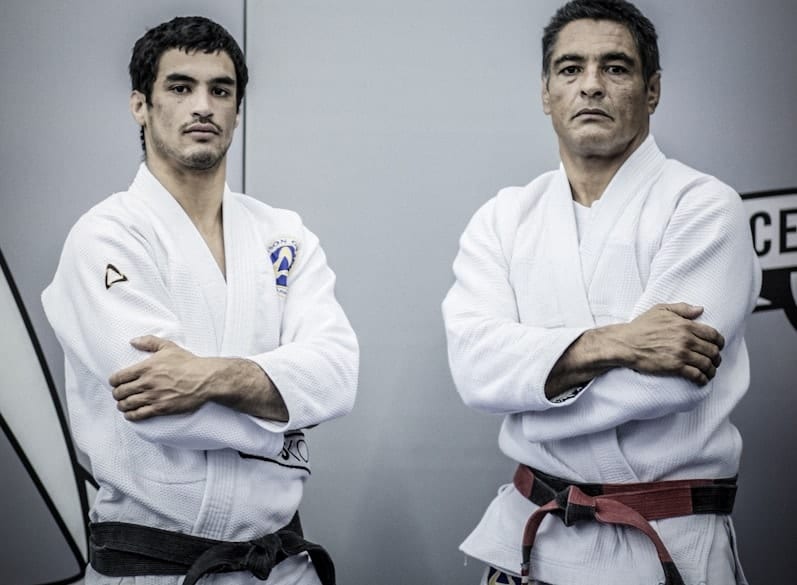 Rickson Gracie / Kron Gracie
Widely regarded as the best fighter of his famous family and one of Brazilian Jiu-jitsu's most revered practitioners, the legendary Rickson Gracie also holds a perfect 11-0 record in mixed martial arts too, including having competed in Vale Tudo tournaments in Japan and in the earliest days of the famous PRIDE organization before retiring undefeated in 2000.
Rickson has achieved almost mythical status in the martial arts world, so his youngest son Kron has big shoes to fill, yet based on the evidence so far it seems that he too may have some of his father's magic.
The 29-year-old Gracie is a decorated submission grappler and ADCC gold medallist, who to date has gone 4-0 as a professional in MMA while primarily fighting for the Rizin promotion.
Most impressive, however, is that even at this early stage in his career he's already fighting far more established opposition, notching up submission wins over both Hideo Tokoro and Tatsuya Kawajiri, making him the most promising fighter to emerge from the famous Gracie family in many years.
"I could just run my academy and sell merchandise, and I could just do seminars and stuff," Kron once told Fightland of the fortunate position his lineage puts him in.
However, he feels an obligation beyond that.
"I have to give back and that means attempting to keep my family name alive."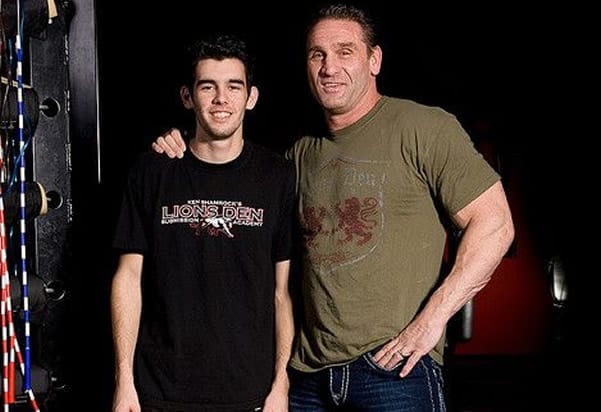 Ken Shamrock / Ryan & Sean Shamrock
One of the MMA's biggest stars in the early years of the sport, Ken Shamrock fought at the first-ever UFC event and would go on to become the UFC's first superfight champion and a Hall of Fame inductee, while during his pioneering 34-year career he'd also win the King Of Pancrase title and fight for PRIDE, Bellator, King Of The Cage and Cage Rage.
Fighting courses through the Shamrock family's veins and so it's no surprise that two of his sons have also gone on to compete professionally in the cage.
First up was Shamrock's eldest son Ryan, who made a successful start to his pro-career back in 2007 with a first-round submission victory.
UK outfit Cage Rage then signed both father and son to compete at their 25th event in 2008, but it turned out to be a bad night for the Shamrocks, with Ken being KO'd the main event, while Ryan was TKO'd on the prelims.
Ryan fought again a couple of years later and suffered another TKO defeat that appeared to bring an end to his brief career, though there was talk of him fighting for the Shamrock FC promotion earlier this year.
Meanwhile, at just 17 years old Sean Shamrock stepped up to the plate at 'King Of The Cage – Underground 50' in 2010 to make his welterweight debut, claiming a first-round TKO victory, but despite that initial success it would prove to be his only pro bout.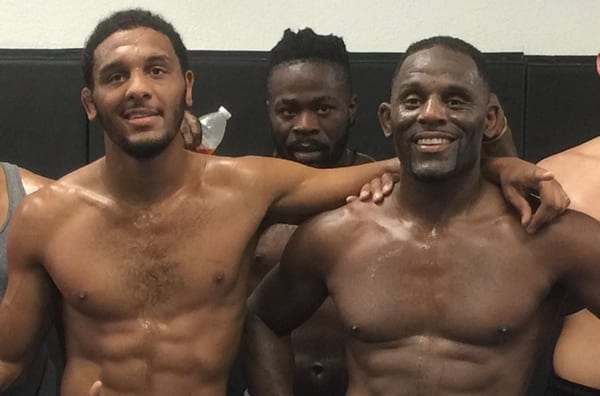 Antonio Mckee / A.J. Mckee Jr.
Antonio Mckee is a seasoned veteran of the sport who made his name competing for the likes of the UFC, MFC, WSOF, Dream, IFL, and King Of The Cage, during his 15-year, 29-6-2 career.
After retiring, Mckee's attention turned to coaching his son A.J, who at the time had already compiled a 7-1 stint on the amateur MMA circuit.
In 2015, A.J Mckee turned professional and was immediately signed by Bellator, whose belief that he could prove to be a future star has so far been backed up as 'Mercenary' has gone on to rack up a perfect 9-0 record in the promotion to date.
In fact, Mckee needs just one more win to break the record for the most consecutive wins in Bellator history, and though he still has to prove just how far he can go in the sport as the level of competition increases, at this stage, the future looks bright for the 22-year-old rising star.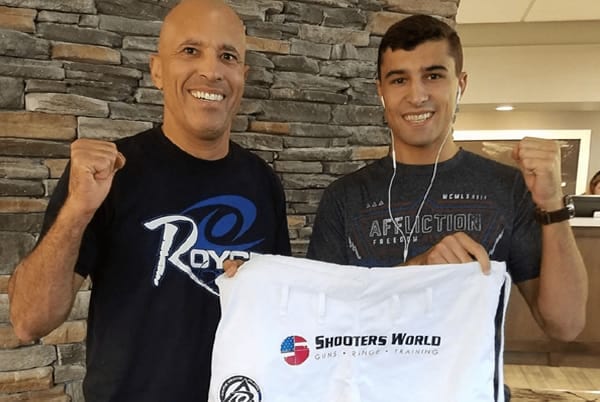 Royce Gracie / Khonry Gracie
Mixed martial arts fans could debate endlessly about who should be on the sport's 'Mount Rushmore', but one man who HAS to be on there is Royce Gracie, the original pioneer who won the one-night tournament at UFC 1 back in 1993 and would go undefeated in his entire 12-fight run in the promotion back then, becoming the only fighter to win three UFC tournaments and the first to be inducted into the Hall-Of-Fame.
Gracie's untouchable legacy means that his son Khonry is in a tough spot, as everything he does in the sport will be placed under intense scrutiny, but despite having an offer to play soccer for a university in California instead, he still opted to pursue a career in fighting instead.
Just last month the 20-year-old Khonry made his amateur MMA debut, with his dad in his corner to watch on as he earned a decision win over Ben Clark at Attitude MMA Fights in Memphis.
"It felt great," the next-gen Gracie told MMAFighting.com afterwards. "It just feels good to carry on the family name."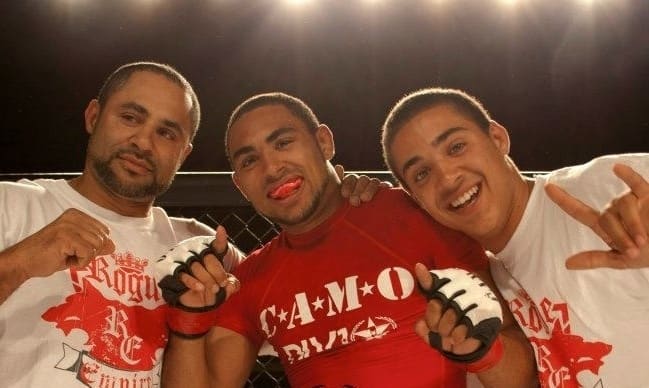 Eugene Jackson / Nikko & Casey Jackson
Eugene 'The Wolf' Jackson had five fights in the UFC between 1999-2002, going 2-3 during that period, before moving on to Strikeforce later in his career, where he'd win their U.S. middleweight title before retiring with an overall 15-9 record in 2007.
Jackson stayed in the sport after retiring to teach the next generation of up-and-coming fighters, and that included his two sons Nikko and Casey Jackson, who he proudly told the Fightland site at vice.com back in 2013 had, "God-given talent, drive, passion, and will."
Even so, Jackson knew how tough it was to get to the top of the sport.
"Getting from here to there…" He said while pointing upwards during the Vice interview, "Is about making hundreds of right decisions. And that's what I'm caring about."
At the time the younger of the two, Casey was showing a great deal of potential, having impressed in grappling tournaments and racked up 11 wins on the amateur MMA circuit, but fast forward a few years and it turns out he's yet to make the leap to turning professional.
However, his older brother Nikko Jackson did turn pro in 2015 after a 5-1 run as an amateur and after a couple of fights was signed to the Bellator promotion, where he won his debut back in February of this year to take his fledgling record to 2-1.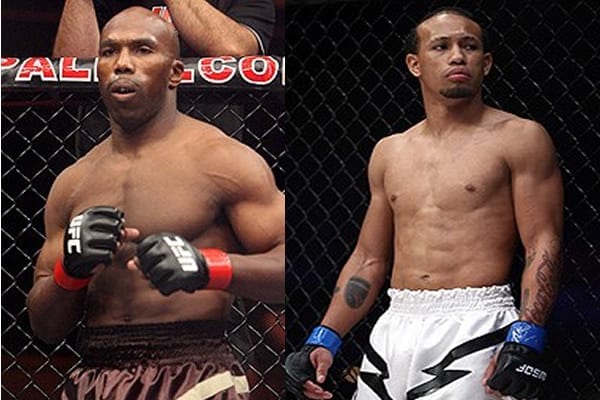 Marvin Eastman / Boostayre Nefarious
Marvin Eastman had seven fights in the UFC spread out over the course of his 18-15-1 career, and though he lost more than he won in the Octagon, he's still a name that fans remember and fought numerous big name stars over the years, including Quinton 'Rampage' Jackson, Rich Franklin, Glover Teixeira, Vitor Belfort and Alan Belcher.
Eastman's passion for fighting was passed down to his son, Marvin Eastman Jr., who looked to follow in his father's footsteps.
However, after the two fell out, Eastman's son opted to leave his dad's gym and took two years away from the sport, before eventually returning under the new fight name of Boostayre Nefarios in an attempt to forge his own path out from under his father's shadow.
Initially, things went well for Nefarios, turning professional in 2013 and racking up two victories in a row, but a subsequent TKO loss made him rethink his choices, and so he decided to bury the hatchet with his father and reinstall him as his head coach.
After that, Nefarios signed with WSOF, but he lost by unanimous decision in his promotional debut in 2014 and hasn't fought again since, though he's still training and hasn't hung up his gloves.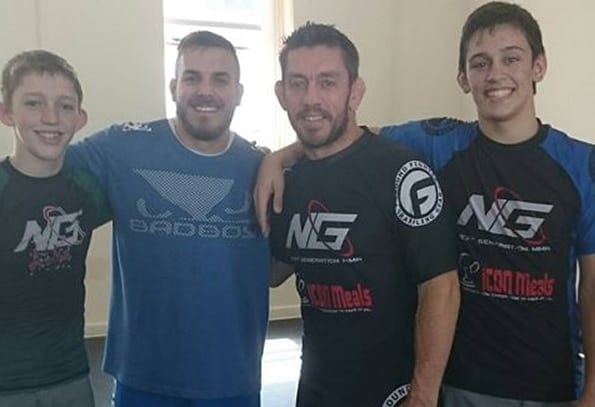 Chris Brennan / Lucas & Tyler Brennan
Known as 'The Westside Strangler', Chris Brennan reached the finals of UFC 16's one-night lightweight tournament final back in 1998 and was also a veteran of numerous other promotions like PRIDE, King Of The Cage (where he was a 3x champion) and Shooto.
Nowadays he's been able to pass on the wealth of knowledge he accumulated during his 21-14-1 career to his sons Tyler and Lucas.
Both have shown a great deal of potential in grappling tournaments in their teenage years, and while Lucas is still only 17 years old it seems he's picked up his old man's penchant for submissions, as he handily finished his amateur MMA debut by rear-naked choke at Xtreme Knockout Amateur Series 7 back in August of this year.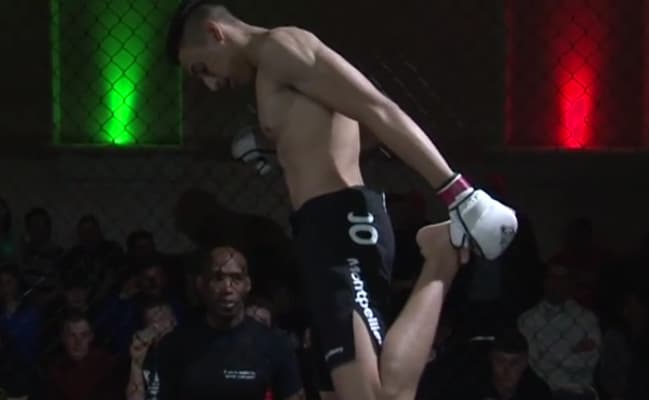 Mark Weir / Lyle Weir
UK fighter Mark 'The Wizard' Weir announced his arrival in the Octagon in style at UFC 38 in 2002, knocking out Eugene Jackson in just ten seconds, and though he wasn't able to build on that impressive start in the promotion, he'd also compete for the likes of PRIDE, WEC and Cage Rage over the course of his 40-fight career.
These days he coaches at his own Range Martial Arts Academy in England, where one of his students is his son Lyle, who has been making tentative steps towards becoming an MMA fighter too.
Weir earned a victory by way of keylock submission on the UK amateur circuit last year and was then slated to make his professional debut that June in the prelims of an event from the respected Cage Warriors promotion.
However, he subsequently withdrew from the bout, and having not competed since it remains to be seen if he'll continue to pursue a career in the sport or not.