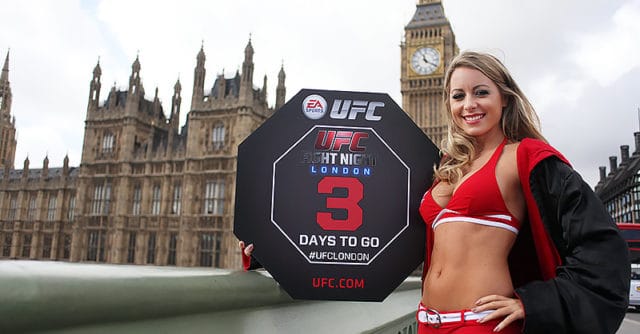 It's been a hectic week for the UFC, and the news just keeps coming. In this edition of the news stream, we bring you the latest social media buzz and announcements from the world's biggest mixed martial arts organizations. The announcement of the day is the UFC's return to London on February 27 2016, where they'll visit the O2 Arena for the second time in 2 years.
Alexander Gustafsson and Jimi Manuwa headlined the last UFC card in the English capital city, and that was a big knockout win for 'The Mauler'.
Check out the official announcement, and all the other big news and buzz from the world of MMA and the UFC:
We are going going back back to London London! #UFCLondon Feb.27 @TheO2 Pre-register for tix➡️ http://t.co/O37KbsUE68 pic.twitter.com/eer3Ngh8fz

— UFC (@ufc) September 16, 2015
#UFCSaoPaulo: Belfort vs Henderson 3 | Nov. 7 | Tickets on-sale NOW ➡️ http://t.co/PnD3l20DDM pic.twitter.com/1MHWLxxeYP

— UFC (@ufc) September 16, 2015
Be like water my friend… #BruceLee @Emanuel_Newton #DYNAMITE1 pic.twitter.com/knUYjFxOgM

— Bellator MMA (@BellatorMMA) September 16, 2015
#UFC193: @RondaRousey vs @_HollyHolm | Tickets on presale now w/ code UFCSOCIAL ➡️ http://t.co/z9XY34QzcU pic.twitter.com/FDK0jhPBUJ

— UFC (@ufc) September 16, 2015
I will be at @bellatormma in San Jose! I ❤️ San José Great memories, this place I won my first belt!… http://t.co/gq61WecJaZ

— Cris Cyborg (@criscyborg) September 15, 2015
World Series of Fighting signs two fighters to multi-fight contracts http://t.co/RxqvgTAHsu pic.twitter.com/Ib03GFlzQZ

— MMA News Source (@MMANewsSource) September 12, 2015
Fedor is looking like a beast! My favorite fighter is making a comeback ?? #cantwait https://t.co/oncHDqw759

— Quinton Jackson (@Rampage4real) September 15, 2015
FWIW, Fedor Emelianenko is available for interviews at this week's Bellator Dynamite media events. Make of that what you will.

— Luke Thomas (@SBNLukeThomas) September 14, 2015
Excited to loan the Voice of #ONE Championship, legendary Lenne Hardt, to @BellatorMMA @GLORY_WS Dynamite. #AsianMMA pic.twitter.com/SsYT1wtLoG

— Victor Cui (@victoronefc) September 15, 2015
Am calling the GLORY fights w @mauroranallo during the 9/19 @BellatorMMA Dynamite event on @spiketv (cont) http://t.co/sLiH8wLk6B

— Stephen Quadros (@StephenQuadros) September 15, 2015
'Free Nick Diaz' Petition Reaches 20,000 Signatures http://t.co/cNSMkQ3V7C via @lowkick_mma @NickDiaz209 #FreeNickDiaz #FreeDiaz #NAC #Dorks

— Rory [email protected] (@Rorylowkick) September 16, 2015
'Stitch' Duran Lands Bellator Cutman Gig At Dynamite Show http://t.co/Csrit3xdAu via @lowkick_mma @StitchDuran congrats bro!

— Rory [email protected] (@Rorylowkick) September 15, 2015
If you enjoyed this story, please share it on social media!