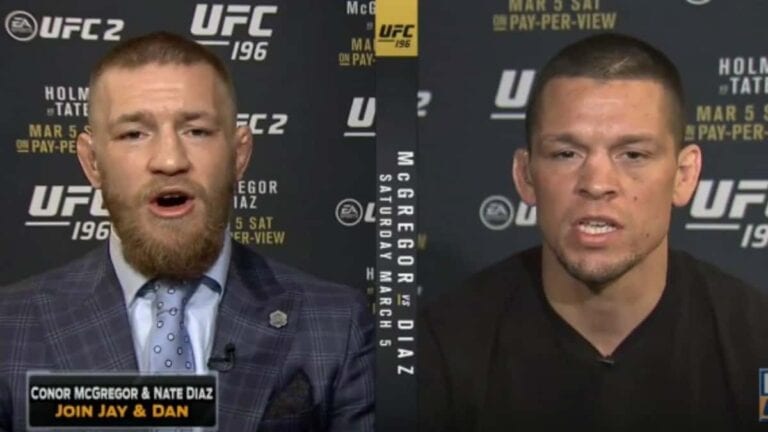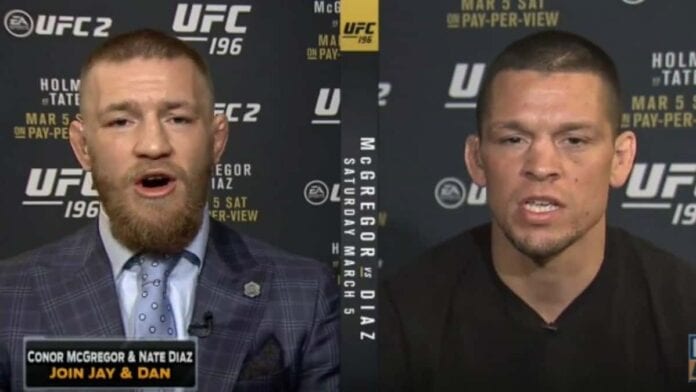 This is the most amazing interview you will ever see. Stockton snitches, GAZELLES, skinny fat bitches and midget killers. it's all here…
Remember when former UFC light-heavyweight champion Jon Jones and current boss Daniel Cormier shared one of the most heated rivalries in MMA history? The lead up to their eventual UFC 182 fight was filled with crazy brawls and intense face offs, but remember they had six months to fill, and the latest beef between Conor McGregor and Nate Diaz has only had 12 days to brew. In that time, 'The Notorious' and the bad boy from Stockton have done a bang up job.
The first UFC 196 presser that happened the day after the fight's announcement was fun to watch, nothing too extreme, but it got our interest. Then came the second presser, which went down last night (Thursday March 3, 2016). The two squared off and very nearly got in to an all out scrap, then the 209 massive in Jake Shields, Nick Diaz and many others rushed the stage, and for a moment there were flashbacks to the infamous UFC 178 brawl between DC and Jones. All settled, but it was far from over.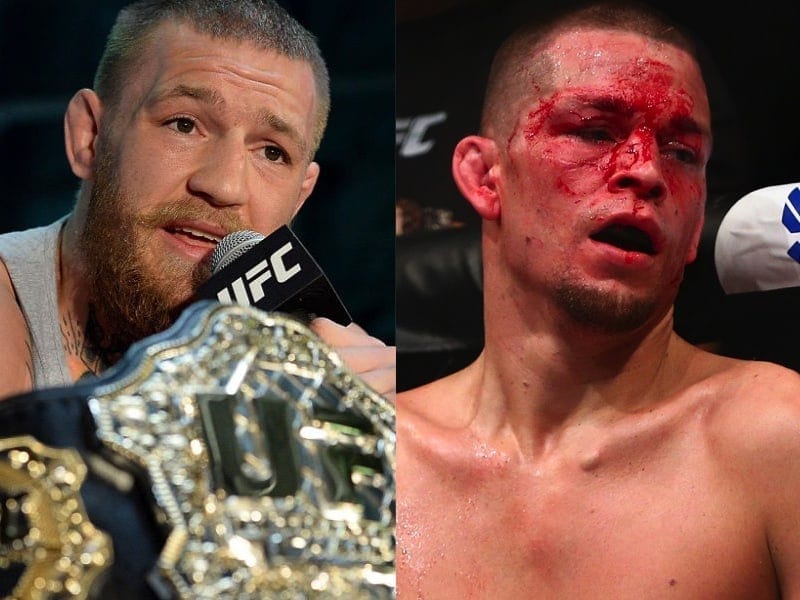 After the strange interviews with Diaz earlier this week, it seemed that perhaps the normally outspoken grappler was already feeling the strain of this fight. He even complimented McGregor, stating he felt the Irish boxer could do well at welterweight. A confused Karyn Bryant had to remind Nate that this was his next opponent they were discussing, it was truly bizarre and out of character.
Anyway, the UFC, sensing that perhaps the rivalry was beginning to fall out of context, set up another Jones/Cormier type situation. Separating McGregor and Diaz but giving them a split screen live chat with Jay & Dan of FOX Sports, the promotion intended on getting some serious trash talk across the airwaves and in to our welcoming eyeballs and ears.
Possibly even the UFC could not have foreseen what happened, which was potentially the greatest interview in all combat sports history.
Read on after the jump for the full segment which will leave your sides aching
stockton snitches, GAZELLES, skinny fat bitches and midget killers. it's all here
If you still can't get enough of the Diaz vs. McGregor hype train, we've got some treats for you on page 3.
Continue the fun after the jump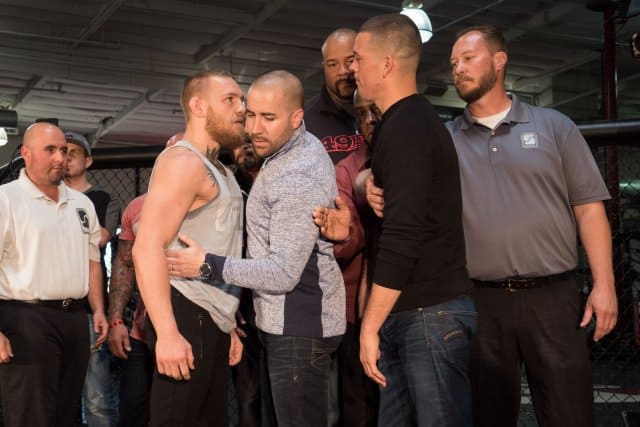 seeing as it's fight weekend, here's all the best diaz vs. mcgregor moments from the entire rivalry